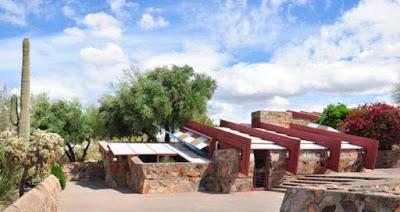 Architect Frank Lloyd Wright's former office at Taliesin West in Arizona
My friend and fellow children's book writer Caroline Hatton visited Taliesin West, outside of Phoenix, Arizona, in April of 2016.
Growing up in Paris, I first became aware of legendary American architect Frank Lloyd Wright (1867‑1959) when, as a child, I saw a photo of the most famous house he designed, Fallingwater, which incorporates a waterfall. I was incurably awed. Besides the fact that I love waterfalls and woods and nature-inspired designs, I liked the deceptively simple, clean lines, and how the uncluttered look made me feel emotionally and mentally uncluttered as well, and as a result, serene and focused.
As an adult now living in California, I have yet to visit Fallingwater in Pennsylvania. But I have now visited Wright's former winter home, Taliesin West, in Arizona.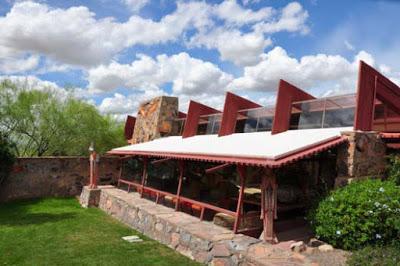 Outside the Garden Room (living-room)
Upon arrival, I loved the complete freedom to take photos even though the tour I chose wasn't the photography tour. The docent who led my tour was an architect, good at telling informative and entertaining anecdotes about Frank Lloyd Wright, a genius, luminary, and eccentric who led an eventful life. For example, the docent explained Wright's theory about designing tight entrance doorways into relatively more spacious rooms, to make visitors feel compressed, then decompressed, thus making the room seem larger than it is.
What surprised me the most was that Wright and his architecture students had thrown Taliesin West together roughly and not polished its construction in detail. It had started as a campsite of canvas tents before hard tents were built, consisting of rock and concrete walls with a canvas top. The docent said that plexiglas roofs and glass windows were added only after Wright's wife requested some way to keep out the bugs.
From what I had read in advance, I expected to see buildings reminiscent of the landscape, such as the mountains in the backdrop, and made of materials found in the desert, such as rocks.Natural light lit up the interiors through large glass windows and walls. Amazingly, the place felt contemporary, even though it was built in the 1930s.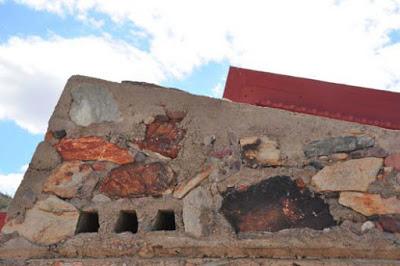 Rooflines evoke nearby mountains
Taliesin West developed as a school campus with a private area for the Wrights. The school included an auditorium for lectures and for entertainment , a cabaret designed to enhance its stage acoustics.
Taliesin West is not a museum. Instead, to this day, it houses the Frank Lloyd Wright School of Architecture, with current students living on site to hone their craft and pursue degrees (what a life!).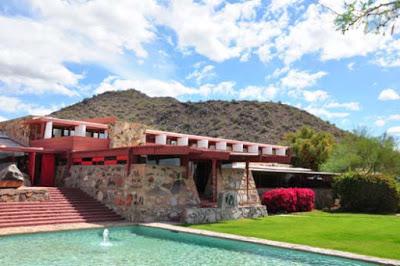 Guest quarters
Out of respect for the students' creative work, talking and photography were not allowed while walking past the drafting studio, where many were hard at work during my visit.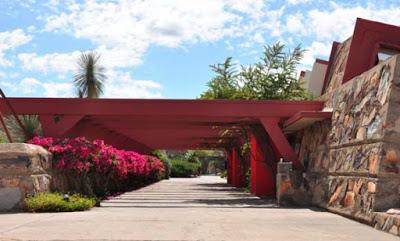 Drafting studio breezeway
The site is also the home of the Frank Lloyd Wright Foundation, which "exists to preserve Taliesin and Taliesin West for future generations, and to enrich society through an understanding of Frank Lloyd Wright's ideas, architecture, and design."
I knew about Wright's taste for things Asian, but was surprised to see items he collected even though they were broken.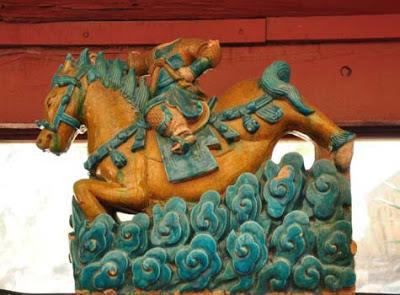 Who cares if the rider lost his head? The horse is intact!
What didn't surprise me is that I didn't like the angularities—the odd tilt of roofline angles evocative of the nearby mountains, the uneven hexagonal shape of Wright's former-office door, or the stiff-looking, uninviting living-room armchairs and dining room chairs. Yet I welcomed and appreciated this confirmation of my preference for curves. Wright did experiment with roundness with some success at other times in his creative life, for example when he designed the Guggenheim Museum in New York City.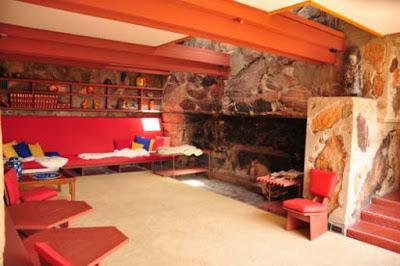 The dining room
Visiting Taliesin West was fun, interesting, and enriching. It made me want to watch again the documentary, "Frank Lloyd Wright," by acclaimed filmmaker Ken Burns. It also inspired me to unclutter my home and life, to heighten serenity and focus in my own creative pursuits.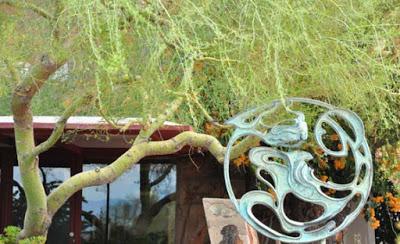 In the garden
For more info
Read about Taliesin West at http://www.franklloydwright.org/taliesin-west/index.html
Find an index of Frank Lloyd Wright's works, complete with addresses, details, and links to websites at http://www.franklloydwright.org/work/index.html
Consult resources for teachers and a bibliography at http://www.pbs.org/flw/resources/index.html