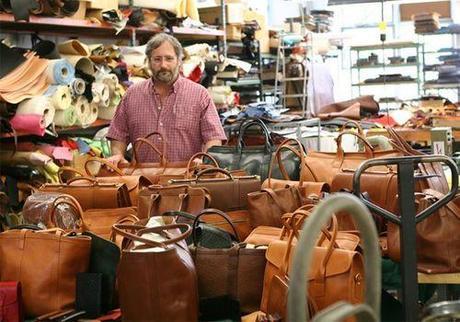 I'm often quietly rooting for Frank Clegg. I bought my first bag from him years ago, when he was doing Lotuff & Clegg with Joe Lotuff. The two have split up now, but in the short time they worked together, Frank designed and produced all of the products. The bag I bought from him was his "Classic English Briefcase," which you can see in the first few photos below. It was originally sent to me on loan, so I could do a review of it at Put This On, but the bag was so impressive that I asked if I could purchase it outright. The public relations company at the time kindly agreed, and gave it to me at a small discount since the bag had been used as a media sample. 
Despite getting it in used condition, it's held up beautifully for me. The pebbled grained leather doesn't scratch easily, and it's retained the same beautiful deep color as the day I got it. The construction also still feels very solid with the brass buckles, rivets, and clips, and despite stuffing this full of heavy books for years and lugging things around for miles, none of the stitching shows any sign of failure. I've been so impressed with the briefcase, in fact, that I've since bought a couple more of Frank's bags (at full price) to give as gifts.
I don't think I really appreciated how well made Frank's bags were until last month, however, when I stopped by a well-regarded leather goods store in my area. They're known for making nice briefcases, but the stuff I saw was a huge disappointment. The leathers felt overly processed and almost synthetic, and the edges – which should be tightly sewn – were peeling back and away from each other. On one tote I picked up, you could see where the uneven application of glue had leaked out and dried along the edge. It's surprising that these can sell for $1,000 when Frank's bags cost about the same. 
I admit, there was a time when Frank started making for his own label that I feared he wouldn't get the attention he deserves. He's always struck me as a guy who's better at making bags than online marketing campaigns. The last couple of years have been good to him though. He's been picked up by LeatherSoul and The Armoury, some company made one of those "heritage-y promo videos" on him, and he just finished a collaboration with fashion designer Michael Bastian. He also recently hired the creative agency Knowuse to redesign his webstore, which I think looks a lot better now. Granted, this is little more than shining up the window display, but at least this time, the products inside are genuinely nice.