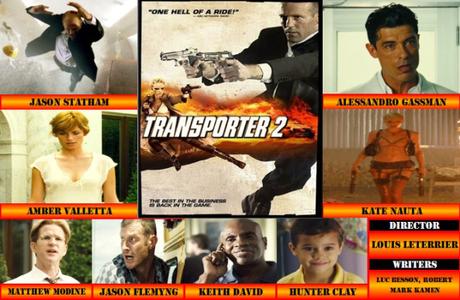 Plot: Mercenary Frank Martin, who specializes moving goods of all kinds, surfaces again this time in Miami, Florida when he's implicated in the kidnapping of the young son of a powerful USA official.
There may be spoilers the rest of the review
Verdict: Bigger and Bolder
Story: The Transporter 2 starts with Frank Martin (Statham) working as a driver for a rich family driving their kid Jack (Clay) to and from school. Things take a turn when Gianni (Gassman) and Lola (Nauta) kidnap him but us Frank to take him. Frank uses his skills to get Jack back while the Billings Audrey (Valletta) and Jefferson (Modine) are working with the FBI agent Stappleton (David).
We know something bigger is going on and have to watch to see just how big this story really is but this time Frank take no persuasion to take on the criminals he has found himself crossing with.
The Transporter 2 brings the story back to America where we have a low key role for Frank early on. We don't have any real connection to the first film apart from the inspector adding comic relief through the story. the crime is good because we need to have something for Frank to actually fight for but in the end the kidnapping almost gets forgotten while we watch Frank solve the real crime. This is something that all action fans will enjoy.
Actor Review
Jason Statham: Frank Martin is taking it easy helping out a friend with an easy job being a personal driver for a wealthy family. When their child gets taken he becomes a one man wrecking crew as he searches for the truth behind the kidnapping. Jason shows how much he has improved in the action genre in this role.
Alessandro Gassman: Gianni Chellini is the man behind the kidnapping of the child, he has his own plan to follow with money being hi motivation. I feel this is a huge improvement on the villain side because we actually see just how dangerous this man can be. Alessandro is good as a villain filled with menace throughout.
Amber Valletta: Audrey Billings is the mother of the child taken, she likes how Frank handle himself and caring for Jack. Amber is solid in this role but we never see enough clash between her and the villains.
Kate Nauta: Lola is the sexy bodyguard hit woman for Gianni who enjoys nothing more than hurting people, she flaunts her body at every single opportunity. Kate is good in this role taken the role as sexy hitwoman to all new levels.
Support Cast: The Transporter 2 has a bigger supporting cast that all help on both sides of the battle with more thugs for Frank to take out.
Director Review: Louis Leterrier – Louis gives us an action film that is filled with more than the original.
Action: The Transporter 2 has plenty of action going on from start to finish which all is over the top and fun.
Crime: The Transporter 2 gives us a kidnapping covered up as something bigger for the crime side of the story.
Thriller: The Transporter 2 keeps us on edge from start to finish waiting to see who will make it out of this alive.
Settings: The Transporter 2 brings us to America for this story which showed more familiar settings for the audience.
Special Effects: The Transporter 2 has solid effects until the plane scene which is best not to talk about.
Suggestion: The Transporter 2 is one for all the action fans out there to enjoy. (Action Fans Watch)
Best Part: Statham shows just how far he came.
Worst Part: Those plane shots from outside.
Believability: No
Chances of Tears: No
Chances of Sequel: Yes
Post Credits Scene: No
Oscar Chances: No
Budget: $32 Million
Runtime: 1 Hour 27 Minutes
Tagline:  The Best In The Business Is Back In The Game.
Overall: Improved sequel that is just as non-stop as before.
Rating