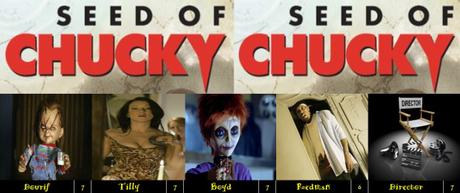 Director: Don Mancini
Writer: Don Mancini (Screenplay)
Starring: Brad Dourif, Jennifer Tilly, Billy Boyd, Redman, Hannah Spearritt, John Waters, Jason Flemyng
Plot: Chucky and Tiffany are resurrected by their innocent son, Glen, and hit Hollywood, where a movie depicting the killer dolls' murder spree is underway.
There may be spoilers the rest of the review
Verdict: Solid Addition
Story: Seed of Chucky starts as we meet Glen (Voiced by Boyd) the son of Chucky and Tiffany who has been having nightmares about killing people but he knows nothing about his parent's past as he is just used in a ventriloquist competition.
Elsewhere in the world, there is a new Chucky movie being made following Chucky and Tiffany with Jennifer Tilly returning to the franchise. When Glen sees a feature about the making of the film he sets out to find what he believes to be his parents all the way in Hollywood.
When Glen brings Chucky and Tiffany back to life the killing spree begins once again but this time in Hollywood. With the dolls looking for new bodies Chucky and Tiffany battle with what sex Glen or Glenda is as he learns how his parents are killers and they need to teach him their ways.
Thoughts on Seed of Chucky
Story – When you look at the Chucky film franchise it went in a new direction with Bride of Chucky and this story continues that idea with the family dynamic, this story as well before it's time by tackling the transgender character in Glen/Glenda as well as having the parental reaction one supporting the other against. Putting the film within the settings of the real world of making a film does borrows heavily from New Nightmare and the Scream franchise which works adding a new dimension to the comedy but in the end this became the of the franchise direction.
Comedy/Horror – The comedy in this film comes from the references being used within the film to other films as we see how the dolls try to cover up their kills from their child. The horror is a slasher and comes off very effective for the genre with all blood, gore and unique kills.
Characters/Performance – The returning characters are al fun throughout the additions all work well with Glen/Glenda adding to the laughs and Jennifer Tilly not being afraid to poke fun at herself. The performances all fit the film well without being one of the most iconic of the franchise.
Settings – Bring the action to Hollywood makes this film have a lot more fun with itself where it gets to bring the characters into the real world of being the stars of the films they are being made for.
Special Effects – When you look at the special effects, you can see how it has started to date over time which does take away from some of the kills.
Final Thoughts – This is a fun addition to the franchise not being the best or the worst just another addition to it.
Overall: Enjoy the crazy adventures of Chucky and his family.
Rating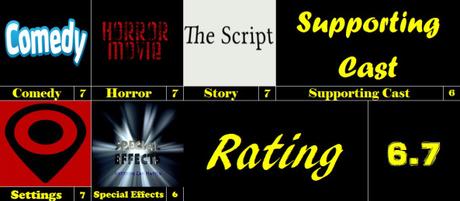 Advertisements