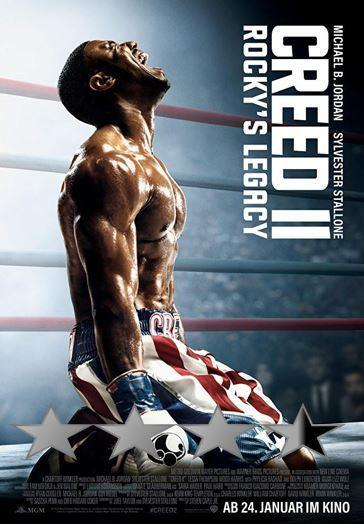 Director: Steven Caple Jr
Writer: Sylvester Stallone, Juel Taylor (Screenplay) Cheo Hodari Coker, Sascha Penn (Story)
Starring: Michael B Jordan, Sylvester Stallone, Tessa Thompson, Phylicia Rashad, Dolph Lundgren, Florian Munteanu
Plot: Under the tutelage of Rocky Balboa, light heavyweight contender Adonis Creed faces off against Viktor Drago, son of Ivan Drago.
Runtime: 2 Hour 10 Minutes
There may be spoilers in the rest of the review
Verdict: Legacy Continues Strongly
Story: Creed II starts when Adonis (Jordan) finally captures the title, on top of the world he proposes to Bianca (Thompson) whose career is also going place and wants to enjoy the next chapter of his career as champion. Buddy Marcelle (Hornsby) a promoter has a different plan for Adonis, when he brings Viktor Drago (Munteanu) to America, the son of Ivan Drago (Lundgren) who killed Apollo in the ring.
Adonis must learn to rise up against his biggest challenge to date, learning to control his emotions as he takes on Viktor, who has his own personal fight to restore the family name, while Rocky (Stallone) is torn between helping and advising Adonis about whether to follow in his father's footsteps.
Thoughts on Creed II
Characters – Adonis starts this film by winning the belt he didn't win in the last film, he take the next step in his family life proposing to Bianca, having his first child being on top of the world. He loses it all and must learn to rebuild his reputation and defend his belt against the son of the man that killed his father. Now for this story Adonis has a nice arc, but he never feels like a champion. Rocky refuses to help Adonis in his match against Viktor, he is worried he will make the same mistakes as his father when his future is waiting for him. He has gotten over his cancer from the last film and must make his own difficult decision on whether to help Adonis to make up for his own mistakes with Apollo and rebuild his own bridges. Bianca has her music career taking off, ready to be involved  in the festival circuit, her hearing is only getting worse, so she wants to make the most of her chance, she doesn't want to stand in Adonis's way, but she also wants to make sure she doesn't  have to raise their child alone. Ivan Drago has seen his reputation ruined after his loss to Rocky, kicked out of the country, he had to rebuild his life and with his son, he has made a fighting machine. Viktor is the son of Ivan, he is a machine in the ring just like his father, we get to have a lot more sympathy for him than we should because he is fighting his father's battle, he lost his future and when his success comes the flocks that abandoned his father return.
Performances – Michael B Jordan does have a lot more emotional moments to go through in this film which he does well, he however never makes us feel like he would be a champion. Sylvester Stallone continues to show this is turning into one of his go too roles for his best performances, while Tessa Thompson continues to show her talent to the world reprising the role which helped her break through. Dolph Lundgren gives one of his best performances in recent years and Florian Munteanu makes for a great fighting villain, who shows much better range than anyone was expecting.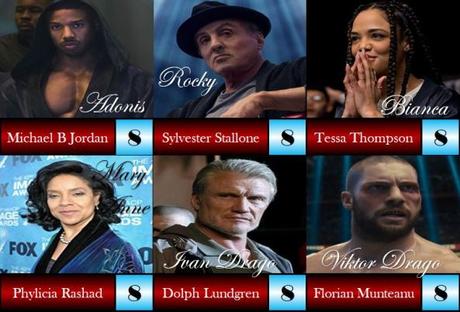 Story – The story picks up when Adonis has gotten himself into a number one contenders match, winning the title reach the peak of his early career and personal life, until the Drago's arrive in an attempt to knock him off his perch and reclaim the fame that they once had. The story does feel like the weakest part of the film though, we seem to just skip Adonis reaching the title match, we never learn how good he is in the ring, because in the first film sure he surprised everyone, but he didn't win, going 12 rounds and winning by points isn't going to be enough to get a title shot. Most of Adonis's side of the story is him needing to find himself as he goes to the next chapter of his life. The more interesting story comes from the Drago side of things because we get to see what happened to the once unstoppable fighter and how his life changed after that defeat, raising his son to follow in his footsteps, being shunned by his country and love, shows us just how different the two cultures are towards competitors. Rocky's side story, while nice, it does feel tacked on just to give him something else to do in the film.
Sports – The boxing is good once again in this film, not quite as the same level, mostly because we get more fights which we don't need to see too, we like to wait for that one big fight moment which stands out as the highlight of the film.
Settings – The film uses the settings well, we don't just stay in one city this time and the training regime is something new for the franchise.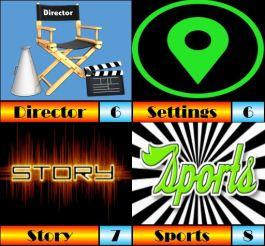 Scene of the Movie – The final fight.
That Moment That Annoyed Me – Adonis never gets made to feel like a champion or even a contender for a belt.
Final Thoughts – This is a great addiction to the legacy, it does feel like we will be following Adonis's legacy from now on which is what needed to be done for the franchise.
Overall: The legacy has past the torch.
Rating

Advertisements