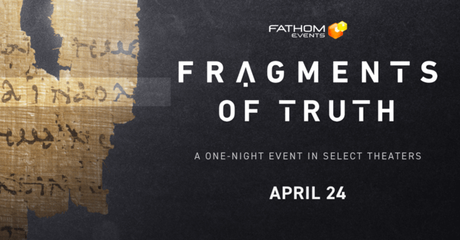 The debate over the reliability of the New Testament changes in Fragments of Truth, the faith based film that's coming to the U.S. movie theaters this April for a special one-night event.
Famed evangelical New Testament scholar and author Dr. Craig Evans discusses new evidence concerning Gospel manuscripts that allegedly reinforce the New Testament's authenticity. The feature content will be followed by an exclusive Q&A with director Reuben Evans and Dr. Craig Evans.
Fragments of Truth (PRNewsfoto/Fathom Events)
Fathom Events and Faithlife Films partner to present "Fragments of Truth" in nearly 750 U.S. movie theaters on Tuesday, April 24 at 7:00 p.m. local time, through Fathom's Digital Broadcast Network (DBN). For a complete list of theater locations, visit the Fathom Events website HERE.