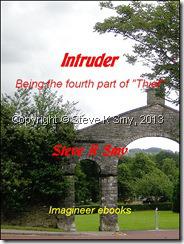 Intruder was released through Smashwords on 27th February.  It's the fourth in the Thief Series.  The folk of Ur'gavan are again threatened, but by an evil from within this time.  Whether Tirnam can save the day is uncertain, as this threat is decidedly outside his experience.  This is the longest of the tales, at a smidgen under 8000 words!  The first two stories (Thief and Gabrin: The Avatar) were about 5000 words and the third (Ur'gavan) was almost 5500 words.
I don't know, as yet, whether there will be more, but I hope there will.  They've been fun to write, and actually recall how I used to write many, many years ago.  I believe that I've left stray threads that can be used to attach other stories to.  The important question I have to ask myself is: "Should the series go on?".  At the moment, I don't think I can answer that.  I know that there's plenty of potential for more stories.  The people of Ur'gavan will, after all, continue to live their lives, forever at risk from new perils: raiders, invaders, plagues, natural disasters.  And Tirnam and his friends will have to lead them through it all for their whole lives.
Perhaps I should throw the question open to all!  I'd be interested to know whether you think I should pursue the series further.