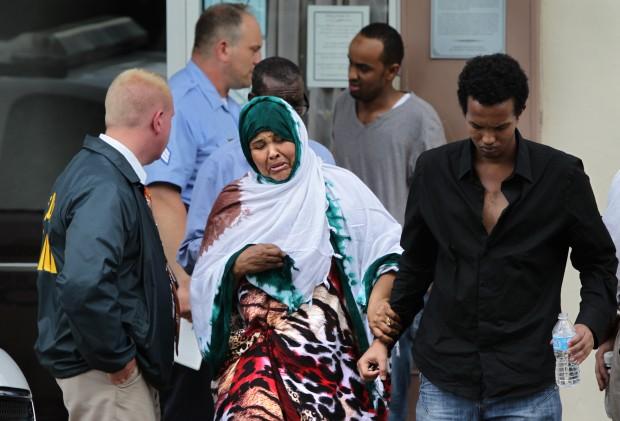 Family members arrive after four people were found dead inside A K  Home Health Care, located inside the Cherokee Place Business Incubator, on Thursday, June 13, 2013. Photo by Robert Cohen, [email protected]
STL Today
The operator of a home health care business gunned down three people who worked there — including his business partner — Thursday afternoon before taking his own life, police and others said.
The shots were fired about 1:40 p.m. at A K Home Health Care in the Cherokee Place Business Incubator at 2715 Cherokee Street, police say.
Officers recovered a semiautomatic handgun at the crime scene.
Police identified the gunman as Ahmed Dirir, 59, of the 900 block of Carr Avenue.
The victims were Khadra Muse, 44, of Indian Circle Drive in Olivette; Seaeed Abdulla, 29, of the 700 block of Cole Street; and Bernice Solomon-Redd, 54, of the 2400 block of Ridge Avenue in East St. Louis.
St. Louis Police Capt. Michael Sack said surveillance video showed the shooter opened fire after having a brief argument with others inside the business.
"We don't know if this is a prior thing that carried over," Sack said.
Sack said the victims all appeared to have connections to the health care business. Dirir and Muse are listed in public records as owners.
Police sources and relatives at the scene said Abdulla was married to Dirir's step-daughter and that Muse and Abdulla were also related by marriage.