The 4th of July is right around the corner and today I am bringing you 4 delicious recipes for side dishes you can make this year!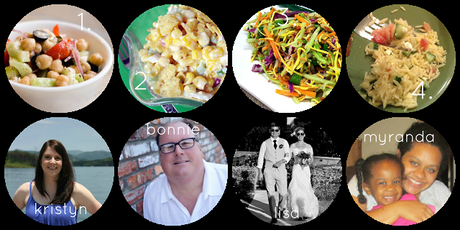 1// Greek Garbanzo Bean Salad - Kristyn     2// Corn Salad - Bonnie3// Broccoli & Ramen Noodle Salad - Lisa     4// Orzo Pasta Salad - Myranda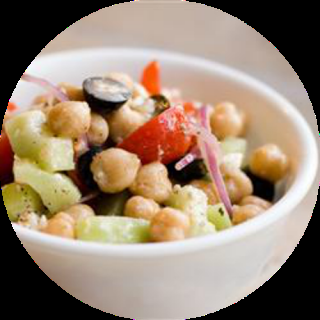 Greek Garbanzo Bean Salad
By: Kristyn
What You Need
2 15oz. cans garbanzo beans2 cucumbers, halved and sliced12 cherry tomatoes, halved1/2 red onion, chopped2 garlic cloves, minced1 15oz can black olives, drained and chopped1 ounce crumbled feta cheese1/2 cup Italian dressing1/2 lemon, juiced1/2 teaspoon garlic salt1/2 teaspoon ground black pepper
How To Make It
Combine the beans, cucumbers, tomatoes, red onion, garlic, olives, cheese, salad dressing, lemon juice, garlic salt and pepper. Toss together and refrigerate 2 hours before serving. Serve chilled.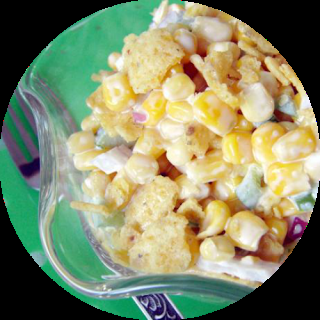 Corn Salad
By: Bonnie
What You Need
2 can whole kernel corn - drained 2 cups grated cheddar cheese1 cup mayo1 cup green pepper, chopped1/2 c red onion, chopped1 bag chili cheese or barbecue Frito / corn chips




How To Make It
Mix first 5 ingredients and chill (overnight is ok). Crush corn chips. Just before serving, stir in chips.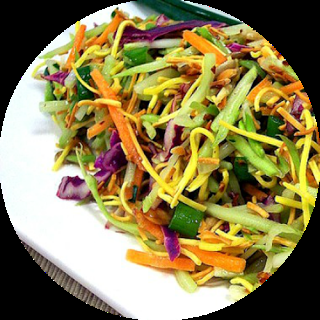 Broccoli and Ramen Noodle Salad
By: Lisa
What You Need
16 ozs coleslaw mix (broccoli)6 ozs ramen noodles (chicken flavored)1 bunch green onions (chopped)1 cup sliced almonds1 cup sunflower seeds1/2 cup white sugar1/4 cup vegetable oil1/3 cup cider vinegar


How To Make It
In a large salad bowl, combine the slaw, broken (uncooked) noodles and green onions. Whisk together the sugar, oil, vinegar and ramen seasoning packet in a medium-sized bowl. Pour over the salad and toss to evenly coat. Refrigerate until chilled; top with almonds and sunflower seeds before serving.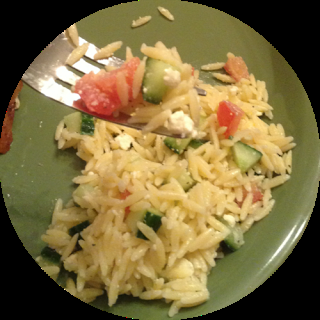 Orzo Pasta Salad
By: Myranda 
What You Need
2 Cups Orzo Pasta1 Seeded/diced Tomatoes1 Seeded/diced Cucumbers1/2 cup feta cheese
Dressing Ingredients1/2 cup Olive Oil1/8 cup Lemon Juice1/2 tsp Italian seasoning1/8 tsp garlic powderSalt and pepper to taste
How To Make It
Cook orzo according to package directions. While orzo is cooking seed and dice tomato and cucumber and set aside. In the serving bowl whisk together the dressing ingredients until they are mixed well and set aside. When orzo is done cooking, drain and run it under cold water to stop the cooking process.. Add orzo, veggies, and feta cheese to the serving bowl with the dressing and mix well. Salt and pepper to taste and chill in the refrigerator for at least an hour or until ready to serve.

Check out one of the sweetest ladies I know, Mallory: