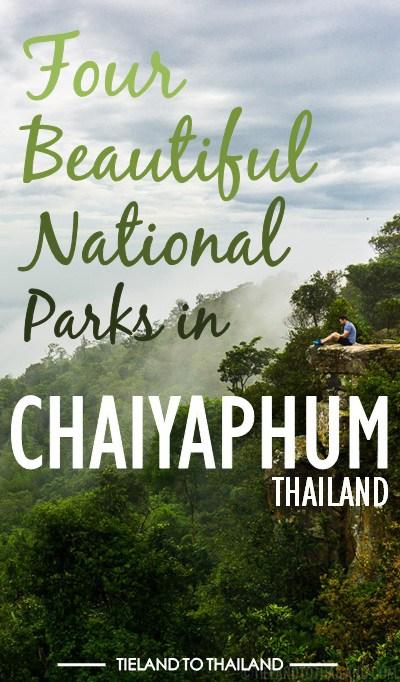 Now that rainy season is in full swing, we're going the extra mile to explore Thailand's landlocked areas in the north and northeast regions. Although Thailand's beaches are undeniably gorgeous, we have a soft spot for the mountains and countryside, which are intensely green this time of year and guaranteed to have blue skies filled with big, fluffy white clouds. During this latest trip we visited all four national parks in Chaiyaphum, a province in the northeast region of Isaan. Places like these have some pretty fantastic views that just can't be found at the beach.
This was actually our first time visiting Chaiyaphum province. We went with our Thai friend, Bee of Be Beez Cafe & Guesthouse, and met her family and participated in the blessing of her new business during our nearly week-long trip. We also made it a point to explore the area and visit Phu Laen Kha, Tat Ton, Pa Hin Ngam, and Sai Thong National Parks.
The road trip involved several very early morning wakeups - as in 4:30am early - which was something we aren't quite used to. But it was surreal riding along Thailand's country roads and watching the colors streaking across the morning sky as the sun rose. Undoubtedly it was a beautiful road trip!
'Stonehenge' at Phu Laen Kha National Park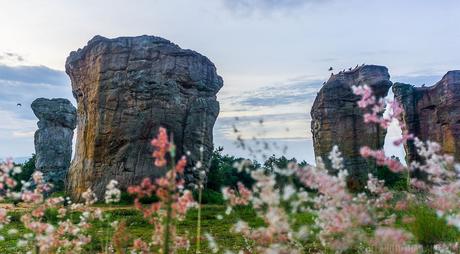 The Phu Laen Kha National Park has a particularly scenic spot known as Mo Hin Khao (มอหินขาว), which translates to the Hill of White Rocks. This attraction is often called Thailand's 'Stonehenge' and it's easy to see why: huge, rectangular shaped rocked spring up from the grassy hillside and create an awesome profile against the sky. In fact, this area is dotted by large boulders for miles around and has a surprisingly expansive view of the surrounding landscape.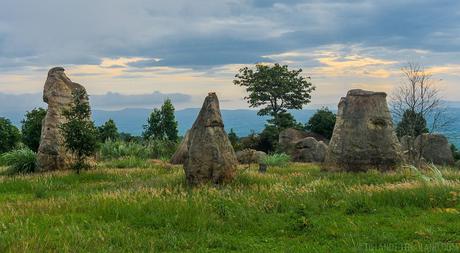 There's another cool overlook in the park (both in temperature and in views) called the Pha Hua Nak (ผาหัวนาค). We visited early in the morning and the sun hadn't cleared out the fog, so the mountainside and the distant valley were blanketed in mist.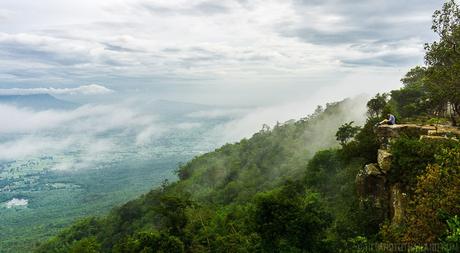 What was so neat about it was that there were several places along the overlook where big slabs of rocks protruded straight out of the mountainside. You may have noticed that there were no guard rails in sight but that no longer fazes us. This is Thailand!
Waterfalls at Tat Ton National Park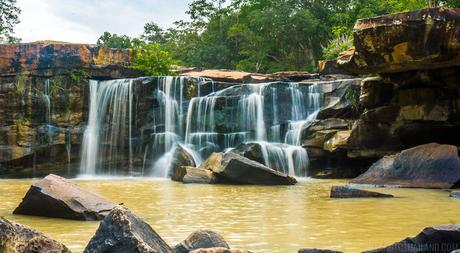 The main attraction at the Tat Ton National Park happens to be the Tat Ton Waterfall (น้ำตกตาดโตน). It has a great view of the oncoming river flowing over a wide stretch of flat rock before it cascades into a plunge pool full of huge, smooth boulders.
According to Bee, the waterfall wasn't as full as it could have been, but it was still a pretty sight and easy to get good photos.

There are several other minor waterfalls within the park as well as a shrine. The park is peaceful, with several picnic areas and lots of tall, shady trees. There's also a large restaurant onsite here, so during our visit we filled up on some local classics like som tam (papaya salad), grilled chicken with sticky rice, and a few stir fry dishes.
Stone Forest at Pa Hin Ngam National Park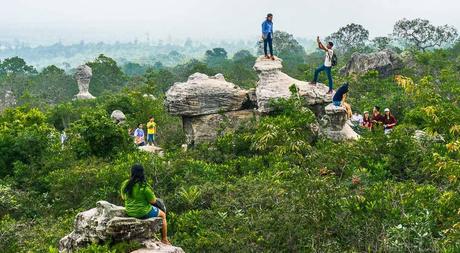 Pa Hin Ngam translates as the Forest of Beautiful Stones, and for the entire year it's possible to view lollipop-like rock formations popping up from the park's sloping fields. We went during the holiday weekend and it looked like people were playing Pokémon Go.
The Pa Hin Ngam National Park was still blanketed in fog when we arrived around 7am. So much so that Pha Sut Phaen Din (ผาสุดแผ่นดิน), the first overlook we stopped at, had absolutely no view at all. We got a laugh out of watching other tourists attempt selfies on top of the overlook because there was absolutely nothing to see except for a solid grey wall of mist!

From the overlook we walked into the dense forest. Unlike the viewpoint, the surrounding mist actually enhanced the view, giving in our opinion a sense of depth to the forest and a mysterious quality.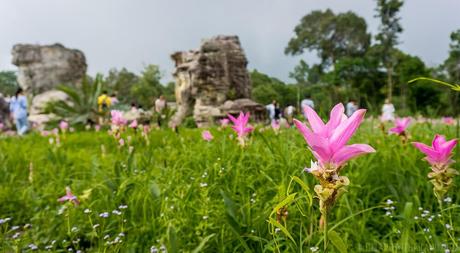 After walking through the forest, the path pops out into a pretty field of pink flowers. This is one of the seasonal attractions at the park (one that warranted its own post) and is celebrated each year during the Dok Krachiao (Siam Tulip) Festival. The best time to go is June, July, and August.
Valley Views at Sai Thong National Park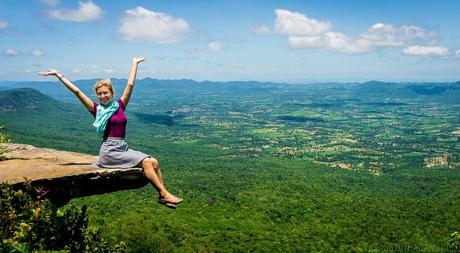 We saved the best park for last. The Sai Thong National Park had our favorite view of the entire trip: the gorgeous overlook at Hum Hod Cliff (ผาหำหด). Standing there made us wonder if we would have experience similar views at the Phu Laen Kha National Park a few days earlier if it hadn't been for the early morning fog.

Standing on the viewpoint reminded us of the breathtaking views at Doi Inthanon National Park in Chiang Mai, Thailand. We've spent an entire day there and our favorite part of the trip was the Giew Mae Pan Nature Trail that gave way to views very similar to this.
This park also had four fields of Siam Tulips. Our favorite was Field 1 (unfortunately it didn't have a flashier name) because we could see the blue-green valley in the distance as we walked through the field.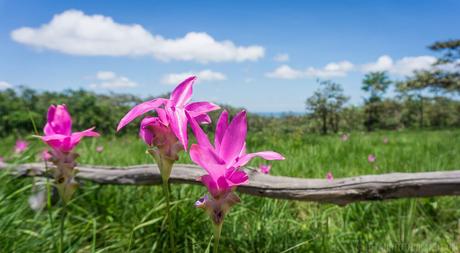 We later learned that the Wong Sai Thong Waterfalls (which we did not visit during our trip) has the same phenomenon that makes it climbable like the Bua Tong 'Sticky' Waterfalls in Chiang Mai's Sri Lanna National Park. Wow!
Road Tripping Around Chaiyaphum
In between the parks were wide open fields of rice, pineapple, corn, and cassava (tapioca). They definitely made the ride more scenic, seeing as though road trip originated in Chiang Mai. Although this particular trip we drove across country in our friend's truck and slept at her family's house in Chaiyaphum City, RVing with Campervan Thai would have been an awesome way explore the national parks and the surrounding region.
Contact Information about Chaiyaphum's National Parks
If you buy a ticket to one of the national parks in Chaiyaphum, that ticket is valid for all other parks for the entire day.