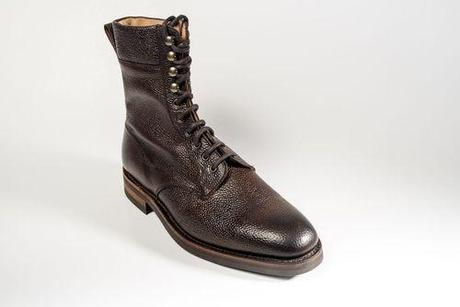 Foster & Son is having a one-day sale tomorrow on their ready-to-wear range in celebration of the switching on of Jermyn Street's Christmas lights. On Thursday, December 5th, all ready-to-wear shoes will be available at a 20% discount (including their Henry Maxwell country line, pictured at the very end of this post). Shave off another 20% for VAT, and you suddenly have very attractive prices for high-end English shoes. The pebbled grained boots you see above, for example, come in at about $525 after the discounts.
The venerable firm Foster & Son has been making shoes since 1840, and Henry Maxwell since 1750, making them to oldest bespoke shoemaker in London. The bespoke line is not the same as their ready-to-wear range, of course. Those are made to different standards in their London workshop, whereas the ready-to-wear line is produced in Northampton. Still, one should expect the quality to be quite high. The one "downside" is that whilst several ready-to-wear ranges have lasts exclusive to Fosters, the lasts are still designed out-of-house (if that matters to you). They have, however, just introduced a new unique Fosters last designed and manufactured by the famous Terry Moore (who came from Peal), and are using it for their premium handgrade range. That line will be featured later today in the company's StyleForum affiliate thread. 
Note, the sale will be going on from 10:00 to 21:15 GMT, which essentially converts to very early in the morning to late afternoon/ early evening for people in the United States. Interested parties should email Foster & Son here. I'm already debating whether or not I should get their Sloane model Chelsea boot in dark brown, which looks like it would go handsomely with tweed jackets and chinos.