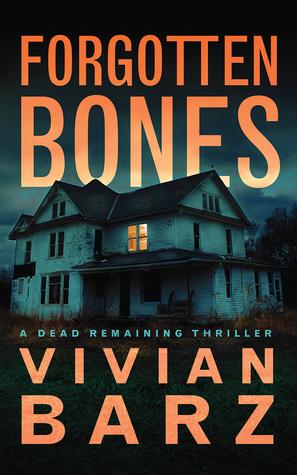 When small-town police officers discover the grave of a young boy, they're quick to pin the crime on a convicted felon who lives nearby. But when it comes to murder, Officer Susan Marlan never trusts a simple explanation, so she's just getting started. Meanwhile, college professor Eric Evans hallucinates a young boy in overalls: a symptom of his schizophrenia—or so he thinks. But when more bodies turn up, Eric has more visions, and they mirror details of the murder case. As the investigation continues, the police stick with their original conclusion, but Susan's instincts tell her something is off. The higher-ups keep stonewalling her, and the FBI's closing in. Desperate for answers, Susan goes rogue and turns to Eric for help. Together they take an unorthodox approach to the case as the evidence keeps getting stranger. With Eric's hallucinations intensifying and the body count rising, can the pair separate truth from illusion long enough to catch a monster?
---
Forgotten Bones is not your average crime thriller, and I will go over why. The premise of the book is excellent. Susan, a young detective upon responding to a car accident scene, comes across the body of a young child. Police quickly attributes the crime to a local pedophile. However, Susan is suspicious that there is more to the story and decides to embark on an investigation on her own. Parallel to Susan's story we meet Eric, a geology professor going through a turbulent divorce and moves to California to get away from his ex-wife who dumped him for his brother.
Eric settles in at the new college and town in an attempt to rebuild his life. Eric is a known schizophrenic, and although he's entirely compliant to his medication regime, he starts to worry that his illness is getting worse as he starts to have visions of a little boy in overalls. Eric and Susan's paths will cross, and together, they will fight to discover the truth regarding the death of this little kid.
Barz alternates chapters between Susan's story and Eric's story. A technique that for most of the time, tends to chop the flow of the story. The reason this book is not your typical crime/mystery book is the fact that there are no red herrings. What you see, or better yet, who you suspect all along, is in fact, the culprit(s).
By the time I got to sixty percent of the book and had the mystery pretty much figured out, there was very little interest in the rest of the story. I honestly do not understand the author's intention with making the answers to this crime so visible right off the bat. I kept hoping that the story was going to turn out a bit like a Scooby-Doo cartoon where the obviously mean, greedy, and weird were innocent, and the super lovely characters turn out to be the guilty ones.
Unfortunately, no! This novel was written with the intent to make the guilty quite evident from the start. The pitfall, however, is that once the reader has the mystery figured out there's very little substance to carry on the rest of the book.
Some important trigger warnings to mention are pedophilia (although not explicit), child abuse, and neglect.
Forgotten Bones is scheduled to be published on August 1, 2019. I would like to thank Thomas and Mercer publishing and NetGalley for providing me with a copy of this book in exchange for my honest review.
---
Format:
 e-ARC, Kindle 298 pages
Published: 
Expected publication August 1st, 2019 by Thomas and Mercer
ASIN:
B07KF46YBG
Source: 
Free copy provided by the publisher, Thomas and Mercer, and NetGalley in exchange for my honest review.
Rating
: 3 stars
Genre:
 Crime, Suspense, Mystery