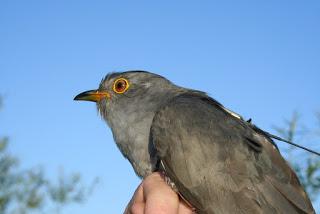 © BTO
In May this year, hundreds of Chinese schoolchildren took part in a competition to choose the name of a pioneering Cuckoo that would help uncover the migrations of Cuckoos found in the Beijing area in spring. Flappy McFlapperson was the winning name.




Shortly after being named, Flappy McFlapperson left Beijing and headed north into Mongolia, crossing the Gobi desert to spend the 'summer months' in the Onon-Balj National Park, the birth place of Genghis Khan and very close to the Russian border. But, excitingly, she is now on the move having begun her autumn migration. Her final destination is still a mystery - she might be heading to Southeast Asia, India or even Africa. At this stage nobody knows. All being well, during the next few months her wintering location, and that of her kind, will be unveiled for the very first time as her migration unfolds.


Dr Chris Hewson, a scientist at the BTO and a world leader on Cuckoo migration, said,"With Flappy (as she is fondly known) on the move things are getting really exciting! We are on the verge of new scientific discovery - the wintering location of the Common Cuckoos that breed in eastern Asia. As Flappy is a different subspecies to the tagged cuckoos that stayed around Beijing during the summer, the excitement is doubled. Whatever she does we have everything crossed that she stays safe."
He added,"On 13 July Flappy began her journey south by flying 513km (319 miles) across the inhospitable Gobi desert, only to  make a U-turn and head back to the Herlen River on the desert's  northern edge, 392km (244 miles) north of her most southern location in the Gobi. She has now, however, returned to her summering location after a roundtrip of 1,200 km (750 miles), so this was something of a false start! We don't know exactly why she has done this - the total length of her round trip could have taken her well into favourable territory beyond the desert, so lack of fuel does not appear to be the problem. It's possible that she met unfavourable winds but, whatever the reason, it seems she felt that her needs would be best met by returning to her starting point. We are now waiting for her next move with great interest."


The British Trust for Ornithology has been fitting satellite tags on Cuckoos in Britain since 2011, discovering a huge amount of information about the rapidly declining population, including their wintering grounds in the Congo rainforest and the routes, via the east and west of the Mediterranean, to get there. They are leading the way on research into Cuckoo migration and, with the support of Zoological Society of London, Oriental Bird Club and the British Birds Charitable Foundation, facilitated by Birding Beijing, they have shared this expertise with Chinese partners including the Beijing Wildlife Rescue and Rehabilitation Centre and China Birdwatching Society. The Beijing Cuckoo Project is an exciting collaboration combining genuine scientific discovery with public engagement and environmental education in schools.




Anyone can follow these birds as they make their way south by visiting 

www.bto.org/cuckoos

 for the UK birds or 

www.birdingbeijing.com/beijing-cuckoo-project/

 for the Beijing birds. Five of the UK birds still need a name. For the cost of a satellite tag and a year's supply of satellite time, which amounts to £3,000, could your school, company or community group fundraise to give a name to one of these pioneers of ornithological science?