In our February 2013 issue, we looked back at the mid-century majesty of Palm Springs, California. Here, we report on today's design scene, one that nods to the town's postwar masters but looks squarely to the future.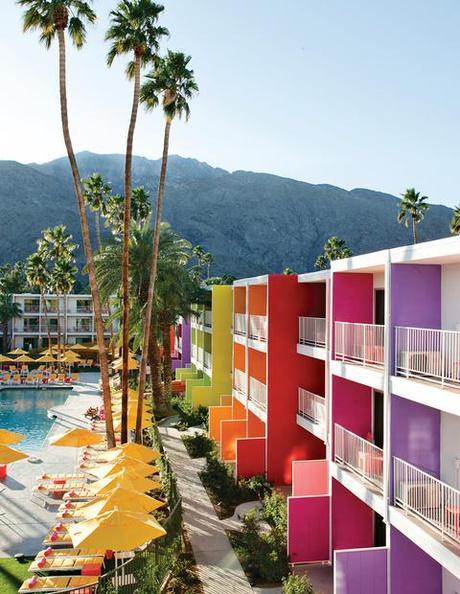 The Saguaro on E. Palm Canyon Dr.
The Grand Tour
With literally thousands of modern buildings to see in Palm Springs, you're best off getting a little help charting your course. Here are the three best ways not to keep winding up at the Sinatra House.
Get on the Bus
During Palm Springs Modernism Week, one of the hottest tickets in town is for the architectural bus tours. Tours run twice daily and feature both contemporary and mid-century designs, so climb aboard for an open-air, double-decker view of the town's modern mania.
modernismweek.com/bus-tours
Yes We Van
For a private tour, you simply can't do better than guide, historian, scholar, and general mensch Robert Imber. A staggering wealth of knowledge behind the wheel of an aging minivan, Imber offers a robust three-hour private tour for $75 per head.
palmspringsmoderntours.com
Phone Homes
Yet another reason to stay obsessed with your smartphone is the Palm Springs Modern: Mid-Century Architecture Tours app from Palm Springs Life. With over 80 buildings listed and the chance to customize your own tour, this app is an architecture geek's dream.
palmspringslife.com
-----------------
Stay a While
The most innovative design in town isn't necessarily in that tract of William Krisel homes. Here's our guide to what design fans should check out before they check in.
The Saguaro
As good an example as any of what a fresh coat of paint and a little ingenuity—from architects Stamberg Aferiat—can do for a crummy old Holiday Inn, the Saguaro is the latest addition to Palm Springs's clutch of modern hotels. In keeping with its humble former incarnation, the Saguaro won't break the bank either—rooms cost as little as $99. Which means you'll have a few extra bones to happily spend on the astounding guacamole at hotel bar, El Jefe; a meal at Iron Chef Jose Garces's restaurant Tinto; or a drink at the might-as-well-be-done-by-Barragán pool.
jdvhotels.com/hotels/riverside/ saguaro_palmsprings
1800 E. Palm Canyon Dr.
877-808-2439
Horizon Hotel
Designed by one of the stars of Palm Springs modernism, William F. Cody, the Horizon Hotel began its life in 1952 as a private retreat for hotel owner and television producer Jack Wrather. It was made into a hotel in the late 1950s, and in its current incarnation, Cody's mid-century magic remains intact.
thehorizonhotel.com
1050 E. Palm Canyon Dr.
800-377-7855
Ace Hotel & Swim Club
The brass at the Ace Hotel & Swim Club describes the vibe of its very hip Palm Springs location as what would happen if the production designer for Easy Rider headed out to the desert to do a hotel. Odds of actually finding Peter Fonda at this genuinely cool renovation of a motel? So-so. Odds of finding a dozen young women from West Hollywood dressed like Stevie Nicks? High.
acehotel.com/palmsprings
701 E. Palm Canyon Dr.
760-325-9900