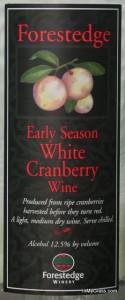 Today, for day 4 of Regional Wine Week, I'm featuring another fruit wine from Forestedge Winery.
Cranberries grow well in the cold northern climate. In fact, over half of the total US production of cranberries comes from Wisconsin (which is just east of Minnesota). For white cranberries, they pick them before they turn red. Forestedge also makes a red cranberry wine.
This is a moderately-sweet wine. There's a nice cranberry flavor. It's more subtle than I would normally expect from cranberries, and I assume that's partly because they used white cranberries. There's a good amount of acidity, which is expected since cranberries are quite acidic. I think this would pair quite nicely with roast turkey, perhaps for Thanksgiving.
This is sweeter than yesterday's rhubarb wine, and it also tastes less acidic. Many people would probably prefer this wine, but I actually prefer the rhubarb. I think the two wines are roughly equivalent in terms of quality, and I would recommend trying either one.
This wine gets a "Very Good" rating.
Forestedge wines are available for purchase from their website. They are also available in many liquor stores in Minnesota.
I received this wine as a review sample for Regional Wine Week courtesy of Forestedge Winery.
Wine Details
Producer: Forestedge Winery
Vintage: Non-vintage
Appellation: Minnesota
Variety: White Cranberry
Alcohol: 12.5% ABV
Price: $13.95 at the winery website
My Rating: Very Good