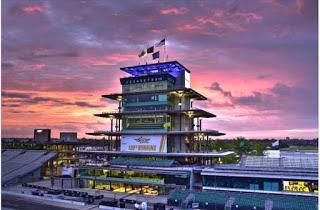 When it comes to legend's of classic rock, Foreigner, top's the list, and they're playing the Miller Lite Carb Day Concert coming up next May! Read More Here...
That's right, Foreigner will headline the Miller Lite Carb Day Concert at the Indianapolis Motor Speedway. Can you believe what a exciting concert it's going be? Racing, all the exciting events, Foreigner, and we've heard Kool and the Gang will be joining them too!
With 10 multi-platinum albums and sixteen Top 30 hits, Foreigner is universally hailed as one of the most popular rock acts in the world with a formidable musical arsenal that continues to propel sold-out tours and album sales, which now exceed 75 million.
Responsible for some of rock and roll's most enduring anthems, including "Juke Box Hero," "Cold As Ice," "Hot Blooded," and the worldwide No. 1 hit, "I Want To Know What Love Is," Foreigner continues to rock the charts more than 40 years into the game with massive airplay and continued Billboard Top 200 album success. Foreigner also features strongly in every category in Billboard's Greatest of All Time listing.
Foreigner's catalog sales were celebrated in the Sept. 13, 2017 edition of Business Insider magazine as hitting the Top 40 among the best-selling music artists of all time. The Beatles were justifiably No. 1, but Foreigner came in ahead of Britney Spears, Bob Dylan, Phil Collins, Prince, Queen, Bon Jovi and Def Leppard.
The year was a big one for the band - 2017 marked the celebration of Foreigner's 40th anniversary. We've rocked with them all the way, and they felt the love of their fan's while on tour playing 40 shows across the United States, where the band was supported by Cheap Trick and Jason Bonham's Led Zeppelin Experience.
They've taken their music to another level and expanded its fanbase in 2018 with the release of "Foreigner with the 21st Century Symphony Orchestra & Chorus," a live recording of Foreigner's first ever orchestral shows in 2017 in Lucerne, Switzerland. The band launched an orchestral concert series in the U.S. in 2018, also playing orchestral shows in Australia and New Zealand, including an appearance at the iconic Sydney Opera House.Later, "Juke Box Hero, the Musical" launched in August 2018 in Canada, a theater production featuring many of Foreigner's biggest hits.
Get ready for a exciting time at IMS, so be sure to grab your tickets soon. General Admission prices start at $30. Special Concert Pit access also is available for an additional $20, and a limited number of VIP Deck tickets are available for $250. All General Admission and VIP Deck tickets include admission to the concert and to on-track activities that day at IMS, which include the final practice for the 103rd Indianapolis 500, the Freedom 100 Indy Lights race and the Indy 500 Pit Stop Challenge.
Get Your Tickets To The All The Race's and Events At IMS
Visit www.IMS.com to buy tickets or for more information on the all the races at IMS. Tickets are on sale now via the link above or by calling 800-822-INDY or 317-492-6700. You can also visit the IMS Ticket Office at the IMS Administration Building.
Photo Credits: IMS / Walt Kuhn