When we decided to attend
Forecastle
last year instead of
Bonnaroo
, I thought it would be a one-time thing.
My Morning Jacket
was curating and headlining the event, we were ready for a change, and I hadn't been to Louisville since college for a trade show. But we went, and we fell in love. A smaller festival, staying in a nice hotel just a couple blocks from the festival grounds, the gorgeous views and the friendly city. We loved being able to leave and have oysters for lunch or Eggs Benedict for brunch. I loved being able to take a nap in air-conditioning mid-day or change into pants for evening. I also loved not having to pack my car to the gills with survival gear and plan months in advance how to dress for comfort and long days.
Even though Forecastle is far more cushy of a festival, it's still important to dress properly. Clothes that can hold up if you are in fact roaming around the grounds for 12 hours straight. Clothes that won't drag on a porta-potty floor, stick to you when you get caught in a mid-day sprinkle or when you have sweat coming out of every pore. An outfit that can handle sitting on the ground, being yanked on and off in a hot porta potty, doesn't chafe and doesn't make you look like a goober. Because while I do desire comfort, I also desire style.
Last year I took sundresses, but spent almost the entire festival in
beat up denim shorts
and
band tee shirt
s. Big aviators, a bandanna around my neck and old boots and I felt like a veteran festie goer, a festie survivalist. This year though, I'm not totally feeling that. Not only is this a festival, but it's also a vacation for me and my husband. Last year was pretty awesome for the two of us, and I want a bit of a romantic or feminine vibe to my look.
So while I will pack the denim cutoffs and
my old Ramones tee shirt
, I have the desire to go back to dresses. Not short
little cotton babydolls of my Bonnaroo days
but something more sophisticated and more like me now.
So what I am considering: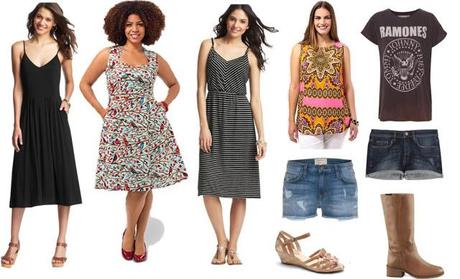 This dress from LOFT is not what I wanted. It's jersey, which clings in sweat and humidity. The straps are too thin to wear with a standard bra. But man, it's a pretty fabulous dress. The straps are adjustable, the skirt is the right amount of fullness for mobility but doesn't make me look huge, and it has pockets! I bought it just for life, but think I'll take to Forecastle and wear with bike shorts so it won't cling too much.
The second dress is from Cherry Velvet and I received it from Gwynnie Bee expecting it to look costumey on me, but ended up loving it. Great fit, cute print, nice cotton that doesn't cling. There's a double neckline that's not really my style, but my sister also borrowed this dress from Gwynnie Bee and told me she pinned the halter straps inside the dress and it worked great. I tried it myself and she's right!
The third dress you saw recently on the blog. It's a dry clean only dress and considering the fabric I figured it was because it shrinks so I threw it in the washer and dryer. Yep, it shrank to almost the perfect length but the hem did not shrink. I took it to the tailor yesterday to have it hemmed in time for Forecastle. Don't know if I will wear it during the festival, but may wear it for brunch or during off time.
This printed top is gorgeous and also via Gwynnie Bee (original brand Eloquii). I haven't received it yet but I'm imagining it with distressed denim and gold aviators and liking it.
And then of course a trusty band tee with shorts and boots… always a safe bet!
As for shoes, I will have at least my
Softspots Ventura sandals
and my
DUO Bern boot
s, but I will likely bring flip flops and possibly Chucks.  I'll also bring my army jacket, a pair of jeans, and maybe a maxi dress
(such the perfect thing for a sleepy Sunday brunch!)
. With Forecastle, since we're staying in a hotel and don't have to fill our car to the brim with camping equipment, I can take a couple extra things in case I change my mind and in case the unexpected comes up
(since the festival doesn't start until later in the afternoon and we're staying in a hotel, we have a bit of time to explore Louisville)
.
I went and bought a new bag for Forecastle… and then returned it. I have
my Kelty backpack
which has done me well to all my previous festival experiences. It's not "cool" but it's small, comfortable, and can
hold all I need
. I'll also bring a crossbody bag for mornings before the festival – likely my Latico. And then of course my Ray-Bans, sunscreen, and a bandanna to cover my head if it gets too hot.
As I did last year, I will be sharing my outfits on
Instagram
and will do recap posts on
what I packed and what I wore
and of course
how it was
!
Follow Me | Twitter | Facebook | Instagram