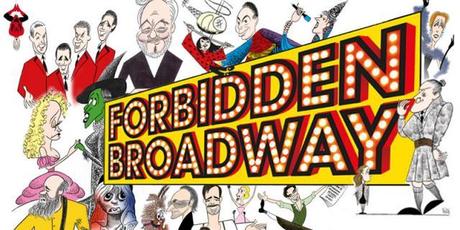 Cast
Christina Bianco
Anna-Jane Casey
Damian Humbleby
Ben Lewis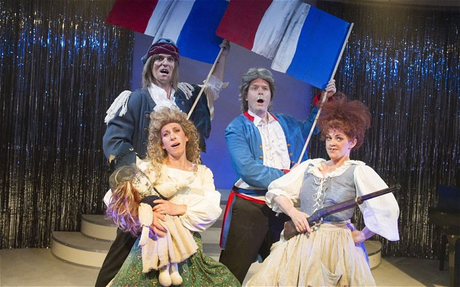 No one is safe when it comes to forbidden broadway. Taking on all of the classic shows and performances in a hilarious and fantastic show. But it's up with the times as well as it goes for it with the most recent and up to date shows as well. Don't forget though to receive this type of treatment the show must be a hit and have made a lot of money and brought the audiences. Although they do have some digs at shows which have flopped.
Hugh Jackman was one of the highlights for me with them using some of the things he sung about himself the year he hosted the Oscars. Which I thought really added to it and you cannot help but laugh out loud as it all unfolds. As let's face it Hugh Jackman is popular with pretty much everyone, I am sure some people have no idea of his musical theater background as well. The big old-time Broadway stars aren't safe either as Bernadette Peters and Liza Minelli are picked on with hilarious numbers. Basically hi lighting the way they sing and strange things they can do with their voices.
Another big highlight was the part in which they paid tribute to Angela Lansbury and had her most recent West End role from Blithe Spirit as part of the show and singing about the past. I really did love that whole sketch and thought it was a brilliant tribute to the incredible Dame. Especially showing her most recent character, the costume was pretty impressive as well!The Les Mis section was absolutely brilliant, 10 years more! The whole rotating and side-splitting lyrics to add to it all.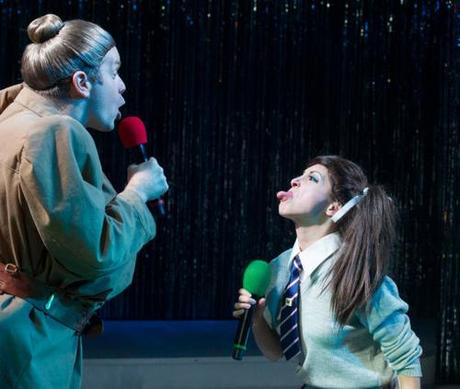 The show only has 4 performers (and a piano player) who take on so many of the different shows and roles throughout the evening. It really is incredible to watch them change so quickly from Les Mis to Book of Mormon etc within a few minutes. I do believe some of the posters around London urge you to see Forbidden Broadway as you get 28 shows in one!
Earlier this year I saw Anna-Jane Casey As Mrs Wilkinson in Billy Elliot and thought she was brilliant in that role. I have even more respect for her after seeing a different range in her performing. Showing what she can do with her voice as she takes on so many famous roles.
Christina Bianco the only other female in the cast took on Elaine Page, Idina Menzel and Matilda. Showing her fantastic range, I have then since looked to see that she is very famous for some of her YouTube videos which have had millions of hits. These also showing how she can change her voice to adapt to Broadway and the West End's finest.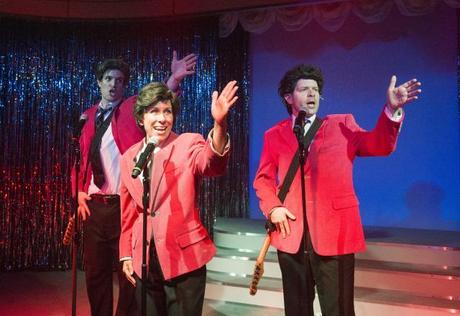 Damian Humbleby and Ben Lewis shared the stage quite a few times and really showed how incredible they are as well. Humbleby taking on the legend that is Cameron Macintosh and changing the words to Miss Saigon song "American Dream" which really had everyone crying with laughing. I won't reveal those lyrics though and you can try to work it out, one letter is changed in the second word if that helps!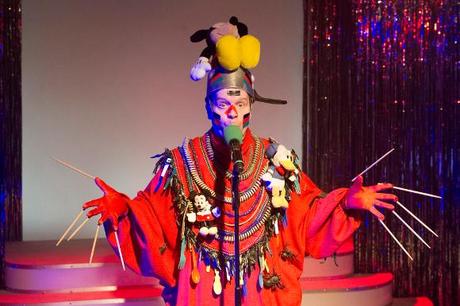 I would really recommend this as a show to see for some light relief and you will probably find yourself agreeing to what is being sung. Thinking at you always thought that way about that particular show. It is very clever with the lyrics and how they fit in with the music and you really have to listen to them as they change the songs you know and love into a fantastic parody.
You don't have long left to catch Forbidden Broadway in the West End as it is due to close on 22nd November 2014. I urge you to make an effort to see this one as you won't be disappointed. It is now into 3o years of running as a show off-Broadway and in the West End. It is certainly a show you could then see again in the future and only recognize a song or two. As they are constantly changed, they have been adapted to London and Robert Lindsay who is starring in Dirty Rotten Scoundrels in the Savoy Theatre across the road takes a hammering.
It has to be the most I have ever laughed at a show, which is what I expected after listening to some of the recordings years ago. But it really is better seeing the performances to go along with the incredibly funny lyrics. So why not head out and have a laugh at some of your favorite shows and songs?