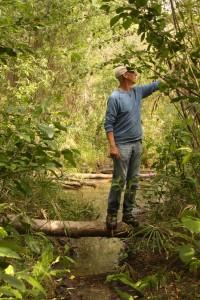 Pascal foraging in a riparian zone
Pascal is the only professional wild food forager in Los Angeles. There is a reason for that – foraging takes a significant amount of specialized knowledge not to mention the tremendous amount of time it takes to actually source the ingredients.
Originally from Belgium, Pascal has lived in Los Angeles since 1986. His in depth knowledge of the edible natural environment is based on twelve years of foraging experience and a keen curiosity to learn about edible plants. He is certainly someone you would like to have with you in the case of a major natural disaster where one has to live off of the land for a time – his knowledge would be invaluable.
His classes are held every Sunday starting at 11am; are between 10-20 students and last for 4 hours. The topic of each foraging class is different; like cultivated crops, food growing in the wild is seasonal and his classes adjust to the nuances of what is growing at any particular time of year.
In addition to foraging classes, Pascal also offers select workshops all based upon wild foods. Intriguing topics include making wild beer with wild plants, pickling wild ingredients, creating wild soup mixes and or plant specific walks such as identifying and collecting edible wild mustard.
The outdoors is like one big kitchen when you see it through Pascal's eyes. He admits he could spend hours just moving 150 linear feet at times, such is the edible diversity of some of the locations surrounding Los Angeles. Without time to collect all these plants, he focuses on just the most interesting edible plants during his classes.
Take the Black Mustard – its flowers when eaten raw, taste very similar to Wasabi. Great for salads or other garnishes. Then there is the Wild Radish with its purple flowers – you harvest the pods when tender, cook them and they taste very similar to string beans.
Not only does he harvest plants for his personal culinary use but also for several extremely high end area restaurants including Girasol, Ink, Melisse and Trois Mec. Over the years, thousands of restaurant patrons have enjoyed food he has personally collected. His interest in plants does not stop with their culinary uses; he also harvests for medicinal reasons as well as for making beer and wine and wild sodas.
Becoming a bit grubby while foraging? Ask Pascal how to make wild soap. Simply find a Yucca Whipplei or commonly called a "Spanish Bayonet" – strip off a small piece – break it up and rub it vigorously between your hands and add a little water. Immediately you have a green lather with a slightly oily feel. Infuse it with some California sage for pleasing aromatics and voila – you have a wild and organic soap!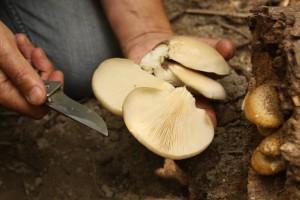 Collecting Oyster Mushrooms
One has to be careful when collecting and have an excellent knowledge of the local habitat. Take a species of wild clover for example. The leaves of one species look very similar to another – one is edible and one is toxic. Or take that same edible species – when a white mold grows on the leaves, usually associated with humid weather, this edible clover becomes highly toxic. Or White Chervil (French Parsley) which is edible; it contains fine white hairs under the leaves but a very similar looking plant growing in a similar environment that lacks these hairs is toxic.
California is certainly a home to introduced species from around the world. Pascal estimates there are 70 to 80% non native plants in the locations he visits of which about 90% of the total plant population has some culinary use. He harvests from both non native and native plants during his foraging outings. His harvesting is sustainable – many of the plants he sources from are very common – and a number are considered invasive species.
He discovered culinary uses from a plant commonly known as Rabbit Tobacco – during the course of research on Native American uses of plants. He spotted a reference in a 17th century book about Cherokee Indians using this particular plant as a type of spice. After experimenting in his own kitchen, he then introduced this plant to several prominent chefs who now rave about its culinary qualities.
Pascal and local chef and forager, Mia Wasilevich run the highly specialized Wild Food Lab – a culinary expose on cooking, food preservation and recipe experimentation with wild vegetation and extreme foods. Recipes that call for wild vinegar, Verjus (juice from unripe fruit) using sugar from insects, various mushrooms, and a number of chaparral species as spices are just a few of the "exotic" ingredients. Seeds, leaves and even bark are collected for culinary uses. Pascal also cooks with sow or pill bugs – when cooked they taste very similar to shrimp.
During a recent outing, Pascal introduced us to Broadleaf Plantain – which is quite bitter when eaten raw. During cooking trials in his lab Pascal found this leaf becomes like seaweed or kelp in consistency and transparent when boiled and becomes much more palatable.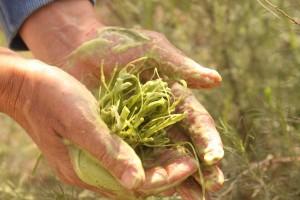 Wild Soap made from Spanish Bayonet and water
Pascal would like to open his own restaurant some day based on he and Mia's experience using foraged products in cuisine. With recipes like wild trout cooked in clay and wild clover or wild quail cooked with a variety of foraged chaparral leaves and infused with Mugwort vinegar – you can be sure this would be a memorable and extremely unique culinary experience.
His work is helping push the envelope on wild cuisine and "unusual" recipes and is on the cutting edge of extreme foods. He says "I am collecting the true flavor of California in the year 2014″ – what he gathers is a representation of what grows wild in Southern California – a mix of many introduced species along with some natives. His work in the lab complements his foraging skills and is leading to new recipes and cuisine innovation.
For more information and to schedule a tour or arrange a private dinner, visit: www.urbanoutdoorskills.com
A species of currant
Collecting edible plants
Forage Arrangement, photo by Michelle Yam
Edible clover with toxic mold
Collecting mustard flowers
Collecting oyster mushrooms
Pascal holding Rabbit Tobacco
Wild soap