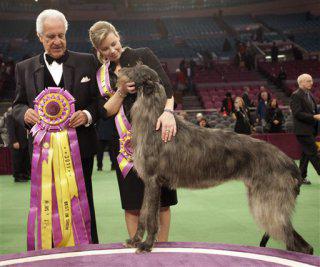 Westminster's 2011 Best In Show winner, Scottish Deerhound, 'Hickory': image via westminsterkennelclub.org Pedigree® was the sponsor of the Westminister Dog Show for the past 24 years; but this year, the Westminster sponsorship has switched to the Nestle® brand, Purina® .  Purina's Pro-Plan® ads for the Westminster, though they have a more positive feel than the Pedigree ads, which featured down-and-out, needing-to-be-rescued-from-'the-pound' dogs, still pull at your heartstrings.
Most Purina dog food commercials are upbeat like the Beneful commercials, but it seems that when it comes to the Westminister, messages get real sentimental, and the commericials just all choke you up.  Even though 'Inside Every Good Dog Is A Great Dog,' is very inspiring and beautifully edited, it's a tear-jerker.
It is a beautiful narrative about dogs. I just don't like commercials that make me cry!

That's the buzz for today!