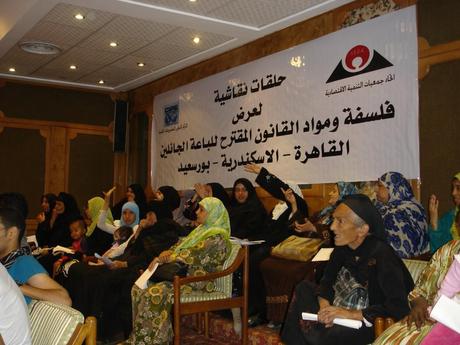 Street vendors from Beni Suef, Egypt offer feedback on a draft law governing street vendors at a meeting held by CIPE partner the Federation of Economic Development Associations (FEDA) in May 2011. (Photo: CIPE/FEDA)
John Sullivan has been traveling to Egypt for the past 20 years. As the Executive Director at CIPE, he has keenly followed Egypt's democratic and economic trajectory and was eager to visit "Misr" following the January 25 revolution.
What he found surprised him in some ways, prompting John to write an article for the Huffington Post describing his impressions and attempting to focus debate on the central issues facing an Egypt in transition. In his article, John highlights the three primary economic challenges confronting Egypt today: revitalizing tourism, renegotiating debt, and harnessing the power of the informal sector.
The revenue lost from this year's near collapse of the tourism industry is intimately linked to the pressing need for Egypt to renegotiate its debt. Loan concerns have been covered in detail by the press, following President Obama's speech two weeks ago and the continuous actions of international donor organizations. The third issue he highlights, the informal sector, is less often taken up in analysis. With Egypt's informal sector accounting for an estimated 35-40 percent of the Egyptian economy and the majority of its workforce, it is an issue that lies at the center of any debate on Egypt's democratic and economic aspirations.
John calls on Egyptians and the international community to focus on how best to invest in a democratic, market-oriented Egypt:
If Egyptians can think of this…as an investment and use this time to liberate the forces of entrepreneurship, bring in the informal sector, encourage the dynamism of Egypt's small- and medium-sized companies, and most importantly, to immediately launch skills training programs and a reform of the education system, Egypt stands a very good chance of overcoming many of the issues and barriers that kept it from becoming one of the large, emerging markets along the lines of Brazil or India.
To explain such investment, John draws attention to the work of long-time CIPE partner the Federation of Economic Development Associations (FEDA), a grassroots coalition of small and medium-sized enterprises (SMEs) that has worked to study Egypt's informal economy and advocate for policies that include these entrepreneurs and businesspeople into the formal marketplace. With CIPE support, FEDA has successfully advocated in recent years for the repeal of more than 500 Ministry of Industry and Trade decrees that were unfavorable to SMEs. FEDA's work has garnered significant media attention highlighting the business environment for Egypt's smallest, but most numerous, businesses.
When John and MENA Senior Program Officer Greg Simpson visited Egypt in May, there were signs that Egyptians are moving to invest in the future of their country. FEDA was holding town hall-style dialogues with its members to solicit feedback on a FEDA-led draft law governing street vendors. And independent news source Al Masry Al Youm partnered with CIPE to gather leading thought leaders together to discuss the relationship between political and economic freedoms and the connection between democratic governance and market-oriented reform. Though there is no linear path to a democratic peace in Egypt, investing in the institutions that will underpin participatory government and an adequately regulated economy will ensure that Egypt is on the long path to prosperity.