An original painting of True Blood's Kristin Bauer by international artist Eric Waugh is up for auction over at charitybuzz.com. Recently we posted a video of Mr. Waugh making the painting of Kristin and now the painting is being auctioned for charity.
The bidding just began yesterday morning and the estimated value of the painting is $10,000.00. The auction is open to bidding until Wednesday, June 15, 2011 2:03:00 PM EDT
The proceeds for this item will go to the charity, Hometown Heroes.
This is an original painting of Kristin Bauer (Pam De Beaufort) by International Artist Eric Waugh and is autographed by the artist and Kristin Bauer on the back and says; "This is an honor. Much Love, Kristin Bauer".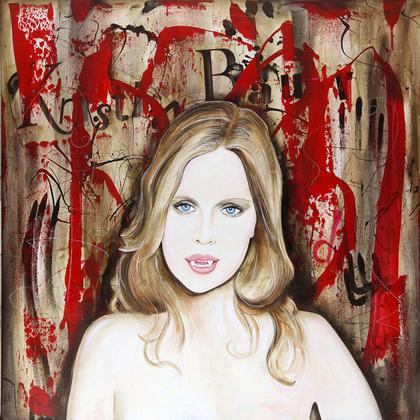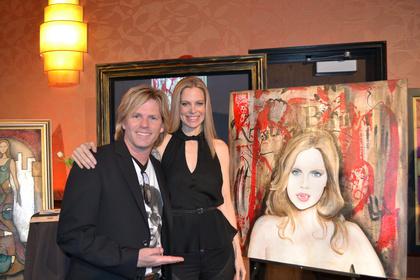 Kristin Bauer with Eric Waugh
Waugh is self taught in every artistic aspect. He gained experience in the fields of graphic illustration and product design before turning to painting in 1988. Since then, the tremendous quality and range of his work has escalated his popularity among art connoisseurs to the point where his paintings have been acquired by thousands of major corporate and private collectors worldwide, placing the prolific Eric Waugh at a level of distinguished prominence in today's international art market.
Waugh works primarily in acrylics on a variety of surfaces, adding embellishments such as acrylic textures, metallic paints and pens, and watercolor pencils. With his masterful use of vibrant colors, rich textures, and lively subject matter, Waugh's fun yet sophisticated art celebrates life. Waugh's artistic themes embrace the excitement and energy of urban life, romance, music, pets, and still life, and reflect his own heartfelt passion for the arts and his appreciation for life's simple pleasures. Waugh's art reveals his own positive and enthusiastic outlook.
source: charitybuzz.com9