Podcast: Play in new window | Download
It's time for a tennis quick tip on the serve! While the serve may be the most important stroke in tennis, I believe the toss is the most important part of the serve. And that's why you need to always hit a good serve. Too often, we get lazy or impatient and just hit any old toss. Instead, we need to learn to be patient and wait for that perfect toss before hitting our serve. In this episode, I'll explain how and why you need to always hit a good toss. You can listen to this episode by clicking on the media player above or by listening in with your favorite podcast app. You can also subscribe in iTunes by clicking on this link: tennisfixation.com/itunes.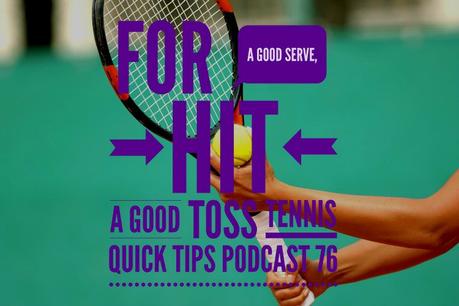 SHOW NOTES:
Since you can toss the ball as many times as you want on your serve, you should only hit a good toss - one that travels straight and slightly into the court. There's no penalty for tossing the ball an excessive number of times. So why do so many of us hit a bad toss just to get the point going?
I think its for one of three reasons:
We get lazy and we just hit whatever toss goes up.
We get impatient and just want to get the point going.
We get embarrassed and feel like our opponents will be upset with us if we keep on tossing the ball.
None of these is a good reason for hitting a bad toss. Because, if you hit a bad toss, you will never be able to hit the serve you want to hit. You can't place the ball in the target area that you want. You can't put the proper spin on the ball. And you certainly can't put any power on the ball.
So let's all learn some patience. Let's not be lazy. And let's certainly not be embarrassed.
Let's toss the ball as many times as we need to when we're serving, until we get that perfect toss and can hit the serve just the way we want to.
RESOURCES AND LINKS FROM THIS EPISODE:
SHARE, SUBSCRIBE AND REVIEW:
Feel free to share this episode by sending people to:
You can listen in, subscribe or leave a review by going to:
GET A BETTER SERVE FAST!
And if you're interested in getting a better serve - fast! - get my free ebook, 10 Quick Fixes to Improve Your Serve: No Lessons Required.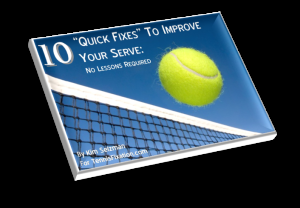 By applying the 10 simple tips to your serve that I give in this ebook, your serve can become a tool that you can use to gain control of points. It can become more powerful, more accurate, and something you're actually proud of. Just enter your email below and you'll get instant access to this free ebook as well as weekly updates with all of my best tennis tips!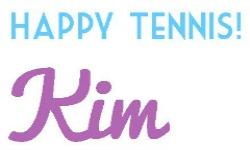 © Kim Selzman 2015 All Rights Reserved