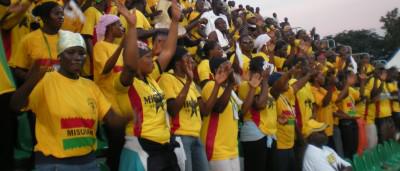 Ghanaian sports fans and members of the Millennium Supporters Union of Ghana. (Photo: Virginia Bunker)
As highlighted on the CIPE Development Blog last week, the world's most beloved sport can play a key role in cultivating economic opportunity and strengthening democracy throughout Africa. One innovative means of cultivation is through the budding business of fan associations.
In Ghana, the organization of formally recognized fan associations began in earnest during the Black Stars' debut in the 2006 FIFA World Cup. With the nation's football obsession, like many countries around the world, the number of supporter groups and their memberships grew rapidly. Today Ghana's Ministry of Youth and Sports recognizes numerous associations, such as the Nationwide Supporters Union (NSU), Supporters Union of Ghana (SUGHA), Ghana National Supporters Union (GHANSU), Millennium Supporters Union of Ghana (MISUGHA) and the Women's Supporters Union of Ghana (WOSUGHA).
While these aren't CIPE's target audience of partner organizations, the social capital and leadership skills they help build are of overall importance to strengthening civil society as a pillar of democratic governance. That capital and those skills are transferable, and learning them in practice can be as effective if not more so than learning in a workshop.
My first experience with fan associations was in July 2009 when I attended the Africa Hockey Cup for Nations in Accra, Ghana. For one week the national men's and women's field hockey teams of Ghana, South Africa, Nigeria and Egypt clashed to earn a bid at the 2010 Hockey World Cup. Several of Ghana's fan associations remained steadfast in their support for the tournament by cheering, clapping, singing and dancing during all of the week's matches, whether Ghana was playing or not.
Why cheer for an opponent? When you are commissioned by the government to create an atmosphere of excitement and unity, an image of a sports-loving nation dedicated to the development of lesser-known sports, that's what you do. For fan associations, it is their business, even for sports beyond football.
For President Mills to pull off a successful Hockey Cup for Nations, one that expressed Ghana's outward display of support for hockey's development to the international sporting community, and one that justified the creation of a state-of-the-art water-based hockey pitch and facility in downtown Accra, a packed stadium was necessary. NSU, MISUGHA and WOSUGHA performed their jobs beautifully.
Although I had never had the slightest interest in field hockey before attending the tournament, the atmosphere these groups created was truly exhilarating. I'm sure many of the union members left the competition with a newfound appreciation for field hockey, and from a business standpoint the success was in the mutual benefit of both the unions and Ghana's government. The Cup for Nations tournament put another notch in Ghana's belt for sporting infrastructure and hosting capabilities, and the fan associations were paid for their services.
In 2006 Sarfo Abrebrese, a lawyer, sports commentator and TV personality from Ghana spearheaded the creation of the Coalition of Supporter Unions in Africa (COSUA) to rally mass support for the 2010 World Cup in South Africa. After witnessing SUGHA's success in uniting fans from the fiercest rival clubs in Ghana for the Black Stars' run in the 2006 World Cup, Abrebrese believed this cause could be extended to the African continent.
COSUA genuinely believes in the unifying nature of sports but also understands the networking potential in sports lovers across Africa as a business strategy to increase membership, sponsorship and revenue. It is no wonder that COSUA had been such a staunch supporter of Durban, South Africa's bidding for the 2020 Summer Olympics until the city officially pulled out of the running.
South Africa may have its eyes set on the 2024 Olympics instead, and fan associations in Africa will no doubt band behind this international honor and business opportunity. In the mean time it will be interesting to see how many civil society leaders and members of tomorrow might emerge from the fan associations of today.