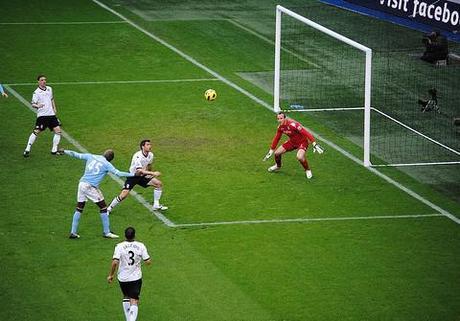 Mario Balotelli (45) heads toward goal in a Manchester City versus Fulham FC game. Photo credit: ZawTowers
The debate over the competence of Barclays Premier League match officials and the Football Association (FA) has reached fever pitch after the FA controversially decided late on Tuesday not to overturn the ban on Queens Park Rangers' captain Shaun Derry and not to take retrospective action against Manchester City's Mario Balotelli. The twin rulings have been widely considered as a huge miscarriage of justice given Derry was red-carded for the most minimal contact on Manchester United's Ashley Young (who was clearly offside anyway) while Balotelli's dangerous studs-up, knee-high tackle on Alexandre Song, the Arsenal midfielder, appalled most right thinking football fans and led even his manager Roberto Mancini to say it warranted a straight red.
The decisions – both deemed fairly outrageous by the sports commentariat – have many asking if the FA is fit for purpose. "Shaun Derry red card stands," tweeted BBC Match of the Day presenter Gary Lineker, the former England captain. "Who makes these decisions at the FA? Have they any feeling for the game? Beggars belief at times." His strong words of criticism were echoed across social media. "The FA as I've said before. Toothless, spineless, unadventurous ivory tower people Suits, bureaucrats, yes men Time to change is long overdue," boomed broadcaster Stan Collymore.
FA farce. Sam Wallace of The Independent noted that "English football reacted with surprise and dismay yesterday when Mario Balotelli was given a reprieve for his stamp on Alex Song, meaning he will face no retrospective action for the foul but Shaun Derry's soft red card against Manchester United was allowed to stand." He said the twin judgments amounted to a "farce" yet explained how they decisions had been arrived at. He noted that the FA is restricted by world governing body Fifa in its scope to punish players retrospectively if match officials report they saw the incident – as they did in the Balotelli case. Turning to the murkier Derry decision, Wallace said "the panel had to decide whether it was a 'serious and obvious' error by (referee Lee) Mason and judged that it was not."
Perverse double standards. James Ducker of The Times (£) argued that "the decision not to punish Balotelli … seemed more perverse after the FA rejected Queens Park Rangers' appeal against Shaun Derry's red card … The QPR captain, who will miss his team's crucial league match at home to Swansea City tonight, was judged to have pushed Ashley Young, even though the United winger was widely accused of diving to win a penalty."
Absurd decision may lead to reform. Oliver Holt of The Mirror was astonished that "somehow the FA managed to reject QPR's appeal against the sending off of Shaun Derry at Old Trafford on Sunday, even though replays showed that if anyone deserved a ban, it was Ashley young for taking a dive. It is cold comfort to Rangers but there is talk that the decision is so absurd it may provoke reform of the process at the FA next season."
On fan messageboard QPRdot.org, QPR_John "I can honestly say I am disgusted at this. The game is dead and the FA have lost any credibility that might have. Their reasoning will of course be secret, the referees report will be secret. It is all corrupt."
QPR fans: FA is inept. QPR fans reacted with dismay to the Derry decision which ruled the dogged midfielder out of tonight's crunch tie against fellow promoted side Swansea City. Season-ticket holder Will Besant vented his spleen on Facebook: "What is up with the FA!!!!!!!!!!!!! How do you uphold Derry's straight red when, a) Young was miles offside and b) Derry barely touched him. 
We have had 2 goals disallowed this season due to Lineman's incompetence and now another farce. This kind of ineptitude could cost £90 million at the very least. 
They think they are saving face by backing ref's and linesmen but they are actually making complete idiots of themselves. Let's do this inspite of the FA and stay up!!! UUU RRRRRR'ss!!!!"
Relegation-haunted clubs being let down by officials? Mark Hughes, the QPR manager, claimed that a lot of his peers had "lost faith" in referees, only 24 hours after Wigan manager Roberto Martínez launched a scathing attack on the officials for failing to spot that both of Chelsea's goals were offside in their 2-1 win against his side at Stamford Bridge on Saturday. The Wigan manager's gripes were taken up by Wigan chairman Dave Whelan. He told The Times that those decisions could "cost the club £90 million" if they are relegated and said there had been "a lot of despair" within the top flight over the competence of officials this season. "They [the officials] have been way, way under what skill and ability they should have this season," Whelan said.
When it comes to stamping on opponents, Balotelli has previous form: