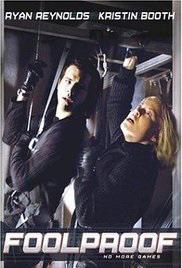 Director: William Phillips
Writer: William Phillips (Screenplay)
Starring: Ryan Reynolds, Kristin Booth, Joris Jarsky, Sean Sullivan, Tara Slone, Soo Garay, Wai Choy, David Suchet
Plot: Kevin, Sam and Rob are founding members of a theoretical group which pulls off heists. Leo, a gangster, blackmails them into pulling off a real multi-million dollar heist. Now it's up to them to get out alive.
There may be spoilers the rest of the review
Verdict: Clichéd Heist Film
Story: Foolproof starts as we meet Kevin (Reynolds), Sam (Booth) and Rob (Jarsky) as they play heist in their spare time deciding if they can make a Foolproof plan to rob companies. When the friends have their plans stolen and used they find themselves having to work for Leo (Suchet).
The three friends must work together with Leo to pull of his latest heist much to the friend's wishes they will have to use all of the skills they have learned to get this job done to show they can pull off the Foolproof plan.
Foolproof tries to take a spin on the the idea of heist films by making the main three characters only plan heists in theory never going into the field. This works well but I do think this could have been used in the final outcome of the film too. The problem comes with the middle where we get to see the crew actually have to go through with a heist and most importantly they never show the most important part from the opening sequence the run through. I do think this film misses a lot of good chance to work on to the next level which it needed to be.
Actor Review
Ryan Reynolds: Kevin is the wise talking leader of the three friends, he gets sent of the psychical side of the heist to show how he can get this done. He is also the brains behind whether they should do this job. Ryan shows that he has all the potential to go onto bigger things with this performance without being top level.
Kristin Booth: Sam is the feisty member of the team, she can handle herself in a fight but this can also lead her to be in trouble she doesn't need to be involved in. Kristin is solid in this supporting role without being anything but cliché.
Joris Jarsky: Rob is the last member of the team, he wants to take their practice into action and this chance gets his dream to come true. He is the tech guy of the team but also the clumpy member. Joris is solid but easily the most forgettable in this role.
David Suchet: Leo is the seasoned professional criminal that wants to use the team for his latest job, he gives them respect for their work but will put them in their place if they step out of line. David is solid as the villain but I find his calmness to laid back for my liking.
Support Cast: Foolproof has a small supporting cast with most just being there to make extra part of the trying to suspect our guys.
Director Review: William Phillips – William gives us a clichéd heist movie that doesn't hit the comedy level it could have.
Action: Foolproof has only slight glimpse of action being used through the heist side of the story.
Comedy: Foolproof doesn't hit any comedy levels needed for a comedy heist movie.
Crime: Foolproof shows us how the crime side of the story is working with learning how the heist is going off.
Settings: Foolproof keeps the settings to scouting the ideas or the inside of the jobs. Nothing really comes off overly memorable.
Special Effects: Foolproof uses the effects when needed without being used meaninglessly.
Suggestion: Foolproof is one that I feel is a good late night TV film. (Late Night TV)
Best Part: You can see Reynolds had the star quality.
Worst Part: Too clichéd.
Believability: No
Chances of Tears: No
Chances of Sequel: No
Post Credits Scene: No
Oscar Chances: No
Runtime: 1 Hour 34 Minutes
Tagline: This fall suspense gets intense!
Trivia: The movie was not only the widest release of a Canadian movie in history (as of October 2003), but had a record-breaking marketing budget of $2 million.
Overall: Overly clichéd heist film that is a fun enough watch.
Rating