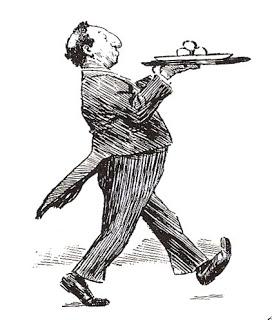 Foodies London this Saturday. Here's a preview with Ann...



£20, pins, needles and bread and butter
Take a close look at a £20 note. Next to the profile of economist Adam Smith is a tiny drawing of workers in a pin factory – the example he gave of the advantages of division of labor. This Normandy factory is still producing needles and pins - next year it will open to visitors for the first time – La Manufacture Bohin, www. bohin.fr.
And what has this to do with bread and butter?  Absent-minded Smith is said to have put bread and butter in a teapot, brewed it, and described it as the worst cup of tea he had ever tasted.



Food crops up in the most unlikely places – for more anecdotes about eating, join my foodie walk this Saturday January 26, 10.45am at Green Park tube, park exit by the fountain.
A London Walk costs £9 – £7 concession. To join a London Walk, simply meet your guide at the designated tube station at the appointed time. Details of all London Walks can be found at www.walks.com.