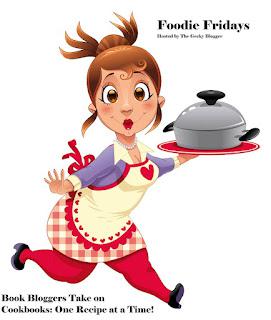 I'm back again participating in the Geeky Blogger Book Blog's new Foodie Friday's meme.  She started this meme to combine her two faves--books and cooking.  Seeing as how I share those loves AND cooking decreases my stress, I couldn't contain my excitement.  I could kill two birds with one stone. It will be the perfect addition to Reflections of a Bookaholic as other content will slow and I can document my cooking.
I've picked my next cookbook for case study!  I'm excited for a number of reasons.  In case you forgot (because it has been awhile), I cook and review 3 or 4 recipes out of a cookbook each Foodie Friday and end the study with a review on the cookbook.
Our next book up is:
Cooking Light Fresh Food Fast 24/7: 5 Ingredient, 15 minute recipes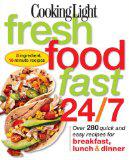 This particular cookbook advertises 5 ingredient recipes (but this is a little misleading) that can be cooked in less than 15 minutes.
Chicken Tortilla Soup


Ingredients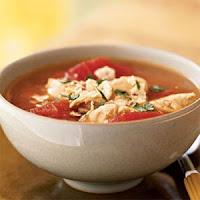 Olive oil




chopped onion




Garlic clove




Fat-free, lower-sodium chicken broth




Water




Shredded cooked chicken




Fresh Lime Juice




Chipotle Chile Powder




Diced tomatoes and green chiles




Tortilla strips


My thoughts:
First, I think the 5 ingredient refers to 5 main ingredients or something.  Clearly, there are more than five ingredients here.
Second, this recipe was a disaster.  It was not good for me but I think it is because I have a different idea of chicken tortilla soup and I should have known that this wouldn't work for me.  It was very watery and the tortilla strips kind of sunk quickly to the bottom.  Not what I'm accustomed to!
So.... I wanted to present a second recipe because it didn't sit well with me.
Avocado BLT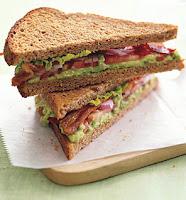 Ingredients
Creamy Avocado Spread
Thin-sliced 15-grain bread
Gourmet salad greens
Tomato Slices
Center-cut bacon slices, cooked
My thoughts:
First, this book sly gets around the 5 ingredient thing by creating a different recipe for the creamy avocado spread.  I didn't follow it because I had ideas for my own.  But I LOVED the idea.  I've heard of adding avocados to a sandwich but I'm not a fan.  But I am a big fan of adding a healthy avocado spread to my sandwich.
Second, the recipe included helpful information about different types of bacon and I discovered that center-cut bacon is healthier than other cuts.  I might have known this but I enjoyed the reminder.
Lastly, this was quite simple and I'm not sure you would even call it a recipe, but I absolutely loved it.  It was a fresh idea for me.  My lunch was fantastic this week.
That's it for this week!  Ya'll don't judge me on that chicken tortilla soup.  I promise I can cook :)