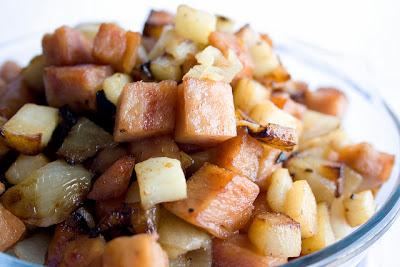 When I think of my most loved childhood lunch and dinner dishes, I think of this heavenly dish. My Indonesian maid (we hired maids in Malaysia) would cook it pretty often for lunch or even dinner. It is simply delicious when served with a side of rice, or even by itself. Sadly, as I grew up and moved to Australia, I have not eaten it for a very long time.
Luncheon meat is also known in the Western countries as "spam". I recently tried recreating this simple yet deliciously filling dish. The recipe is pretty straightforward with its two main ingredients: Luncheon meat (or spam) and potatoes. From here, you can add other ingredients as you wish, such as onions, celery, beans/baked beans, tomato sauce etc. Don't forget to add salt and pepper as well!
Stir - fried luncheon meat and potatoes

Ingredients
1 can of luncheon meat/spam (found in any Asian grocery store)
2/3 potatoes
Onions
Sesame oil
Salt & Pepper
Oyster sauce (optional)
1. Cut both the luncheon meat and potatoes into small cubes.
2. Microwave potatoes to soften it.
3. Fry both potatoes and luncheon meat in high heat, until brown.
4. Add in onions and fry until onions turn brown/golden.
5. Add in sesame oil, salt and pepper accordingly for taste.
6. Add in oyster sauce (optional) for extra taste.
7. Serve with rice.