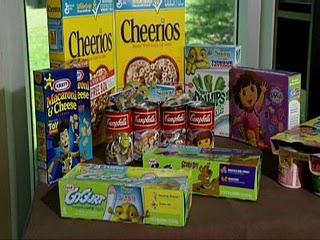 What happens when healthy food is labeled with a cartoon character? Kids seem to like it more! I have seen this to be true with my kids, except when it comes to vegetables. They may be more eager to try raw carrots if Sponge Bob is on the front, but they still say "gross" and spit them out after the first bite. :( It is so aggravating. They do, however, get excited when their food has a cartoon character on it. I think it's a good idea to put them on healthy food.
FROM NBC:

The mere image of a favorite cartoon character may make kids' mouths water! A new study from the University of Pennsylvania shows children think food tastes better when the food's label and packaging has a cartoon character on it.

Researchers showed 80 kids between the ages of 4 and 6 two different boxes of the same cereal.

Kids said they liked the cereal more when the boxes came with cartoon characters. This study is published in the journal "Archives of Pediatrics and Adolescent Medicine."



-NewsAnchorMom Jen
Skin Dimensions SB products, exclusive to Soderstrom Skin Institute, are manufactured with Pharmaceutical-Grade ingredients. In addition to being "Feel Good Products," they contain unique and innovative ingredients in concentrations that can assist you in the achievement of your own personal skin care objectives. This product line contains higher percentages of Glycolic, Vitamin A, C, E, Co-Q10, green tea, than what you can purchase over the counter.