Title: Food Wars (Shokugeki no Soma)
Genre: Comedy, Ecchi, Food
Publisher: Shueisha (JP), Viz Media (US)
Author/Artist: Yuuto Tsukada, Shun Saeki
Serialized in: Weekly Shonen Jump
Translation: Adrienne Beck
Original Release Date: March 18, 2014
Free Preview:>>HERE<<
Shokugeki no Soma is one of the best Weekly Shonen Jump titles to come to the US in a good while. I say after reading Vol 1, which is released digitally. You can choose to go read it in that form or wait to get it in print in August, but whichever way you get it, you will be welcomed. If A) light fanservice is an issue, then this may not be for you or B) That picture that's been circling around the internet that's one of the first service and despairing to some scenes in the series gets to you, then it's unfortunate. That's because unlike other fanservice works before it, it's used in an entertaining way, is not used often, and the cooking dominates most of the volume.
Fully titled Food Wars (yes, based after the failed Travel Channel edition!…Probably): Shokugeki no Soma, this tells the story of Soma Yukihira, a young man who's great at cooking, except he sucks compared to his dad, routinely losing to him in cooking competitions. He works at the low-end restaurant Yukihira and desires to continue the family business in the future, but his dad shuts it down and tells Soma to enroll at a cooking school. Little did Soma realize that the school his dad enrolled him in was the elite Tozuki institute, and if he thought he was the best chef ever…well, he's going to find out if that's the case.
So far, he hasn't found out yet.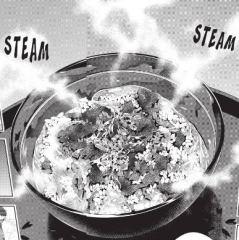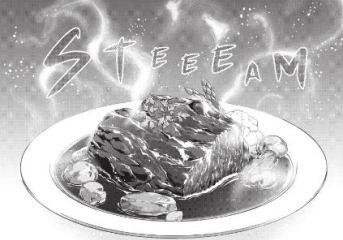 There's a lot to like about Shokugeki no Soma. The first is the overall theme. As someone who routinely watches the Food Network, I'm easily led to believe that having fresh meats, vegetables, quality seasons, etc, is necessary to create a great meal. Well, a show like Chopped actually proves this to not be the case, and Shokugeki no Soma adheres to that line of thinking by being unorthodox in its cooking style, and being right along the lines of Iron Wok Jin. Not quite like it so far (since there were batcrazy characters in that), but it's just as entertaining.
Of course, as good as Soma is at cooking, he doesn't have it too easy. As great of a cook as he is, it's not merely cooking that earns high marks, it's status — as if enrolling in Tozuki and soon meeting the great Erina Nakiri doesn't prove this — that goes far at the institute. For Soma, whose background is on the lesser end of the spectrum compared to everyone else, it's clear he's gonna have to showcase his abilities well since he's got a long way to go socially and t0 gain respectability there.
The likable part about Shokugeki no Soma is the characters. It's pretty hard to not find one you like, even though I'm certain you've seen their personalities in other manga before. But with cooking as the main focus and the situations shown in the volume so far, it's going to be crazy and a ton of fun, which allows the characters to be very interesting. After all, seeing Tadokoro, a shy girl who's lousy at cooking (so says her grades) end up smiling and happy (without clothes I add) after eating Soma's dish while completing a challenge is funny, and a nice change of pace. And that goes the same for Erina, who's the usual tsundere character you've seen in a lot of works, but falls apart after tasting great food.
I didn't know you could get this…this…this way after eating great food…
Shokugeki no Soma has it all. Fun characters, crazy cooking, some nice art, and the original one-shot from Jump NEXT!? The only thing that can cause reservations is the fact that there is a girl that gets wrapped in tentacles only a few pages into the volume. But once you get past that, and soon realize there's not much else there in terms of fanservice (or at best, it's not distasteful that's for sure), this is one of the best digital releases this year. You should really enjoy this manga.