My friends have been commenting on my expensive taste because I am going for set lunch of late instead of eating the humble cai-fan (economical rice) like a normal civilian. I don't know, economical rice always remind me of homecooked food and it doesn't make sense for me to spend on food which I can/ my family can serve at home. Haha, would rather spend more and eat something different.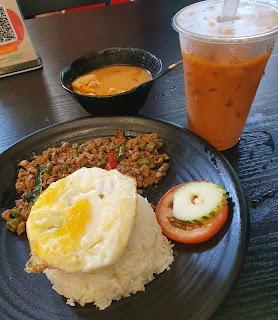 Let's Kinn Thai ($9.90)
I was shoved a pamphlet so I decided to give it a try. I guess they
were honest
, the mains was truly $9.90 and
the set comes with a drink and a tiny bowl of soup
. But for someone who eats/ love a lot of Thai food (not called ChaaYen for nothing, yo), this is
average.
The
drink was too sweet for my liking
and psst...there are
better Thai food there that cost way cheaper if you don't care too much of having a seat
.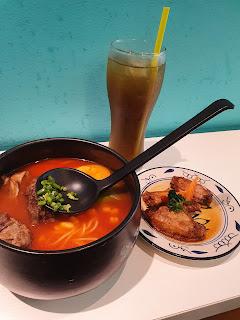 Eventasy Noodle Bar ($9.90)
It was a cold day, so this place lured me in. My set ended up costing more than $9.90 because I upgraded and
the so called $9.90 deal was before GST
. I had the
Tomato Broth Noodles and it was really yummy
so I didn't feel too sore about paying a little more. I was
actually very satisfied with the whole meal
. However, this
doesn't belong to the category of food you would crave so badly for because it taste so good
. Maybe I will go there again if I am in the vicinity.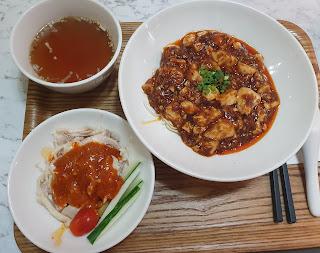 Chen's Mapo Tofu (<$15)
Somehow, I felt like I obviously
saved the best for last
. This is a
Michelin starred mapo tofu shop
and it is really good. I have brought like 2 sets of company there already so far. It is not very spicy so I really love it. I usually eat with the noodles because I don't really take much rice now, though I think mapo tofu is more of a rice dish haha. I have seen
other people trying out their non-mapo tofu dishes
and I am so game to try the others too. But every time I step in, I always end up thinking I have to order the best food there, and I am stuck with the same meal. Golly.