Quite honestly, I don't really go out and eat now that I am a vulnerable. I don't even exercise, fml. For those who like my food reviews, I am afraid it might be a long time till we will see the next one. I have been diagnosed with gestational diabetes, sigh. Will save the full the story for a later date. So, you know this post is like a tribute to the next few months of very, very clean eating.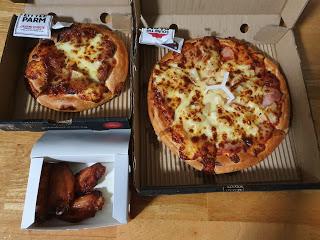 1. Pizza Hut
Yes, I know everyone knows Pizza Hut. But you know, for the longest time, I have always been eating Dominos cos there is an outlet near my house that is bound to deliver to me during CB. Plus, it is cheaper so I never really bothered to question the quality even though my Dad kept harping Pizza Hut was better. The other day we had a team lunch, and my colleague ordered Pizza Hut to be delivered to my house.
There was 2 realisations made that day - one, there was a Pizza Hut outlet near my place and two, their pizzas were way better whether in terms of crunchiness of crust and overall taste. It is definitely more expensive but you know when it comes to food I ain't the most price sensitive. I feel kinda of cheated that I had basically been supporting Dominos the whole of CB cos now I am quite certain I am a  Pizza Hut gal.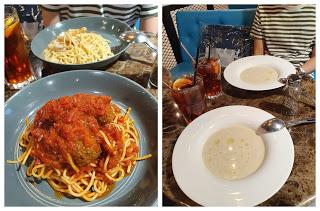 2. Ollie Kitchen & Bar
The thing about CB is that it made the F&B industry half-alive. Business is really so bad that the promotions/ deals are extremely worthy. On the downside, I don't even know whether my favorite restaurants are going to make it. It was one of those days, I don't know what to eat and I came across Ollie Kitchen & Bar. Honestly, I only stepped in because I wanted to avoid a crowd and their lunch deal was too good ($12+ for a drink, main and soup)!
Didn't really regret choosing them over the rest because their aglio olio was pretty delicious. My meatball spaghetti was meh. The corn soup of the day was awesome as well and I really welcomed the free lemon tea that came along with it because I was so parched. (The sugar syrup was by the side so you could modify your sweetness level!)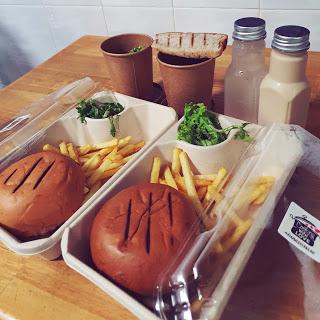 3. Buttercake & Cream
My bro was feeling really generous with money that day and was very reluctant to walk out of the house to get me lunch so we went for this "magical set" which was on slight discount at Grab. When people say good food makes your mood good, I guess it is true cos this meal made the both of us so happy that day although we were poorer by about $17. We were definitely shocked by the nice presentation, for a while I thought it was not what we ordered. 
Usually food delivery doesn't taste that good, but this one the food was still warm. We were so impressed that my bro said that we should totally go over to the cafe someday to check it out ourselves when I am myself again or even host baby's birthday there!
***
That's all the food recommendation I have for now. I am really watching my diet for now, so sorry if the next few posts until baby pops will be on low-GI diet T.T