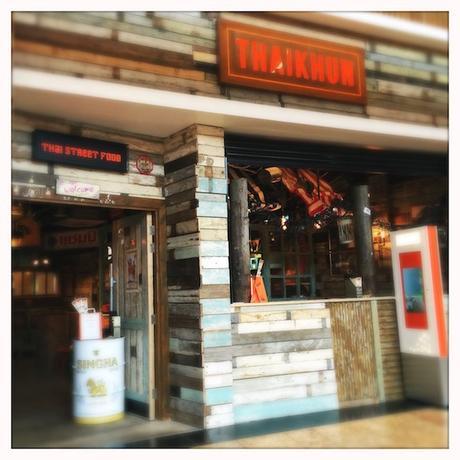 Thai Food at Silverburn Glasgow
Thaikhun (pronounced Tycoon) opened at Silverburn in November of last year. It's a chain of Thai "street food" restaurants owned by Thai Leisure Group – the same people who own Chaophraya so a lot of the staff worked at the Buchanan St restaurant previously. Both Glasgow and Edinburgh's Chaophraya restaurants are quite swish so think of Thaikhun as a more casual quirky Hanoi bike shop type-affair.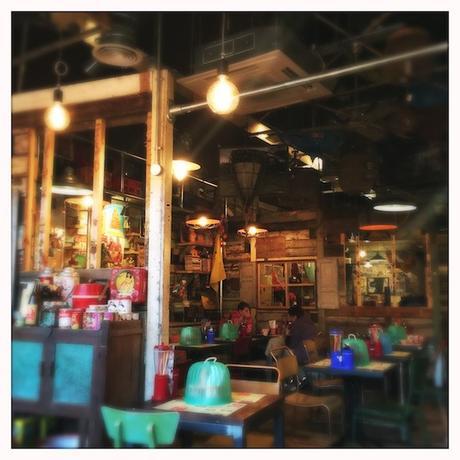 There's lots of wood, fake electricity pylons(!?!) and light fittings constructed out of watering cans for that authentic "stick a restaurant anywhere" feel – we've never been to Thailand but we know that there is a train line that runs through busy Maeklong market so I suppose the look of this place could be accurate!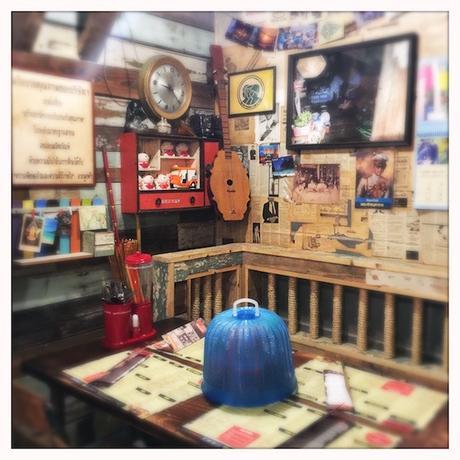 It's like a ramshackle Aladdin's cave and you could probably spend all day looking at the oddities and ephemera on the walls (and overhead!) But onto the important bits, and easily accessible Thai food is something Glasgow's short on. Here's the menus: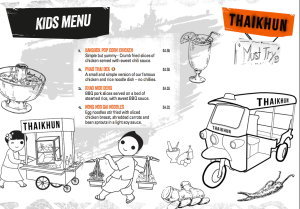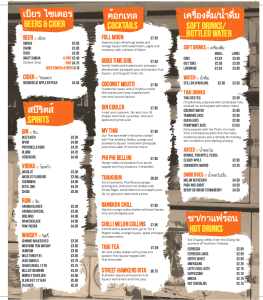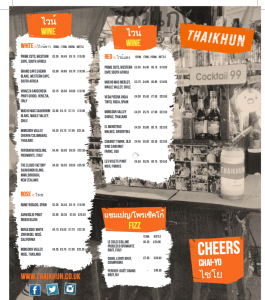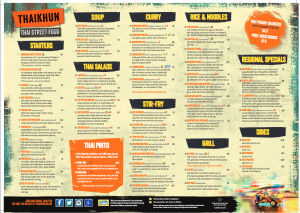 We sampled a number of drinks on our visit: firstly a Coconut Mojito (£7.95) – a good variation on the classic; Thaikhun (£8.50) – a spicy whisky-based cocktail that includes chilli, ginger and lemongrass; Thai iced tea (£2.50) – traditional tea-based drink with ice, whipped cream and condensed milk so it is very sweet and finally Thai green tea (£2.50).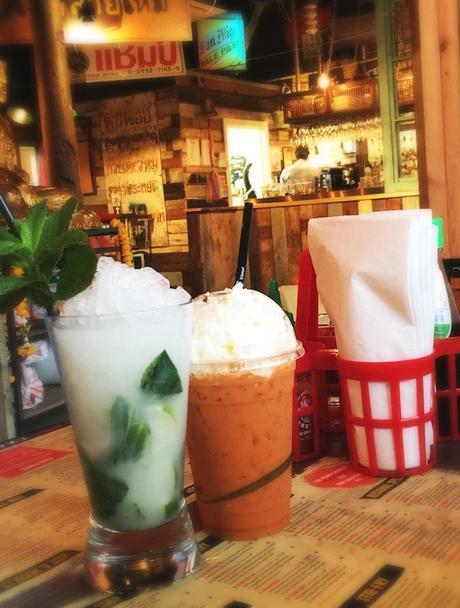 Note that there is also an alcoholic cocktail called Thai tea (£7.95) made with gin, vodka, lychee, passion fruit and lemonade. Both non-alcoholic iced teas were both refreshing and ideal for taking the heat away from what was to follow!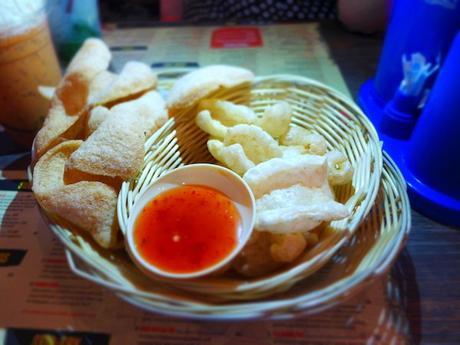 The pork scratchings were recommended to us as something a bit different, described as being like quavers and they actually were like piggy quavers! Light, crispy and ideal snacky party food. We got a mix of these and Thai prawn crackers with a sweet chilli dip and they were both gobbled up quickly!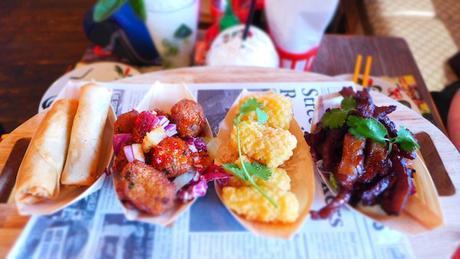 They have two sharing starters and we opted for the Sukhumvit (£15) for yummy salt & pepper squid, fish cakes, chicken spring rolls and honey pork. Everything was nicely presented and cooked perfectly. Note that this is listed as £7.50 per person on the menu but it's for two so the real cost is £15.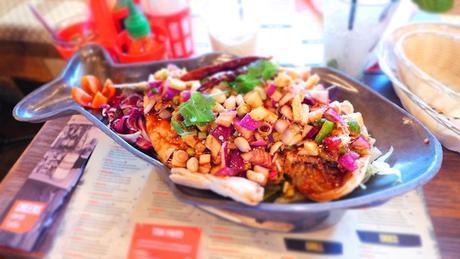 Pla Samun Prai (£18)
Served in a fish-shaped plate (with tea lights underneath to keep it warm), this was a whole sea bream and therefore a massive portion and not something we've ever seen at other Thai restaurants either. Big chunks of ginger, peanuts, onion, lime zest and fresh coriander sitting upon the well-cooked fish with deceptively potent small sliced bird's eye chilli hiding in the dish – this was pretty spicy and full of flavor.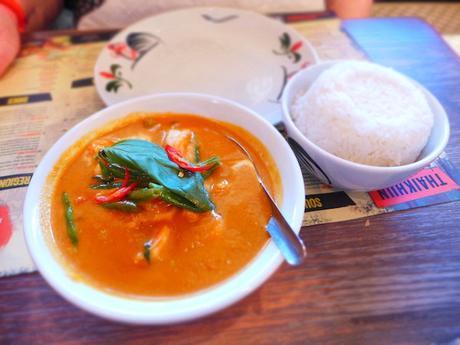 Panang Goon (£13)
Sweet creamy sauce with king prawns and some lethal chillies for a bit of a kick.  The sauce soaked into the jasmine rice for a soup-styled red curry.  A lot milder than the fish-dish and a good intro to Thai cookery for those not familiar with Thai curries.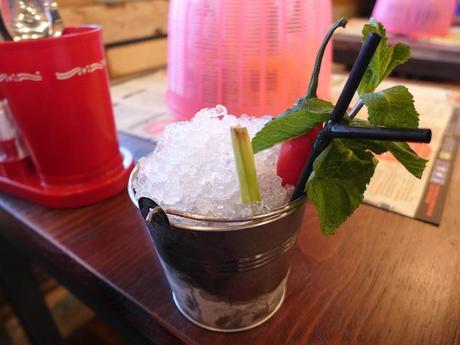 Thaikhun cocktail (£8.50)
A spicy whisky-based cocktail that includes chilli, ginger and lemongrass.  Refreshing and nicely spiced.
Sadly, we did not have room for dessert but had a Thai Green Tea (£2.50) as Mr Foodie was gasping for a drink thanks to all those bird's eye chillies! This is the same as the black tea drink but with green tea. The condensed milk and cream offsets the bitterness of green tea (and the health benefits too probably!)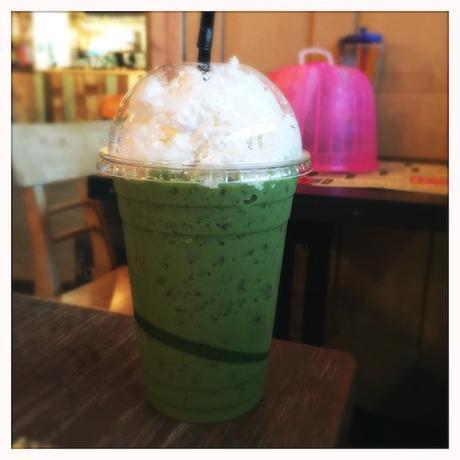 But if you do have room for pudding here's what they have…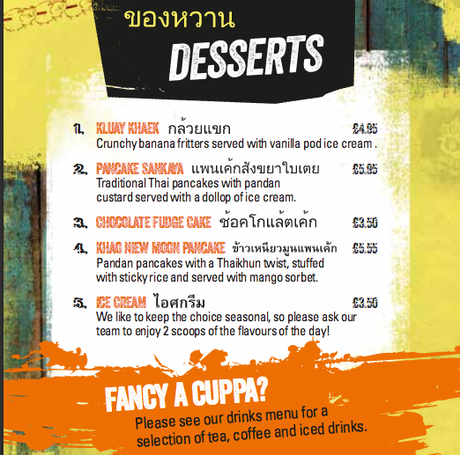 If you don't fancy the full menu, there is an express menu on offer as well from 12 – 6pm.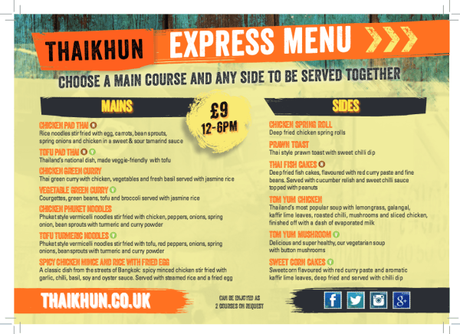 The toilets continue the ramshackle theme with some interesting and probably all too authentic posters! Both male and female loos passed the toilet check.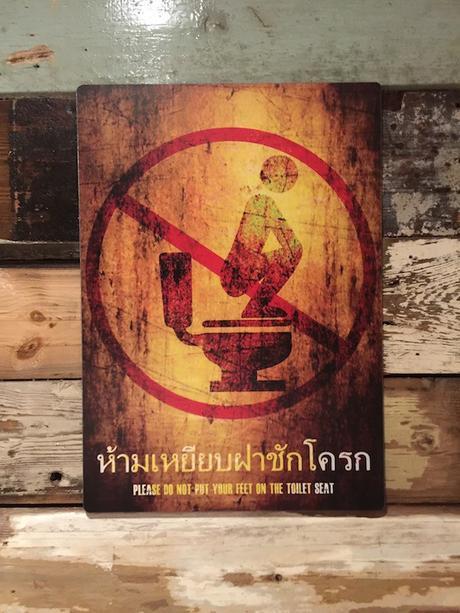 Thaikhun is full of interesting posters. Sadly they don't stock Kickapoo Joy Juice!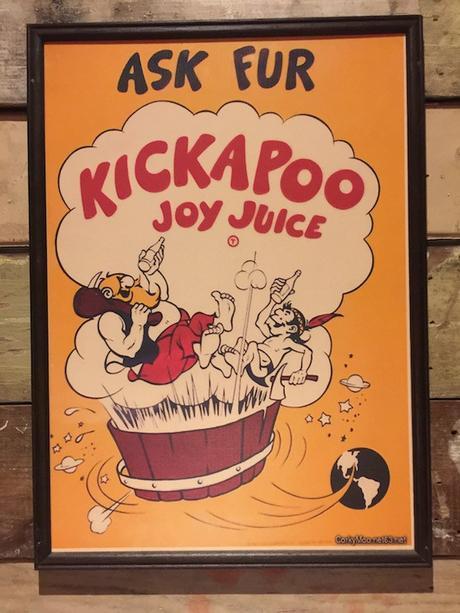 Service was friendly and well-paced, toilets clean and importantly the food was excellent. Some of the dishes are a little pricey though the portions we had were huge so bear that in mind when ordering. We're hoping to return again soon!
TL;DR
+ quirky setting
+ tasty accessible Thai food and big portions
+ good range of cocktails and refreshing sweet teas
+ some unusual dishes, not just the basic red, green, yellow curries…
+ great service
– some dishes a bit pricey
Thaikhun provided us with a complimentary meal but we guarantee that this is a trustworthy review and we received no additional incentives (the waitress also didn't know as she gave us the bill!)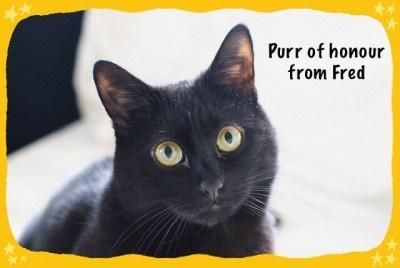 Getting There: Traveline Scotland
Address: Silverburn Shopping Centre, Glasgow, G53 6AF
Telephone: 0141 648 0090
Website:https://www.thaikhun.co.ukFacebook:
Twitter: @followthaikhun