We first came across Roast at one of the Kiltr Street Food Feastivals, way back in October 2013 and their Philly cheesesteak and Reubens sandwich were easily the two best items on sale at the festival, fast forward to April 2015 and we still hadn't visited their permanent premises in the west-end on Argyle St where Yorkhill meets Finnieston meets Kelvingrove. It's slightly out of the way for us and they close at 4pm on weekdays and 3pm at weekends hence the delay it making it there…
The cafe is tiny with seating for about eight (as long as you don't mind squeezing up next to someone!) but it was a nice day so they also had a couple of tables outside as well.
I picked a spot inside the relaxed cafe and knew exactly what I wanted (before I even walked in) but couldn't see it on the chalk-drawn menu board so had to ask – the "Philly" seems to have been dropped from the name as it was just listed as a cheese steak ciabatta, perhaps someone from Philadelphia complained that it wasn't authentic enough? Whatever, it's Philadelphia-inspired and it tastes wonderful!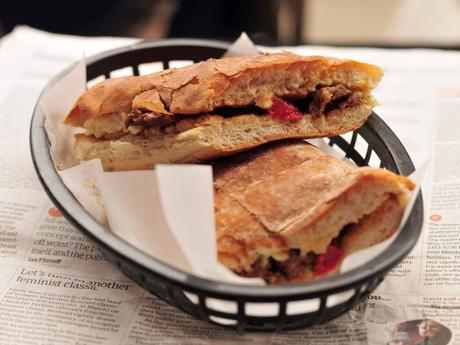 Roast – cheesesteak ciabatta £5
Served in a crusty ciabatta with melted mature cheddar cheese and mayo atop a tender bavette Steak, which I was told comes from a local butcher. Add some peppers (not the chilli kind!) and you have the perfect hot savoury sandwich.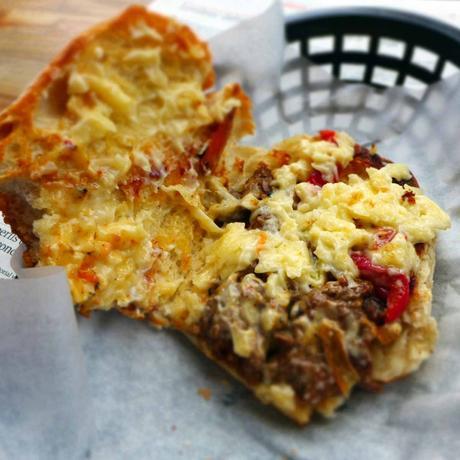 Roast – inside the cheesesteak ciabatta £5
It may not look like much but trust me it was delicious. I washed it down with a bottle of Heartsease Farm sparkling blackcurrant crush at £1.50. They also sell Dear Green Coffee.
At £5 the cheesesteak is perhaps a little expensive as it costs the same to sit-in or takeaway – as I was sitting in I'd have been happy to pay a wee bit more for some salad or crisps on the side to make it more of a meal but it is quite possibly the best hot sandwich available in Glasgow just now – if you know of anything better please let us know!
Service was friendly and helpful though a little slow but it's a small place and was deservedly busy. No toilets, but with the standard of food on offer it probably won't be long till they move to bigger premises. Newspapers are also available and staff kindly let me take away the one I was reading as the cafe was about to close.
Blythe from Edinburgh-based Lunchquest recently visited Roast and rated it as "one of the finest sandwich shops cafes I've come across in a good long while" rating the cheesesteak as "nothing short of magnificent". Praise indeed!
Find out more about them here: www.roastglasgow.com
TL;DR
+ Quite possibly the best sandwich in Glasgow
+ Pleasant laid-back atmosphere with newspapers to peruse
+ Helpful staff
+ They sell Dear Green Coffee
– No toilet
– Very small and if it's busy your order could take a while
– A bit expensive if taking away (but then it is the west-end)