A visit to Edinburgh to drop off my secret Santa gift saw me having a spot of lunch at Polentoni on Easter Road with Ms Monkey.   Not an area we usually end up in, so a welcome for ray.
A cosy cafe cum deli with lots of chocolates, coffee, cakes and deli goods to take away as well as delicious looking Frittata and Arancini to eat in.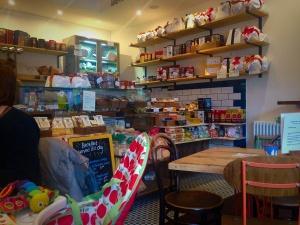 Cosy interior, Polentoni, Edinburgh
We had a quick look at the menu and decided on our order and then wanted much more when we saw the display!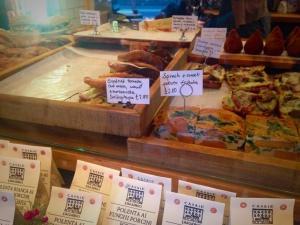 Too many good things to choose from, Polentoni, Edinburgh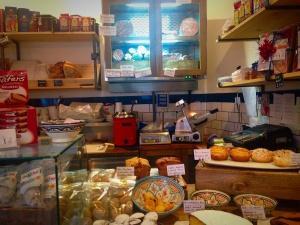 Bread and Meat to purchase as well, Polentoni, Edinburgh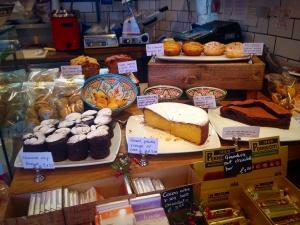 And cake! Polentoni, Edinburgh
The menus: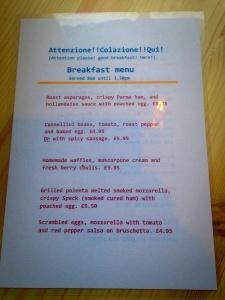 Brunch isn't just for weekends, Polentoni, Edinburgh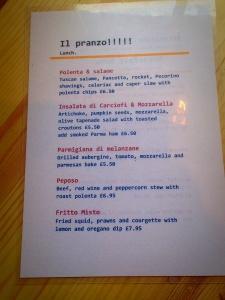 Lunch. Polentoni, Edinburgh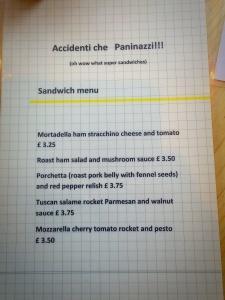 Sandwiches. Polentoni, Edinburgh
A Fritto Misto and toast with poached egg, Parma ham, hollandaise and asparagus dish were ordered, along with two coffees.   The coffee were served quickly and with the offer of single or double shots.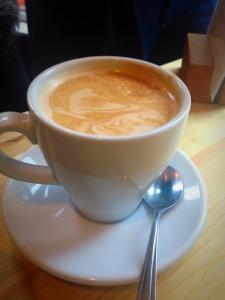 Single shot flat white. Polentoni, Edinburgh
A brief chatter space and our dishes were here.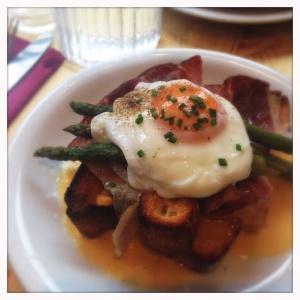 Asparagus, Parma ham. Hollandaise sauce, poached egg on toast. Polentoni, Edinburgh
Very impressed with the look of this and the taste, well!  Buttery hollandaise soaked italian bread with extremely salty Parma Ham.  Perfectly gooey poached egg to top.  Amazing.  Salty and carby with a dollup of buttery goodness.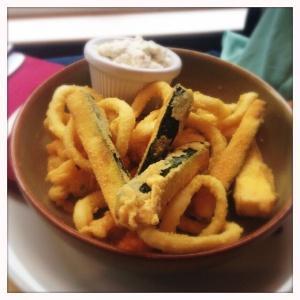 Fritto Misto. Polentoni, Edinburgh
Squid, prawn and courgette coated in polenta and served with a creamy lemon and oregano dip.  Summer in a basket.  Crisp polenta coating with good chunky ingredients.  Special mention for the courgette – they trumped the plump prawns!
We both struggled to finish our dishes and sat with happy, post lunch smiles,
An excellent little cafe, will be sure to nip into here again for something to eat and take away.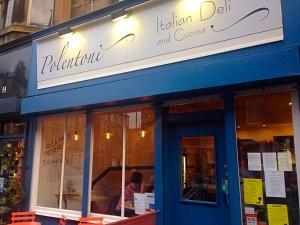 Exterior. Polentoni, Edinburgh