I guess you guys know by now, I may not exactly be a food connoisseur. But for Chinese and Thai cuisine, I do have some expectations because I do eat them a lot. So, I would have a fair sense of what's good and not. :P
A week back, I tried out 
Myo Restobar
, which is operated by Kia Hiang Restaurant Group. Kia Hiang Restaurant is one the restaurants that I have been to that serves really homey food. If you are looking for a more polished place, you may want to visit Myo Restobar. It still serves the traditional Cantonese classics as well as innovative dim sum to match its contemporary, industrial design.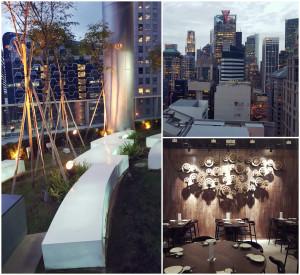 Unlike many of the food franchise owners, Mr Ng is very friendly and makes a lot of effort to engage us. He shows us the other design of his logo, shared with us his entrepreneur experience and how/why he came out with 
Myo Restobar
.
He definitely made the meal more personal and memorable. Generally, I didn't find the food too over-priced for restaurant standards. Notwithstanding the fact, it comes with a view. Also, it is one of the few places which serve beer with dim sum. (Wedding banquet and reunion location much!)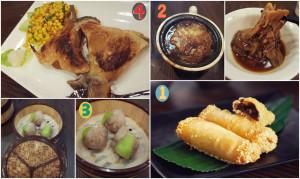 If your family is small, these are the 4 items I would recommend to have:-
Flakey Angus Beef Pastry (S$5.80): I would come here specially for this. It is so good I might even tabao this home weekly to "Jia Liao" (add on the dishes).
Kia Hiang Claypot Spring Chicken ($18): This is their signature dish and I think I can understand why. The zap (gravy) is delish. I could drink it as soup. And the meat was very tender, it tore out literally. And tip from the owner on how to have it: Must eat it with the cabbage!
Gold Foil Dumplings with Assorted Mushrooms (S$4.80 for 3): I think I am a fan of well marinated mushrooms, so this went well with me and I love the tiny piece of veg at the side. 
Baked Hamachi Collar (S$18): To be quite honest, I am not much of a fish person. But I had a second helping for this, cos it was fried to perfection. The fish was crispy, without much bones. The side veg was also crunchy as well. Thumbs-up!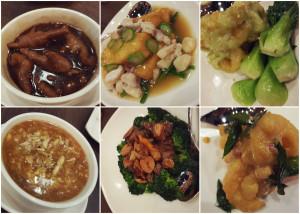 1.
(Top Left) Braised Chicken Feet in abalone sauce (S$4.80)
: The sauce is really good but I understand some people doesn't really like chicken feet2.
(Top Middle) Gui Fei Beancurd with 3 treasures (S$14)
: Gui Fei Beancurd are highly recommended by the owners. We had it with seafood but you can have them with other condiments such as mushroom, minced meat etc.
3.
(Top Right) Good Fortune Prawns in Wasabi Sauce (S$3 each):
Anything with wasabi is good, but I found it a little too common.
4.
(Bottom Left) Fish Maw, Crab Meat in Superior Broth (S$9):
Had expectations for it. The ingredients are plentiful, maybe I was too full, I didn't feel the satisfaction from it.
5.
(Bottom Middle) Angus Ribeye Cubes w/ Garlic & Broccoli (S$18):
A lot of other people love it, but somehow I felt the garlic and broccoli stole the thunder so I rated it down. Haha. Nobody should be in the limelight other than beef.
6.
(Bottom Right) Prawns in Butter & Salted Egg Yolk Sauce (S$3 each): 
I am a little off the egg yolk hype already but it is still a yummy dish.

Special mention to the Healthy Walnut Buns (S$4/ 3pcs). I didn't really like it, but there were people who are huge fans of it. The dessert we tried was the 
Young Coconut Stewed w/Peach Gum & Egg White
(S$8). I thought it was quite normal but you may like it.
With that, we have come to the end of my food review. I have another food review coming out, so stay tune. And then, I will try to give you guys more beauty and fashion review. :P