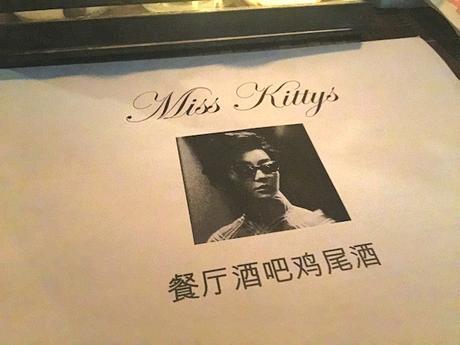 Whilst on Mrs Foodie's birthday (don't ask how old!) trip to Liverpool (and beyond) we visited  Miss Kitty's, located near to Liverpool Central railway station and directly above Motel bar (review for that coming soon too!)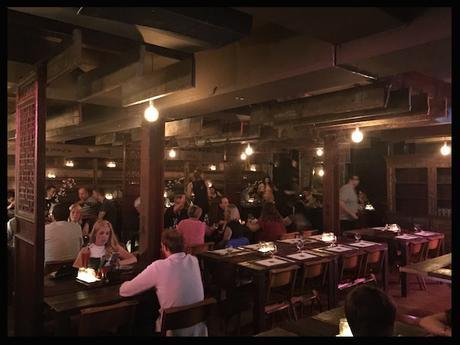 Ambient, Miss Kitty's, Liverpool
Just like the bar below, the vibe here is intimate with dark, exposed brick and wooden shelving and plenty of tea lights in jars and hipster light bulbs, but not too hipstery that a clean-shaven face will feel out of place. We were even offered torches to read the menu – it's that intimate!

A very light jasmine tea was poured out on arrival whilst we made our way through the menu.  Mr Foodie was pleased to see a decent beer list – so we ordered a Hitachino amber ale (from Japan) and a local Love Lane pale ale from the Liverpool Craft Beer Co. We also spied a Taiwanese whisky on the menu. One for later perhaps?
Starters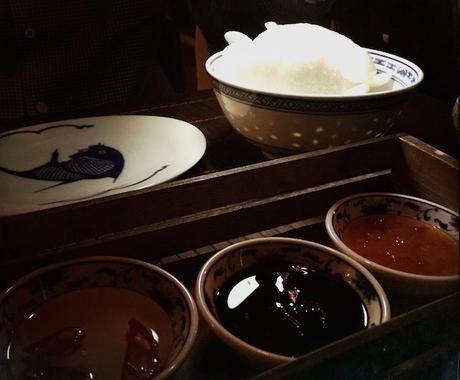 Prawn Crackers, Miss Kitty's, Liverpool
The prawn crackers were very moreish and not too fishy but still had that expected tang, we were also supplied with three dips of varying sweet and sour tastes.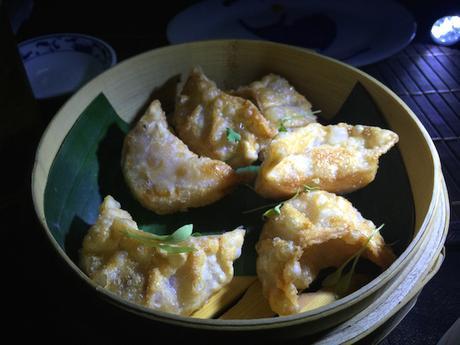 Squid Gyoza, Miss Kitty's, Liverpool
The toasty crisp & crunchy gyoza – soft inside of course and not chewy or fatty at all, which can happen with fried wonton-type food – the squid inside was excellent and pleasantly salty which went well with the beer.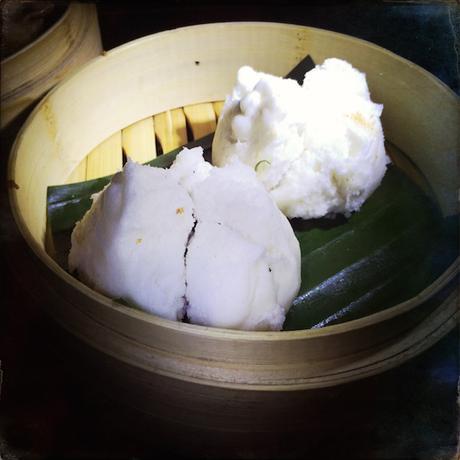 Steamed Buns, Miss Kitty's, Liverpool
The Char Sui buns were soft and fluffy and filled with pungent umami flavours, they held their shape when lifted out of the basket.
Main courses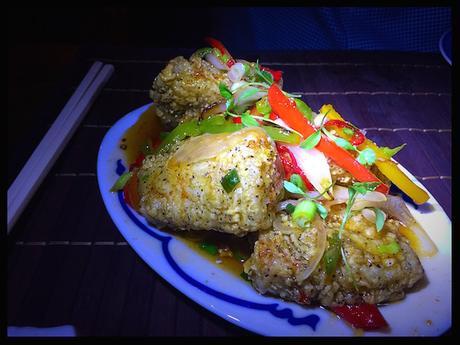 Cod in plum sauce Miss Kitty's, Liverpool
The cod in plum sauce looked great, it was a good portion size and very colourful with a crisp crunchy coating surrounded by a sweet and spicy plum sauce.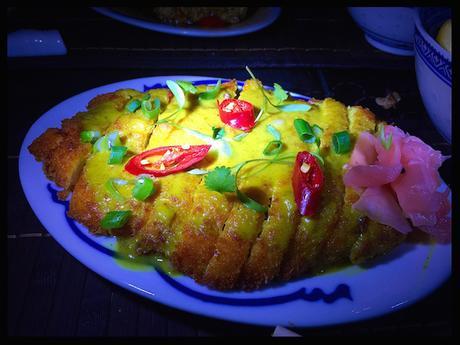 Chicken Katsu Curry, Miss Kitty's, Liverpool
Tender sliced chicken katsu.  A coconut curry sauce covered with spring onions and chilli.  This was a full breast and was perfect for two to share.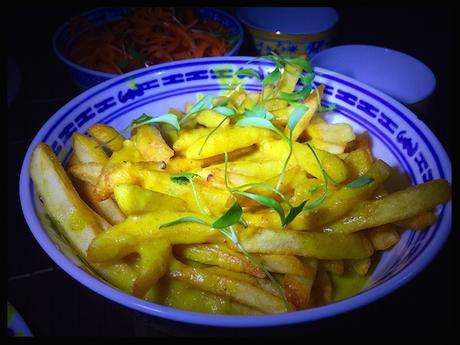 Coconut Curry Chips, Miss Kitty's, Liverpool
Chips smothered in a creamy coconut curry sauce, which was a lot lighter than what's usually served elsewhere.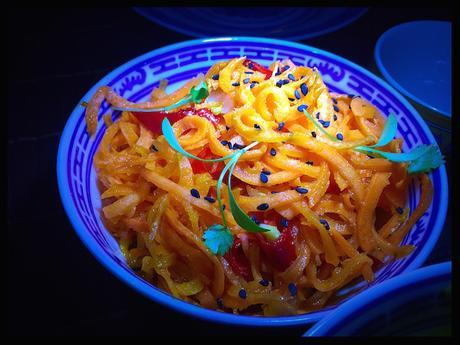 Honey Chilli Carrots, Miss Kitty's, Liverpool
Crisp and warm, the lengthy spiralized carrots were a bit like eating spaghetti – it almost seemed that there was no end to them!  The carrots were in a chilli, coriander & honey sauce bringing out those delicious sweet and sour tastes again.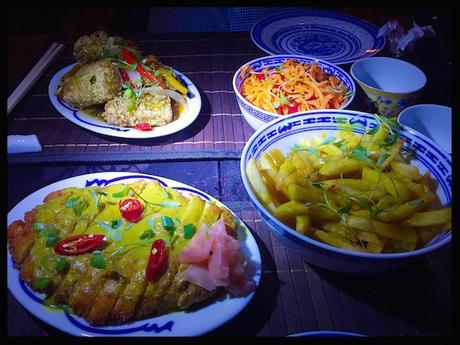 Full dinner, Miss Kitty's, Liverpool
Dessert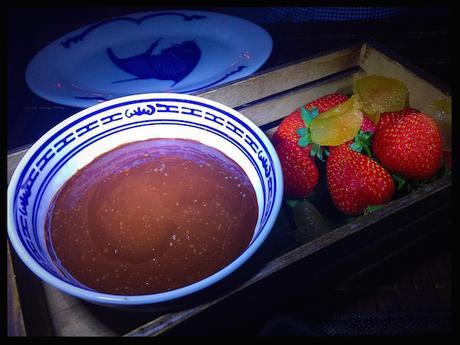 Strawberry Chocolate Fondue, Miss Kitty's, Liverpool
We shared warm dark melted chocolate with strawberries and ginger to dip. The slices of ginger were quite potent and were very enjoyable with the chocolate.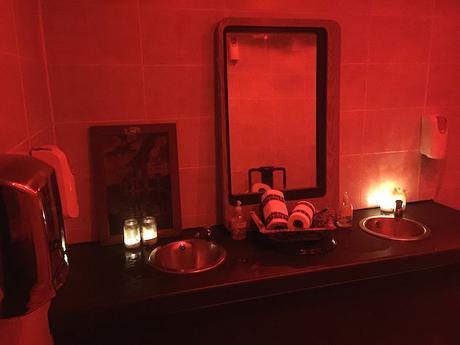 Toilets, Miss Kitty's, Liverpool
The toilets at the back of the restaurant are up a candle-lit staircase, communal and very dark with red lighting like a photographer's darkroom! They were clean but the taps were the type that only give you a quick blast of water and the dryer wasn't any better giving you a second's worth of air unless your hand was practically touching it but aside from that everything else was great and we would return. Miss kitty's served fresh, tasty and well-seasoned Asian cuisine, staff were friendly and helpful and service was well-paced. Prices were good and if you want a drink before or after your meal there's Motel below (with a pretty decent beer selection). Our only gripe was with the toilets. Music was varied chart tracks ranging from CSS to (sadly) the black eyed peas.
Click below to view the menus on our visit.
Small plates and mains
Wine and beer
Cocktails
TL;DR
+ atmospheric venue
+ great food and interesting combinations
+ good drinks selection with local and Japanese craft beer
+ friendly helpful staff
+ toilets clean
– toilets a bit dark and taps and dryer not great
Visit Miss Kitty's here.