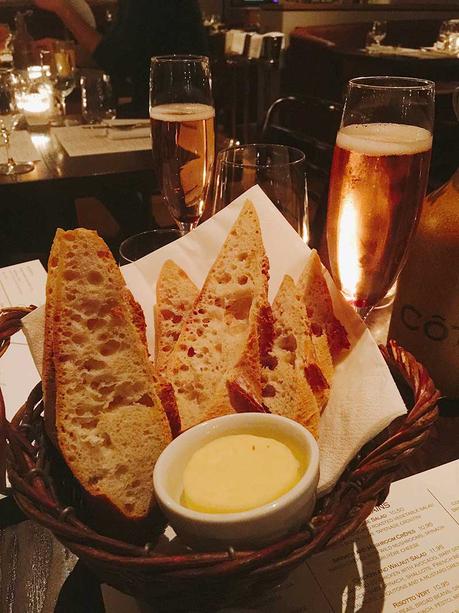 67 total views, 67 views today
Joyeux Noël at Côte Brasserie
It's that time of year again, and if you're looking to go somewhere exceptional but don't have anything booked yet then read on...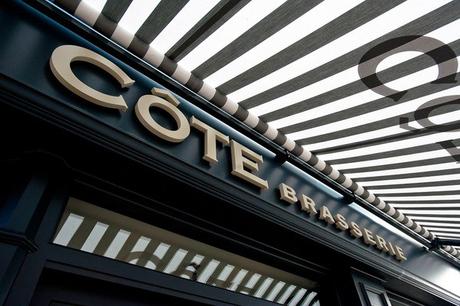 This was my third visit to the classy looking Côte Brasserie on Glasgow's West Nile Street. On arrival we were promptly greeted and taken to our table inside the cosy restaurant. We ordered from the Christmas dinner menu, which is £34.95 for 3 courses with fluffy sourdough bread (with a crisp crust) and mixed black and green olives included but there is also a smaller, cheaper Christmas lunch menu offering two courses for £18.95 or three for £22.95 which excludes the bread and olives. There's even a Christmas Drinks menu, for £16.95 per person, you will receive a Kir Royale on arrival, a bottle of red or white wine followed by tea or coffee to finish.
Starters

I started with the Baked Crottin, which is a seasonal cheese salad with some warmed goats' cheese from the Loire valley at the centre of the plate. The best cheese trolley we've ever picked from was in a restaurant in the Loire, which was full of really strongly flavoured cheese and this was of that ilk, so if you're not a fan of goat/ripe cheeses go for something else on the menu! I do like pungent cheeses though so I really enjoyed this, especially with the walnuts, golden raisins, croutons and apple slices.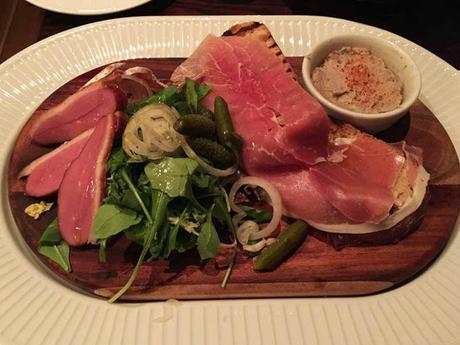 While my accomplice couldn't see past the charcuterie board featuring cured Savoie (Savoy) ham, saucisson sec, duck rillettes, smoked duck breast with pickled onions and cornichons and salad leaves. This was an agreeable selection of good-quality mixed meats with zingy pickled vegetables, ideal for anyone looking for a meaty or high-protein starter.
Mains

It had to be the duck confit for me, done a l'orange style, and it was something special - crispy savoury skin, sea salt and a lot of tender duck served on a bed of perfectly-cooked sautéed potatoes, baby spinach, garlic and parsley in a fruity orange and veal jus. A big, comforting portion and it was delicious!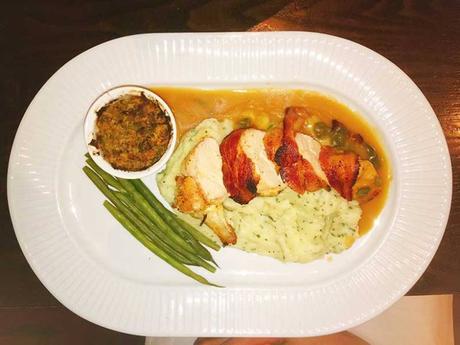 Our other main was a bacon-wrapped chicken supreme. A good amount of chicken covered with crispy bacon served with lovely mashed potato, chestnut stuffing, crème fraîche and chive purée with French beans and a sage and rosemary jus. This was another healthy portion which was really tasty!
Desserts

I opted for the hot chocolate fondant which was, as expected, a sweet chocolatey pudding with a warm and gooey interior, served with vanilla ice-cream. I also had a Café Noisette (espresso with a dash of cream) to finish my meal.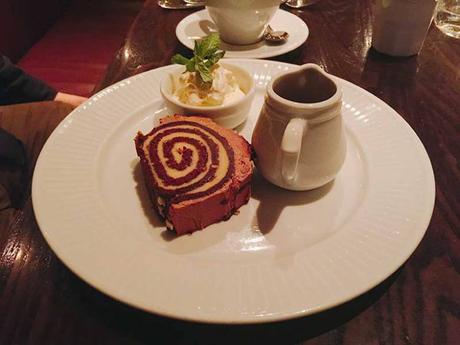 We also chose the Bûche de Noël which seemed like the right thing to have in a French-inspired restaurant at Christmas. It's a traditional praline and chocolate roulade with hazelnut liqueur, warm chocolate sauce and Chantilly cream so was new to us. It was a lot heavier than we were expecting but still enjoyable. This was washed down with a white coffee.
Overall
We both had a great meal. Everything was cooked well and filling, and the mains were memorable, especially the duck. Service was great, it didn't feel rushed, it was relaxed but all 3 courses were still served in 90 minutes which is pretty impressive for the standard of food on offer. Côte has impressed me on all three of my visits there, the food on every occasion has been to a high standard and there was nothing we were unhappy about during our meal, making this an ideal spot for a Christmas lunch or dinner with family, friends or colleagues. Toilets are downstairs and were in good shape when we visited.
Music: instrumental jazz
Free WiFi but requires a few clicks
We ate from the dinner menu but there is also a cheaper, more limited lunch menu. See here for all the details: https://www.cote.co.uk/christmas
TL;DR
+ Lovely interior
+ Great service
+ Filling winter food
+ Good portion sizes - we were both stuffed!
+ Free WIFi
+ Toilets clean
- No obvious flaws
Where
Cote restaurants nationwide. We visited Côte Brasserie - Glasgow, 41-43 W Nile St, Glasgow G1 2PT, which is centrally located between Central and Queen Street stations and ideal for visiting by train, bus or car (there's an NCP Car Park at the southern end of West Nile Street on Mitchell Street and a City Parking car park at the top of West Nile Street at 97 Cowcaddens Rd).
When
The Christmas menu runs from now until 24th December.
Contact
Telephone: 0141 248 1022
Social Meda
Disclaimer: we received a complimentary meal for two but can happily confirm that the food really was excellent. If Fred was there he'd have devoured the charcuterie and duck for sure (and probably snuck a paw into my coffee too)!