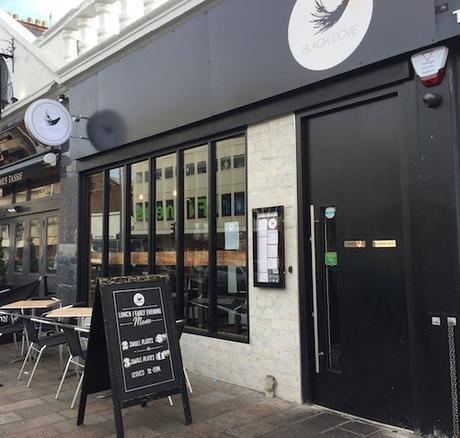 Outside Black Dove, Shawlands, Glasgow
Black Dove, in the southside hub of Shawlands, is the first restaurant venture by Chef of the year 2014 (at the Scottish Italian Awards): Chris Rouse. After working at Andiamo, Bar Milano, Nardinis and Celinos, he decided it was time to go it alone, and we're glad he did.
Being locals we are chuffed Chris chose Shawlands as it's helping the area get back its mojo after the surge of good eateries opening in Strathbungo a mile further up the same road.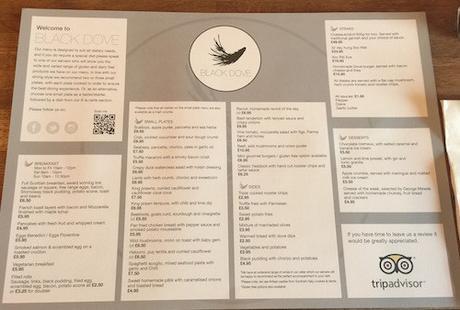 Menu, Black Dove, Shawlands, Glasgow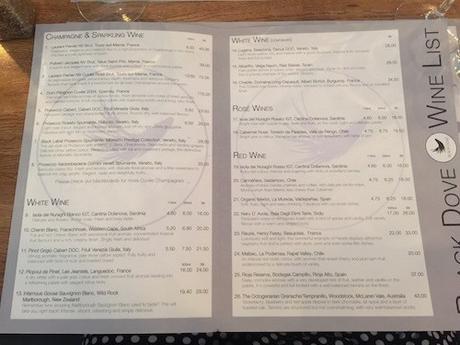 Wine list, Black Dove, Shawlands, Glasgow
It's small bit bigger than it looks as there's a mezzanine floor. We wer greeted and seated quickly and whilst deciding on what to eat we ordered a pint of the in-house Black Dove beer (£3.80) and a half of the East Coast IPA (£2). Both went down well, with the Black Dove lager being quite light and not as fizzy or hoppy as the latest trendy lagers, so ideal for quaffing along with your dinner.
The menu at Black Dove is small plates, which can also be made up to larger, main course sizes on request. Mrs Foodie picked small plates whilst Mr Foodie went for a more traditional-sized steak main course. There's a large selection on offer so it took a while to pick our dishes from the paper menu place mats.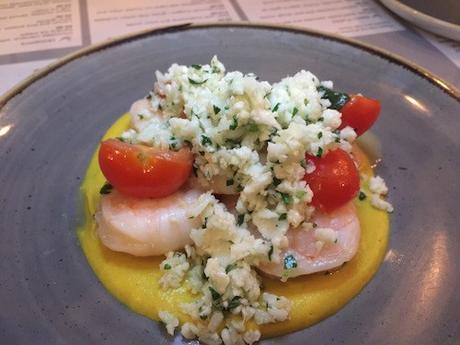 King prawns, curried cauliflower and cauliflower cous cous, £7.50. Black Dove, Shawlands, Glasgow.
A creamy lightly curried sauce with little crisp pieces of cauliflower and enough purée to coat the plump prawns and add some extra flavor to the cous cous.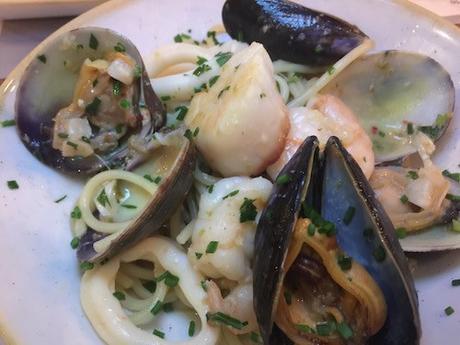 Spaghetti Scoglio, mixed seafood pasta with garlic and chilli £7.50. Black Dove, Shawlands, Glasgow
We were impressed with the squid rings here – not rubbery at all. Clams, mussels and prawns added a good mix of seafood with just the right amount of chilli for warmth without overpowering the food.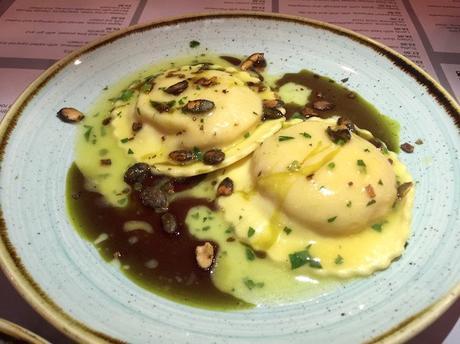 Ravioli of the day – Pumpkin and Pecorino with pumpkin seeds and oil, £6.95.  Black Dove, Shawlands, Glasgow
This was amazing! Pumpkin can be extremely bland (hence the need for the spice with that latte!) but the Pecorino works wonders here, along with the bitter seeds, oil and butter making this a delicious mix. The ravioli held their shape and not a hint of watery goo. The star of the night for Mrs Foodie.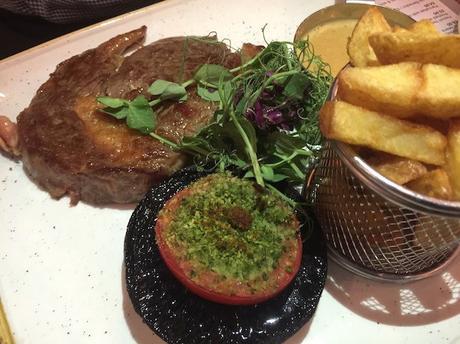 9oz Rib Eye £18.95  with pepper sauce £1.50. Black Dove, Shawlands, Glasgow
Moist thick steak, crisp and fluffy chips with a large amount of pepper sauce on the side – Mr Foodie doesn't like it when his steak comes drenched in sauce!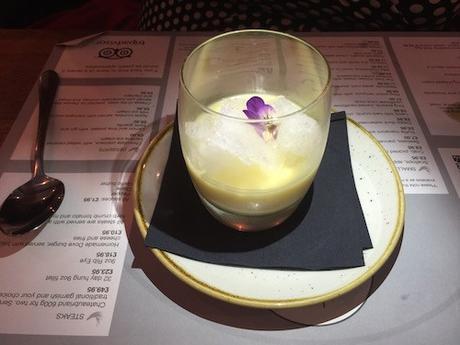 Lemon and lime posset with gin and tonic granita, £5.50. Black Dove, Shawlands, Glasgow
The tangy tonic granita worked well with the lemon and lime curd-like posset. Solidly set and looked as good as it tasted. Cleansed the palate but also with a creamy end to the meal.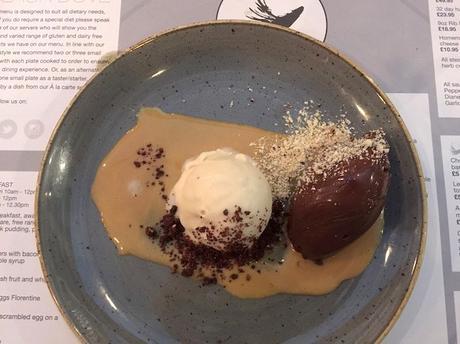 Chocolate creameux with salted caramel and banana ice cream, £5.50 Black Dove, Shawlands, Glasgow
This was Mr Foodie's favorite dish – a perfect dessert, gooey, smooth and deliciously chocolatey at the same time. Mrs Foodie was annoyed to say the least to not have ordered one too! The chocolate banana mix was like eating childhood sweets but a more adult version. Another please!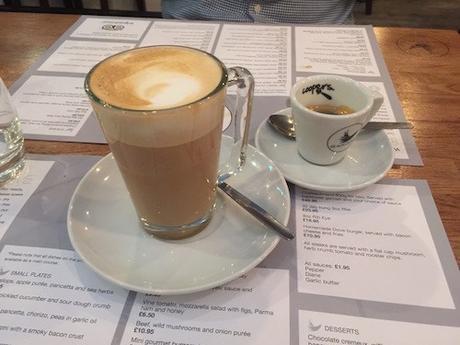 Coffee: Espresso £1.55, White coffee £2.20
We finished with coffee – check that foam head! With no need to sweeten wither of them, both strong but not bitter coffee so thumbs up from us.
Overall, a very enjoyable experience with great food and attentive staff whom we could joke along with. We loved the casual vibe but there is that nod towards the higher end of the dining scene but without the stuffiness and price. The ravioli was excellent and we'd love to see more of this standard of cooking in Shawlands. The menu placemats are fun and handy for talking about the food however they feel a bit out of place at night when wanting an adult dinner – however a very minor grump and you can't please everyone I suppose! Toilets were also checked and were clean.
TL;DR
+ great selection of dishes
+ ravioli and cremeaux both amazing
+ friendly staff
+ coffee passed spoon test, toilet check also passed!
– placemat menus perhaps a bit unsophisticated for night-time dining