Badger & Go!
' Badger hates Society, and invitations, and dinner, and all that sort of thing'. Apparently. We haven't read the book, or even seen any of the film or TV adaptations but we knew that Badger & Co had a Wind in the Willows theme, but why? Well, Kenneth Grahame, the author of Wind in the willows was actually born in the building and lived here in his early years! We had simply been invited to dinner, Badger would be most displeased!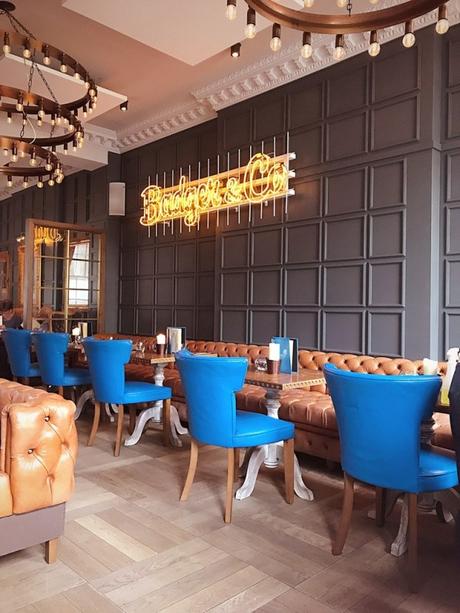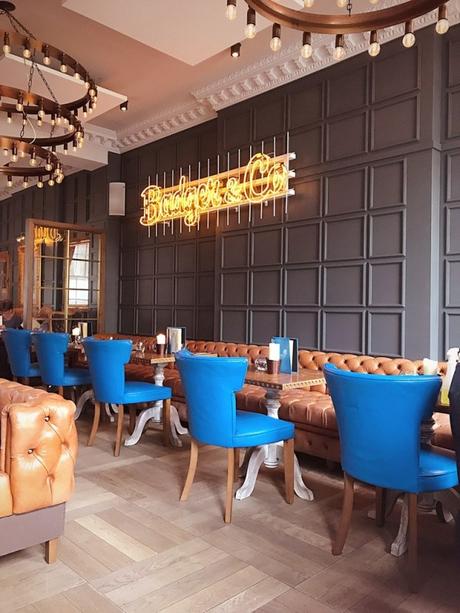 From outside, this Castle Street location in the heart of the New Town has an unobscured view of the castle. Inside the bar it's clean and bright with steampunky bar stools; a few plants dotted around - you can just pop in for drinks if you wish. While in the darker restaurant next door, three massive round chandeliers hang from the ceiling, brown leather banquette sofas line the far wall facing azure blue chairs. A neon 'Badger & Co' sign against battleship grey walls and decorative coving makes the space niche, modern and likeable.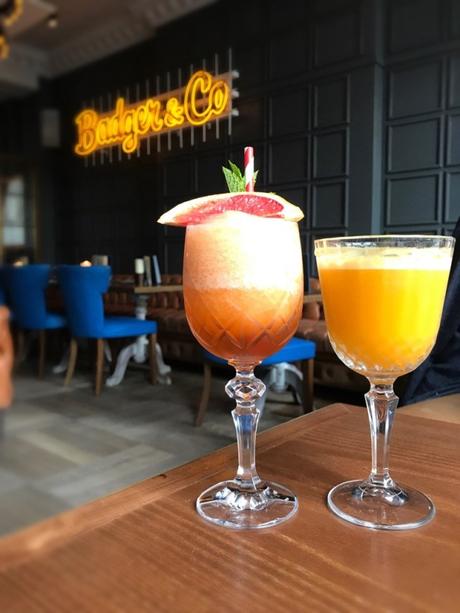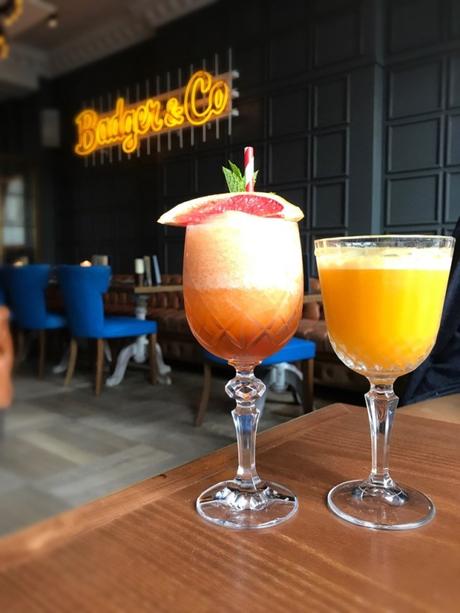 To start with we had a couple of cocktails as recommended by staff but unfortunately we can't remember what they were (food blogger fail) but they were great!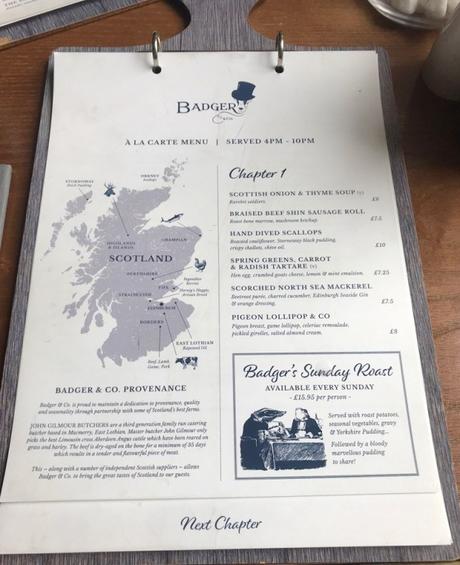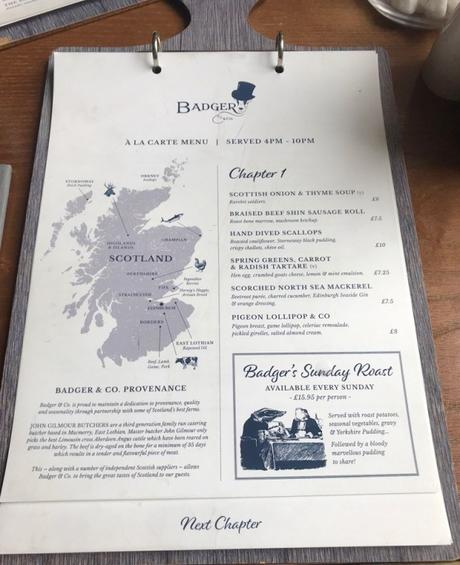 Provenance of various Scottish ingredients is listed on the menu, which is split into 'chapter's like a book. There's no (Mr) toad in the hole (hall), Ratatouille or Mole sauce but there is Badger's roast every Sunday...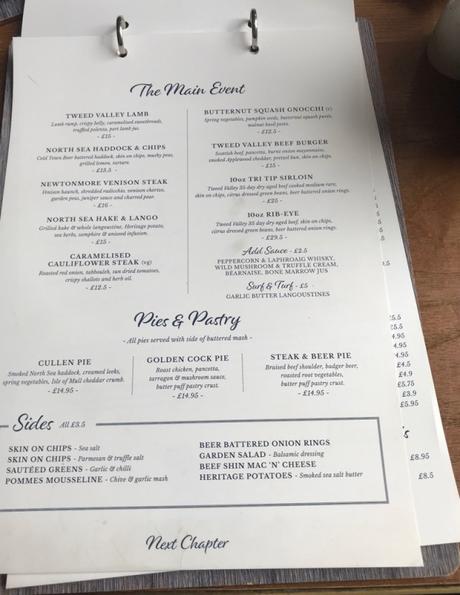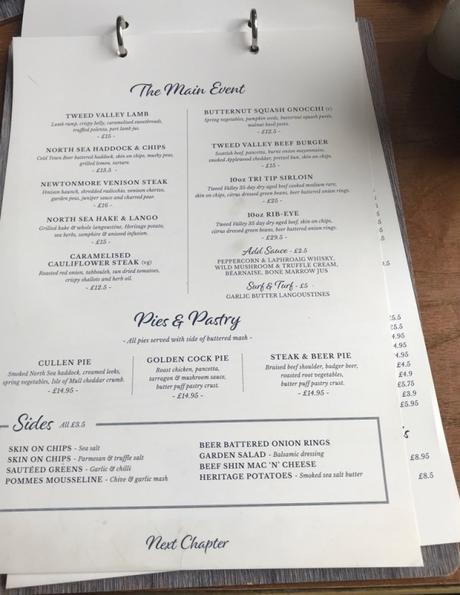 ...and Badger's Tea Party for pudding.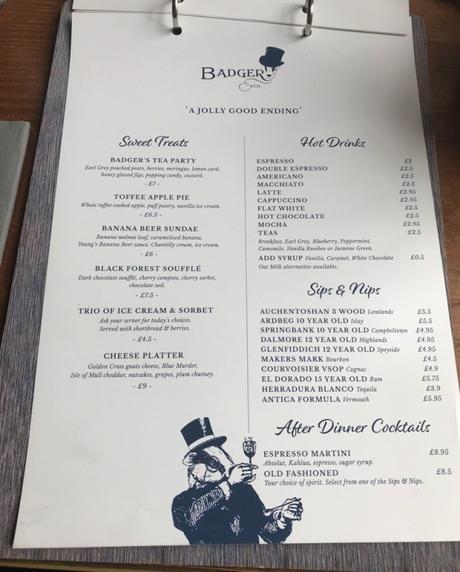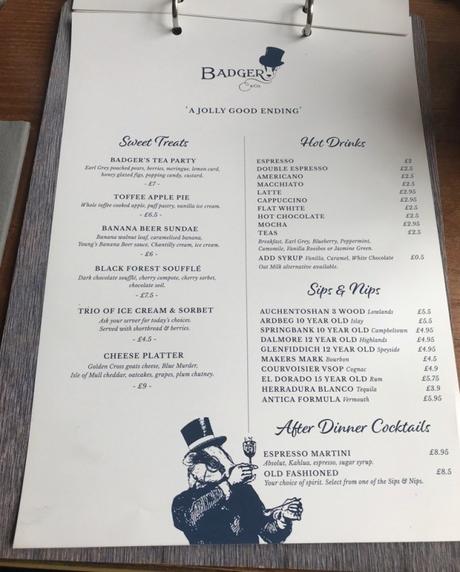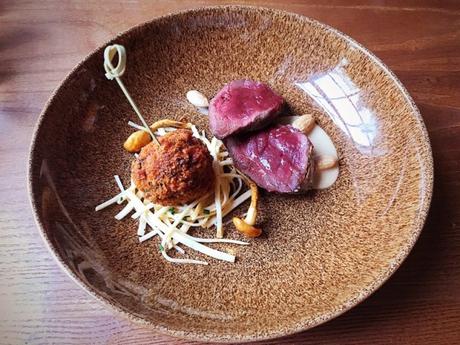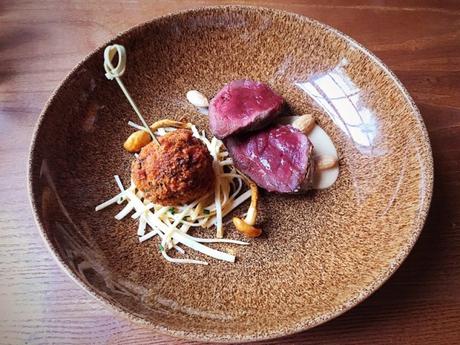 Pigeon lollipop & co (£8)
Pigeon breast, game lollipop, celeriac remoulade, pickled girolles, salted almond cream. Earthy autumnal food, beautifully pink pigeon with a flavoursome meat lollipop. Sadly this has come off the most recent menu.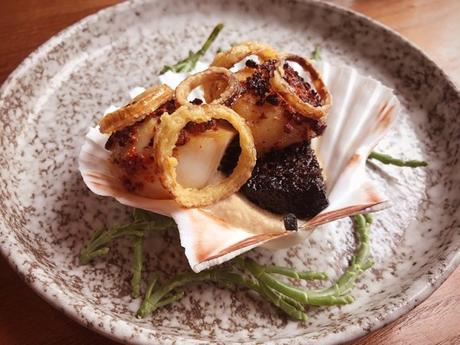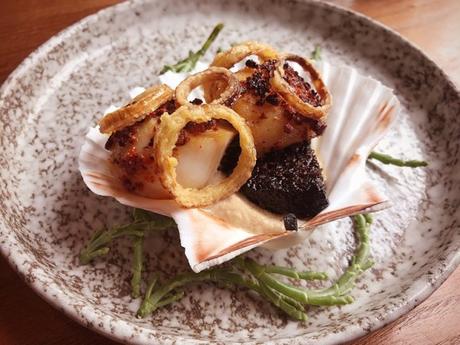 Hand dived scallops (£10)
Roasted cauliflower, Stornoway black pudding, hand dived scallops, shallots, chive oil. Excellently presented and quite dainty looking with little shallot, rather than onion, rings. Stornoway black is always a favourite of ours and always great with scallops. Quite fond of samphire with scallops and black pudding too. Scallops are still on the menu but the dish has changed slightly since our visit.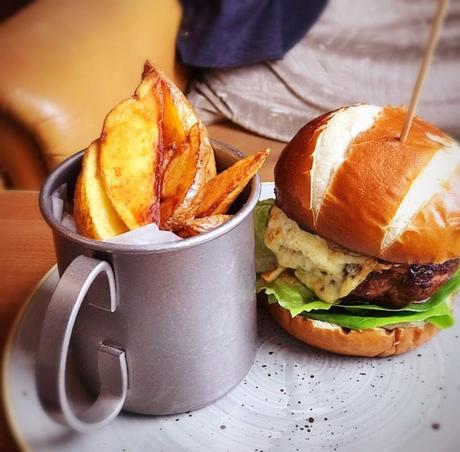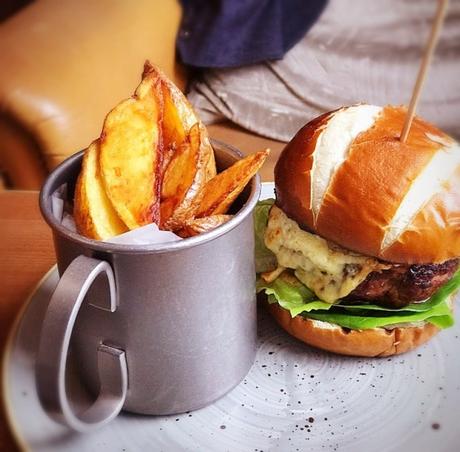 Tweed valley beef burger (£15)
Sometimes you just need a burger and we had just arrived after having a few drinks in town, so meat and carbs seemed like the best idea! Scottish beef, pancetta, burnt onion mayo, smoked applewood cheddar, pretzel bun and skin on chips, which was were ace. The burger was pretty decent, a thick patty topped with smokey cheese but there are more existing options on the menu so I actually wish I'd went for the venison steak which is only an extra quid.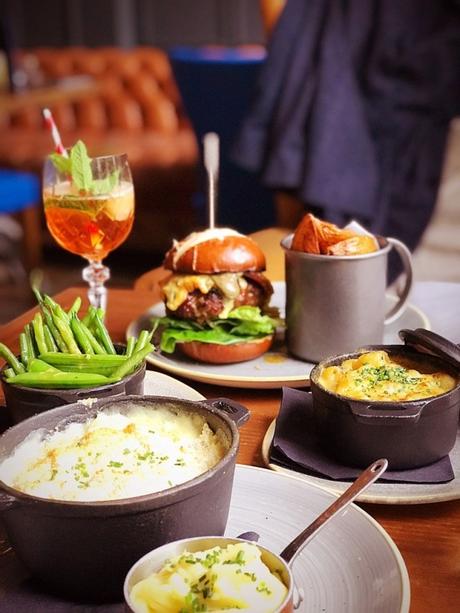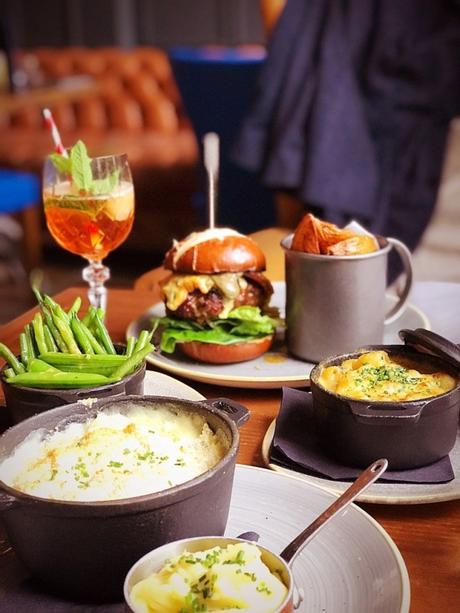 Cullen Pie (£14.95)
Mrs Foodie had her eyes on a pie and it was a toss up between the Cullen Pie and Golden Cock(!) and this fishy pie came out in a big oven-proof dish. A decent amount of Smoked North Sea haddock, creamed leeks, spring vegetables, Isle of Mull cheddar crumb. All the good stuff and served with a side of very thick buttery mash. We also ordered extra sides of beef shin macaroni cheese (£4.50) and summer greens with garlic & chilli (£3.50). Quite pleased with it all in fact.

Badger's Tea Party (£6)
Couldn't really resist this as it sounded a bit mad! Earl Grey poached pears, berries, meringue, lemon curd, honey glazed figs, shortbread biscuits with custard and popping candy on the side. Quite colourful and comforting with a fair bit of fruit counting towards the 5 a day!

Banana Beer Sundae (£6)
The sundae on the other hand was sugar overload. Made with banana walnut loaf, caramelised bananas, Young's Banana Beer sauce, Chantilly cream and ice cream. Very thick and filling, we welcomed the sugar coma!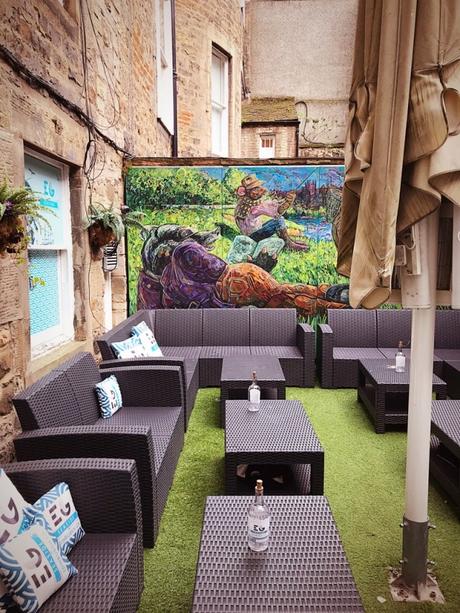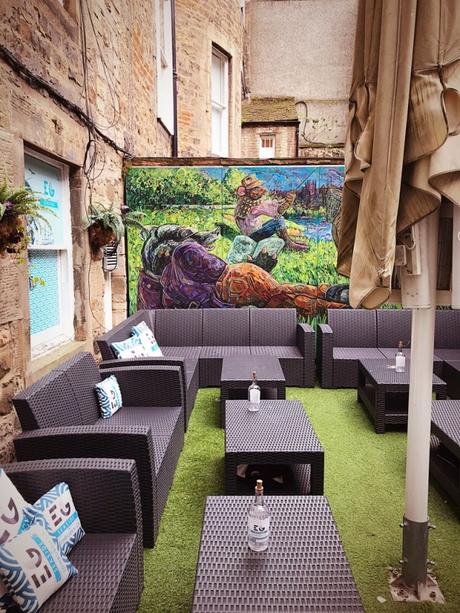 We had a quick nosey around on our way to the toilets (both clean and in order) and if you are just coming in for drinks and the weather is nice, you can sett-le down in the garden courtyard area.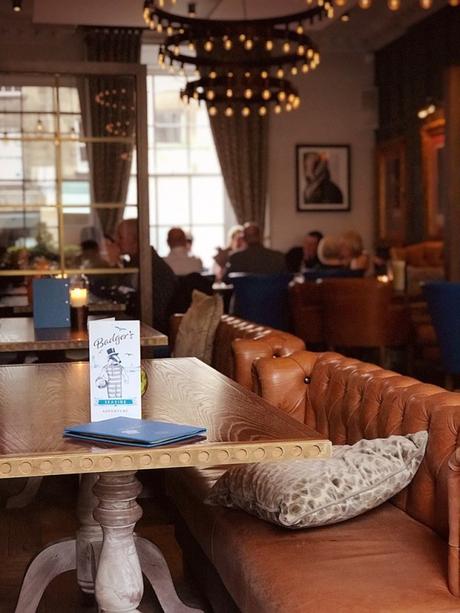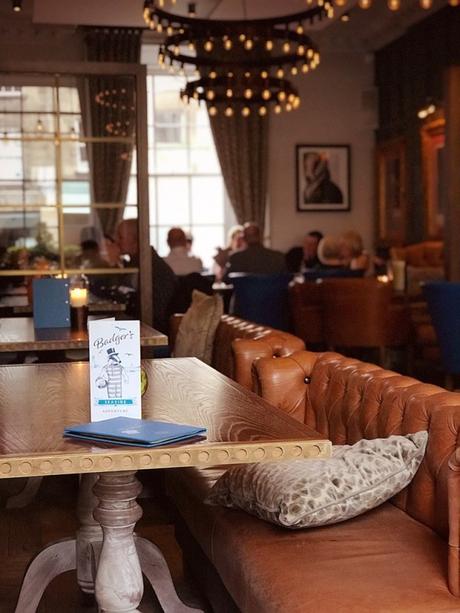 We had a splendid time at Badger & Co. Service was prompt and friendly, the cocktails were great (even though we can't remember what they were - oops!). There was a lively atmosphere, busy but not rammed and everyone else seemed to be having a good time also. The food was to a very good standard with a mix of pub classics and fancier fare, which was done well (our starters). Drinks-wise there is plenty to keep you occupied if like us, you like to work your way through a cocktail menu or gin list. Music was a weird but entertaining mix from the Skatalites cover of the James Bond theme to the Hackney Colliery Band's version of No Diggity! We'd definitely come back again so it was all very positive.
TL;DR
+ Nice decor with Wind in the Willows touches
+ Very competent food
+ Moreish chips
+ Helpful, non-obtrusive staff
+ They have a beer garden
+ Toilets in good shape
+ Great central location
- Nothing worth complaining about on this visit!
Where
32 Castle St, Edinburgh EH2 3HT
Reservations
Click here to book: https://www.badgerandco.com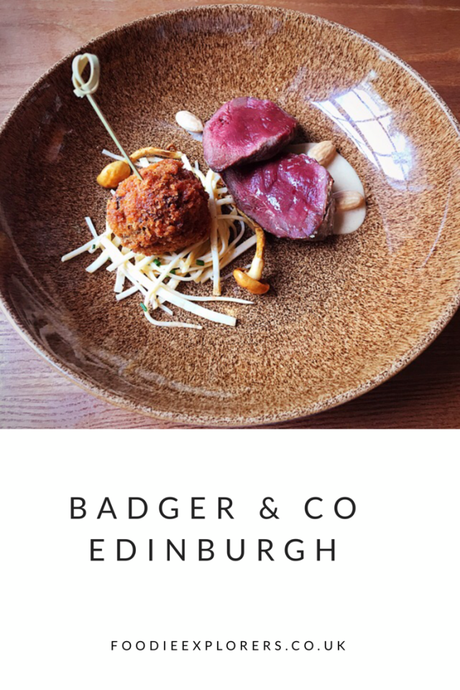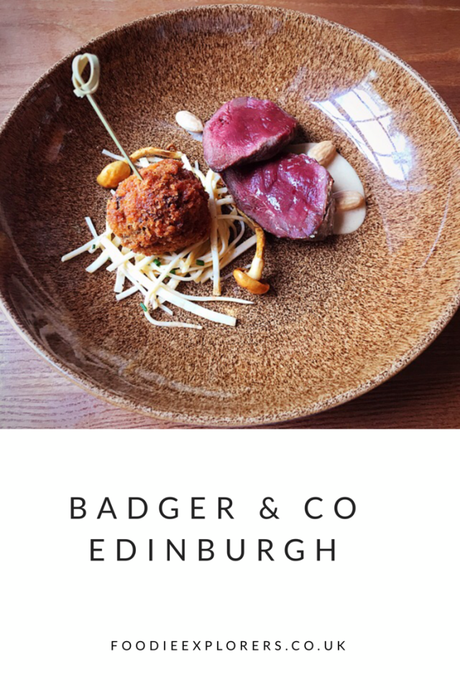 Join our Facebook Group Glasgow Foodies and share your reviews, tips of where to eat and drink, new places and old places you 💕
Disclaimer: we received a complimentary meal at Badger & Co but Fred has carefully assessed the photos and has determined that he would eat most of this therefore he considers this a fair and balanced review so he would badger you to go, har har!