Welcome to Expat in Germany's first Food Friday!  While this is a travel/expat blog, for many travelers (myself included) experiencing the local food and drink along the way is half the fun.  Let's see what delicious concoctions we can share each week.   It could be a tasty meal you've had, a recipe, restaurant review, or food photography, whatever tickles your fancy and it doesn't have to be travel related.  What you consider local might be exotic to someone else.
To join in the fun of Food Friday post a food or drink related post on your blog (linking to an old food or drink post is also fine), include a link in your post back to this page, then post your name and post url (not blog url) on the Mr. Linky form on this post.  It's that easy. Here's my first Food Friday post:
Pumpkin Sparking Wine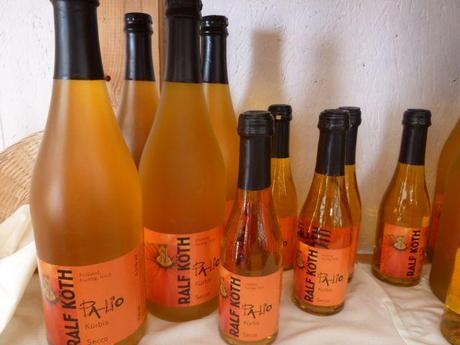 What better way to celebrate the pumpkin season than with pumpkin sparkling wine?  You may be able to think of a 100 different reasons and made a face when you read that and I wouldn't blame you.  I was once skeptical as well and tried it more out of curiosity than anything else at the Ludwigsburg Pumpkin Festival.  I took a small sip, prepared to spit it out, but to my surprise, not only did I not spit it out, I had another sip, than another.  Now I'm hooked and stock up on pumpkin sparkling wine each year.  It's surprisingly sweet, but not too sweet, with only a hint of pumpkin and absolutely refreshing.  Despite my stash, there's no way it's going to make it to the end of pumpkin season, it's simply too good.  Have you ever tried pumpkin sparkling wine?  Would you if you haven't?