Now that this year's Academy Awards area thing of the past....A passion for food and film can unite the two in intriguing and fascinating ways and bring life to a perfect match.... this combination was first brought together in 1895 in French film called " Le Repas de Bebe" and it has continued...
What is your favorite food film? Share it with us here in the Comments..
One of my all time favorites was a nominee in a past Academy Awards for Foreign Film Category- Il Postino (The Postman) with one of my favorite Neapolitan actors- Massimo Troisi..it was a fictional story based on some facts about the poet Pablo Neruda...poetry makes a romantic pairing with food also
Here is a spaghetti dish made especially by the main character Mario..have a listen to the soundtrack..just as beautiful as the movie and the dish...
ll Postino: Spaghetti alla Mario Ruoppolo
di Michael Radford e Massimo Troisi
Spaghetti alla Mario Ruoppolo
Ingredients
for 6 servings:
1 lb spaghetti
6 artichokes
1 1/2 lbs fresh, red, ripe tomatoes
2 cloves of garlic
3 tblsps extra virgin ollive oil
salt and pepper to taste
Directions
Clean artichokes and cut off the hard exterior leaves and retain the heart of the artichoke.Thinly slice the artichoke heart. Place 3 tablespoons olive oil in saute pan, when hot place in saute pan with artichoke slices.
Cut tomatoes into cubes, discard seeds and place tomatoes into artichoke mixture. Squash tomatoes with fork and then add in garlic cloves Continue sauteeing for about 15 minutes add in basil and salt and pepper to taste, remove from heat.
Boil spaghetti and cook till al dente, drain. Add into artichoke mixture and toss spaghetti till coated with sauce. Remove from heat and serve.

Buon Appetito!
For more recipes don't forget to get your copy of the Gourmand World Award Winning book The Basic Art of Italian Cooking: Holidays & Special Occasions-2nd edition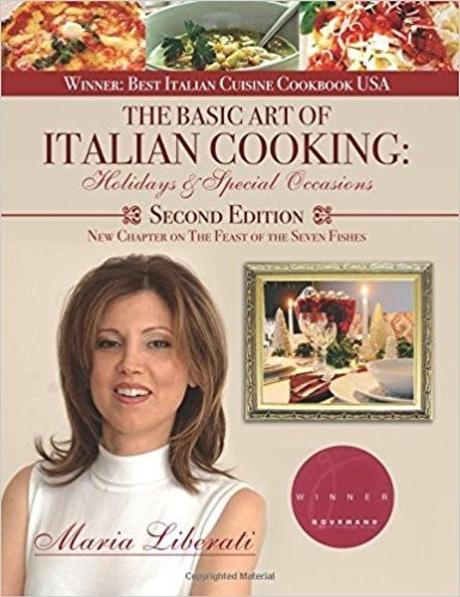 Maria Liberati