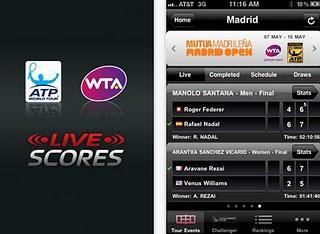 If you want to be absolutely on top of what is happening in the world of pro tennis, its easy during the Slams because each Slam has its own app. But what about the rest of the year? What about those other tournaments? Well, now there's an app for that.
I just downloaded the ATP/WTA Live app to my iTouch. (Yes, I admit it - I don't have an iPhone yet. I'm still using a Blackberry. Which i happen to like.) Right now, the BNP Paribas Open is going on in Indian Wells. And this app is feeding me the draw, the order of play, completed match scores, live scores, and live match statistics. So I can see that, at this very moment, Melanie Oudin is up 2 points in her first set tiebreaker against Elena Vesnina. I can even see that Elena just faulted on her first serve and is hitting a second. Pretty amazing!
I can also see what's happening on the Challenger Tour so I'll be able to keep up with some of those up-and-coming players I keep hearing about.
And I can check the most current ATP and WTA rankings. That's how I know that Bethanie Mattek-Sands, a player I love to follow, is currently ranked No. 43 in WTA singles, the third highest US woman behind Venus Williams (No. 8) and Serena Williams (No. 11).  
The best thing about this app? It's free. All of the good ones are. So download the ATP/WTA Live app and keep up with ALL of the tennis action.


© Kim Selzman 2011 All Rights Reserved