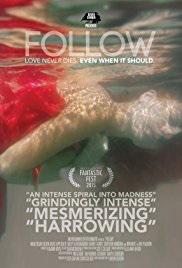 Director: Owen Egerton
Writer: Owen Egerton (Screenplay)
Starring: Haley Lu Richardson, Don Most, Noah Segan, Olivia Grace Applegate
Plot: A man who receives an early Christmas present from his girlfriend blacks out only to wake up in a terrifying nightmare.

Tagline – Love never dies… even when it should.
Runtime: 1 Hour 14 Minutes
There may be spoilers the rest of the review
Verdict: Hits the Spots
Story: Follow starts as young couple Quinn (Segan) and Thana (Applegate) are approaching Christmas together with Quinn looking to move to a big city but Thana isn't the type of girl that enjoys that environment. When Quinn is receiving a Christmas present a kinky sex game which involves a gun.
When Quinn wakes up in the morning he finds the terrifying truth that Thana is dead but was it the game gone wrong or was it planned, Quinn needs to try and remember what happened before his whole life gets shattered as each day goes from bad to worse as he tries to cover up the accident.
Thoughts on Follow
Characters – Quinn is a normal guy looking to get on with his life and is about to break out of the small town he lives in. This doesn't happen when he gets involved in a sex game with his girlfriend and spends the days leading up to Christmas covering the accident up. Thana is Quinn's girlfriend, she is known to be strange not liking to leave the house but when he games goes wrong we see how far she would go to keep him from leaving. Viv is a friend that just finds herself in the wrong place at the wrong time becoming a prisoner during the cover up.
Performances – Noah Segan is an actor I respect, he has been involved in a lot of enjoyable movies and this one is right up there, he gives us a strong leading performance showing the desperation his character finds himself in. both the actresses are good without being on the same level as Noah.

Story – The story follows a normal guy that must deal with the consequences on an accident which left his girlfriend dead, things spiral out of control for him as he tries to figure out what to do which is an interesting watch. The story askes you what you would do if you were in this situation which is good to be tested as an audience but does fall slightly short with the length of the story idea.
Thriller – The film does keep us guessing to where it will go which is the strongest part of the film because you are not sure where Quinn's mindset it now.
Settings – The film is set mostly inside this one house, where the accident takes place, it shows us just how far he will go to keep things the way they were.
Special Effects – The effects are only used for a little amount but each one works well without looking out of place in the film.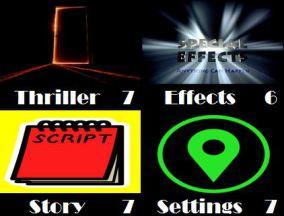 Scene of the Movie – Morning after.
That Moment That Annoyed Me – It does try too many twists.
Final Thoughts – This is a good enjoyable short thriller that does keep us guessing through the film.
Overall: Good short thriller.
Rating

Advertisements