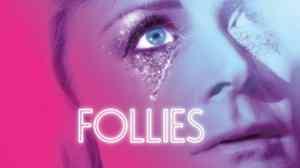 Imelda Staunton - Sally Durant Plummer
Janie Dee - Phyllis Rogers Stone
Phillip Quest - Benjamin Stone
Peter Forbes - Buddy Plummer
Gary Raymond - Dimitri Weismann
Di Botcher - Hattie Walker
Tracie Bennett - Carlotta Campion
Theatre: National Theatre: Olivier Theatre
Date: Tuesday 2nd January 2018
I will admit that I still cannot believe that I managed to get a ticket to see this show. From when it was announced I was constantly checking. Especially with Imelda Staunton being in it, then when I planned this January trip I had for some reason decided to look again and managed to get a ticket.
It was my first visit to the National Theatre to see a show and what a truly impressive set up with three Theatres in one huge venue and therefore productions running every night. I have managed to catch a couple of the shows when they have been screened to the cinema. But to eventually head inside it's an amazing building. The Olivier Theatre which staged Follies looked as though each seat would be able to see everything unfolding on the stage. This is the largest of the three theatres at the National Theatre.
The story is revolved around a theatre in New York that is to be knocked down Weinstein has a reunion for all of the girls who had previously been his dancers and stars. This creates a lot of excitement for the women who gave up the theatre many years before. Singing and dancing all but a memory now. Bringing people back together who have a history is always going to be something that would potentially cause problems and for Sally, Phillis, Buddy and Ben it makes them wonder if they made the right decision when they got married. Then all of the years after that as well, slowly killing each other with the lies, cheating and betrayal. Especially considering Sally has been in love with Ben for such a long time, seeing him again makes her think that he is exactly what she wants.
All of this was put together with some incredible musical theatre songs, some of which I know and count as my favourites (Broadway Baby and Losing My Mind) whilst others I hadn't heard before but all showing the sheer brilliance of Sondheim and the ability for each song to be a small story or play within itself. It's emotional as we get a mixture of the women having one last moment on stage and belting out a meaningful song. Then the heartache of the marriages that are falling apart in front of our eyes.
The production is breathtaking from start to finish with incredibly talented performers who are ready to blow you away with each musical number. I loved the way that our four main characters tell us their stories with the younger versions dancing and moving around to show what had happened all those years ago.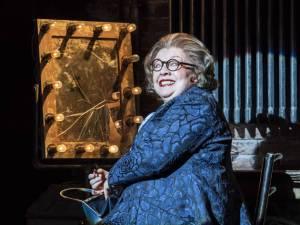 Broadway Baby has been a favourite musical song of mine for a very long time now and Di Botcher absolutely owned the stage and received a well deserved applause for her emotional rendition. A couple of songs I had never heard before and some I had some knowledge of having heard them once or twice over the years.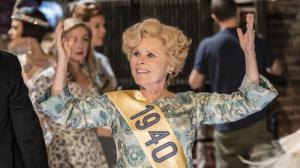 Imelda Staunton is an amazing theatre star and lights up every single show with her no holds barred performance that was no different in this one as Sally. I have now seen her three times on stage and will always make an effort to travel to see whatever she does since that amazing role in Gypsy I am a huge fan. Her emotional performance of 'Losing My Mind' was outstanding, that song tugs at your heartstrings to begin with never mind being done on that level, I felt very close to tears.
I had many wonderful things about Janie Dee in this production before seeing it and now can fully understand why her timing and delivery of the lines was highly impressive and her ability to pretty much float around the stage was breathtaking. This was my second time seeing her perform but first time in a musical, the first was in Blithe Spirit and I was very impressed with her then.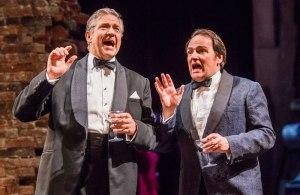 Phillip Quest and Peter Forbes as Ben and Buddy put in brilliant performances alongside and opposite Staunton and Dee. As the hapless husbands who are quite frankly honest and open about everything they do which does not warrant any sympathy at all.
This was a truly breathtaking show and I feel honoured to have caught it the day before it closed after its very limited run. An incredible way to think about how stars would feel as they age as well as roles for older actors. I feel as though this show has increased my love and appreciation for Sondheim and I love that these older shows get the revivals they so rightly deserve.