Sorry I'm a day late in joining in Pam's Foliage Follow Up although to be honest it is months since I last joined in but I'm sure she will forgive me. I thought I would take ferns as a theme this month especially as it is the month of the emerging ferny frond, with croziers and fiddleheads all over the place.
Whilst Blechnum chilense (above) is an evergreen fern, many of my ferns are deciduous, going dormant over winter. Onoclea sensibilis, better know as the Sensitive Fern, is one of the first to push up its fronds which initially emerge with a red hue to the stems but soon the frond and stem go a delicious soft green. It needs moisture to do well, mine are in my old bog garden, and have a habit of dying back in the summer if it gets too hot.
Osmunda regalis, the Royal Fern, is another one that benefits from some moisture. These emerging fronds are my favourite ones each year. I'm not sure if it is the elegance and fragility of their appearance of the grey/brown of the stems; whichever it might be I always know the season is progressing when they appear.
I have a number of Athyrium niponicum in the garden, this one may well be 'Burgundy Lace'. I certainly have 'Burgundy Lace' somewhere and to be honest I struggle to tell the difference between the Athyrium niponicums at times. Anyway it is a very pretty small deciduous fern that bring a nice purple and grey highlight to the border.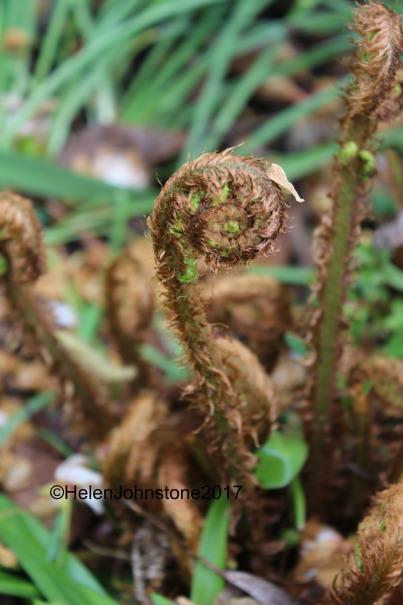 My final fiddlehead and not only can I not remember the name of this fern, I can't even remember where this plant is located. I took the photographs on Friday ready for Garden Bloggers Bloom Day so who knows which it is . However, as with all the ferns there is something prehistoric about the fronds unfurling which I enjoy.
Thanks to Pam for hosting this meme which I strive to join in with as I love foliage but generally I fail to remember!