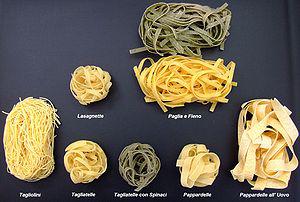 Image via Wikipedia
When it comes to Italian culture, one of its highlights is its name in the culinary field. Chinese has its own cuisine, so as Mexican and Japanese, but of all the cuisines around the world, Italian is the most sophisticated one. Don't you agree with this?
Italian cuisine has so much to give us especially for those specific recipes. Pizza recipes, pasta recipes, gnocchi recipes, risotto recipes, seafood recipes, vegetable recipes, dessert recipes and all—these are Italian signatures. If you are so interested with it to the extent of learning its terms and vocabulary, wouldn't this be a great opportunity in learning Italian language?
That is why we have the following lists of Italian common terms that cooking is involved. Some may already be familiar to you; others may get your nose bleed; but hey, it's a good start to get yourself on the basics before proceeding to a formal learning in a language school. Here are the lists:
Italian terms and vocabulary
English meaning
ACETO BALSAMICO
AGLIO
AGNOLOTTI
Balsamic Vinegar
Garlic
Stuffed pasta served in a broth
Small fresh Mozzarella balls
Small red speckled pink beans
Sea bass
Handmade wooden pasta making machine
Pheasant
String beans
Flour
Ice cream
Italian blue cheese
OLIO DI OLIVE
ORIGANO
ORZO
Bread roll
Double Cream
Tomato purée
Whey cheese
Fat tubes of dried pasta with ridges
SALSICCIA
SAVOIARDI
SEMI DI SESAMO
Sausage
Ladyfingers
Sesame Seeds
Long, flat, ribbon-like pasta
Soft, high-fat cow's milk cheese
Tuna
VERMICELLI
VITELLO
VONGOLE
Very thin spaghetti
Veal
Clams
ZAFFERANO
ZUCCHERO
ZUCCHINI
Do the terms become so helpful to you? May these terms inspire you to learn Italian in a more fervent manner.