A few summers ago my visit to this city of Baroque beauty..the town of Lecce in Puglie... and I can still remember the taste of Focaccia Pugliese..so simple in its ingredients yet bursting with so much flavor.. surrounded by a city constructed in pale yellow stones..but a city also rich in culinary traditions from the wild herbs and beans but be sure to get a taste of the cake with almond paste made by the sisters of the Monastery of San Giovanni..this is considered one of Italy's finest ....
Focaccia Pugliese..it is the true essence of the simplistic but delicious cooking in the South
Focaccia Pugliese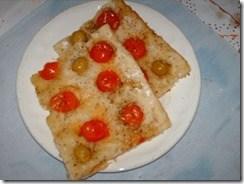 1 pound flour
2 potatoes
4 tablespoons of olive oil
1 cube of yeast, melted in warm water and tablespoon of sugar
pinch salt
For the topping:
10 cherry or grape tomatoes
1 tablespoons of Pitted green olives
extra virgin olive oil
small handful of sea salt
oregano
Boil potatoes, while still hot, peel and mash, set aside. Place flour on a wooden board and form a well and place in mashed potatoes,salt, melted yeast. Blend together adding water or more flour as needed till a smooth ball of dough is formed. Cut a cross with a knife into the top of the dough ball and cover with clean kitchen towel, set aside and let rise for 2 hours,should double in volume.
When dough is ready, oil a round pizza pan. Place dough in pan, Place small tomatoes and olives on top, press them into dough. Cover with oregano, salt to taste, drizzle of olive oil. Cook in an oven preheated to 375 degrees for 25-30 minutes. Serve hot. Great with a glass of dry red wine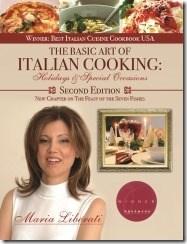 For more great recipes get your copy of the Gourmand World Award Winning Book The Basic Art of Italian Cooking: Holidays & Special Occasions-2nd edition