With Singapore on my radar, let me shout it out that I didn't want to fly with just any airline from Beijing to Singapore! Booking my tickets for my October 2019 holiday with Singapore Airlines was a fool proof decision, reviews detailed its excellence and with much attention paid towards the crews uniform standards. Oh, Singapore Airlines was my chosen airline!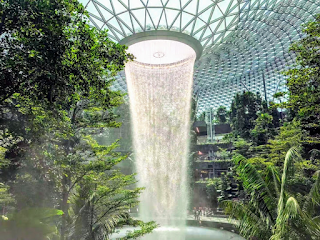 With my flight confirmed, the day finally arrived for me to experience my first Singapore Airlines flight, departing three hours earlier than what was originally scheduled I reported to T3 at Beijing Capital Airport for check-in. Boarding without any issues, I was asleep before take-off because I didn't go to sleep the previous night. I woke up some two hours into the six hour flight down to Singapore, things were silent and the cabin lights had been dimmed for comfort. The whole flight was pretty relaxed, the crew passed through the cabin with breakfast shortly after the flight had reached its halfway point, it was appreciated because I hadn't had anything to eat. My breakfast tasted really nice, waking myself up with coffee was the best idea, I needed more sleep before drinking anything alcoholic. Touching down into Singapore's Changi Airport three hours earlier than planned, sure it was time to see Jewel! 
Passing through immigration at Changi Airport was a breath of fresh air, with no visa required I just had my fingerprints taken and only one passport entry stamp was needed. The employees at the airport were gracious and spoke immaculately clear English, my questions regarding Jewel were answered effortlessly. Making my way to Jewel for the arrivals hall was easy breezy, within no time I was able to see the Jewel's HSBC Rain Vortex. I was staggered by the lush arrangement of Jewel's inner spectrum, I had to pinch myself that I was still within the boundaries of an international airport. I wasn't on a shopping vibe but if I had been the choices were endless, eating at Jewel would've been a treat if I was on that respected hype but I was just present for the HSBC Rain Vortex. Heading for the MRT to reach Chinatown, my outbound flight with Singapore Airlines and arrival into Changi  had been flawless. Jewel looked more than fabulous, it was a seamless experience! OK, lah!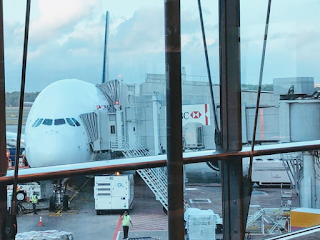 No stress was on my mind as my taxi approached Singapore's Changi Airport. Check-in was fine, passing through the uncomplicated security check-point was another seamless experience. Checking out Terminal 3's Butterfly Garden had to be done, it was a dark mystical space during that early morning hour. Passing through Terminal 3's departure lounge with its glittery Duty Free opulent design I was getting all kinds of flashbacks from my pre-departure experience at Incheon Airport Terminal 2 in Seoul, South Korea. As boarding time approached it was time to get excited for my Singapore Airlines A380 flight experience from Singapore Changi Airport T3 to Beijing Capital Airport T3, China. Waiting for the boarding call I made my way to the gate before the pre-boarding calls were made, I was in group 5 once again. SG, I had only been assigned an emergency exit sit within the economy cabin on the upper deck of the A380-800. Go!
Settling into my economy class upper deck emergency exit seat, I greeted by one of the stunningly beautiful Singapore Airlines cabin crew with a hot towel before our aircraft took off. Being a six hour flight there would only be one meal service, I was feeling quite hungry so Kelly who was the LSS assured me that I could have a second meal if they had any spare meals after the meal service. My Singapore trip had finished but during that October 5th 2019 moment I was full of optimism that my SQ802 flight to Beijing would be comfortable and on-time. During my time working at Newark Liberty Airport in New Jersey, during the check-in period during the evenings I would always see the Singapore crew make their way to their transport after arriving from Singapore Changi. That super reach long haul didn't stop the crew from those flights look immaculate with their presentation! Taking to the skies after our timely taxi to the runway, the super jumbo aircraft lifted into the skies! Fly high S!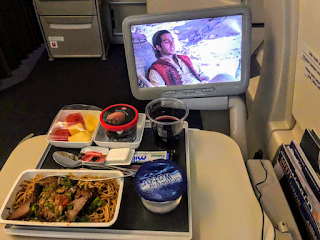 The first meal choice was nice but I was so surprised to be greeted with a second meal, Kelly had kindly found an extra meal for me and I even had the choice between the Singaporean or Western choice! Opting for the noodles, that second portion onboard SQ802 bound for Beijing was delicious, much better! Relaxing to the maximum, I had already sensibly enjoyed some red wine from the drinks service. Revisiting Aladdin for the second time, I was more awake compared with the outbound flight. Aladdin played in the background nicely, I was enjoying my meal too much to worry about that live action Disney remake. A fresh fruit salad had been served with my meal, it tasted nice with no complaints. To conclude my Singapore Airlines meal experience I enjoyed the chocolate ice cream, the same ice cream had been served on the flight from Beijing. Real silverware was provided, a welcomed change in economy S!
I wasn't sleepy but being a predominately Chinese flight the entire cabin fell into a deep slumber after the meal service concluded, the cabin was cleared quickly after the majority of passengers had finished their meal. I had more time to finish my second portion, feeling like a superstar I relaxed into my Singapore Airlines flight even more! The in-flight entertainment proved to serve an extensive range of shows, films and documentaries. Being a super early departure on the outbound flight I had only watched a little bit of Aladdin, benefiting from a later departure time on the flight back to Beijing allowed me to pick up where I had left off, I didn't feel the need to search extensively for a new flick to enjoy. I was half distracted by the film because I was talking to the lady that was sat next to me, she was also teaching English in Beijing! It was nice to make some small talk, it definitely helped a portion of the flight fly by! Flight SQ802 served up something special, I was impressed!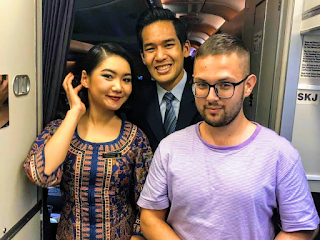 Wanting to stretch my legs, I walked to the rear galley to ask the cabin crew for some more red wine. Instant rapport was created with the gentleman crew featured in the photo to the right, not catching his name, the conversation regarding aviation and all things airlines flowed effortlessly. Respecting their duties I kept my questions shelved when the crew served other passengers or had to pass drinks to passengers who were seated. A second crew member who was from Thailand also shared the conversation, she was so sweet and welcomed me to visit Thailand in the near future! I really ought to after such gracious invitation! Kelly, the LSS passed through the galley and insisted that I have another drink of my choice. Upon Kelly's offering of another drink, I made the bold choice to have an ice cold Baileys. Making myself comfortable within the rear galley, the conversation continued before they accepted a photo! Yaasss! 
Other Asian airlines that I had previously traveled with had been really hesitate and shy, the Singapore Airlines crew were all approachable and easily engaged in conversation. I adore flying and after working at an airport I always have fun sharing my passenger experiences with the crews, since working in China the crews of the airlines that I have flown with get curious as to how I cope with life in China! Yes! Returning to my seat with my photo taken and a refilled cup of Baileys on the rocks, I felt that the crew members had been very gracious during that inbound Beijing A380 flight. The Chinese mainland capital came into view, with all the activity during that six hour flight the seatbelt sign had been switched on in-preparation for landing, it had all happened soon rather than I had expected it! With delicious food, top quality entertainment and gracious cabin crew, I disembarked my flight with a feeling of contentment and value for money! Sincerely, thank you to the crew onboard SQ802!
Baileys and Conversations! 
Joseph Harrison